Nestled in the Lebanese mountains near the village of Kfour is Beit Trad, a special summer home that carries with it a story, one about family and restoration. Owned by the Trad family, since the beginning of the 80s, it was the kind of home that bared the footsteps of family and friends and witnessed the levity of parties and good food. Today, it's a full fledged boutique hotel constantly full of guests craving a relaxing vacation. A conversation with its owner Sarah Trad, gave us more about this village getaway and its exciting plans for the summer season.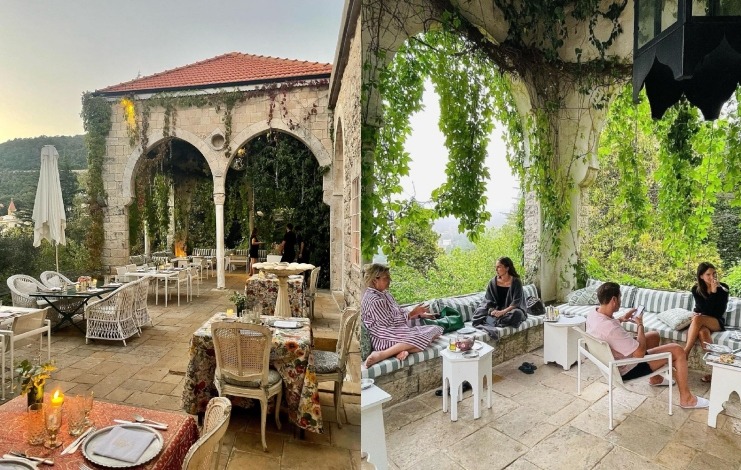 It all began back in 1985, when Trad's father bought the summer house and refurbished it, only to pass away soon after. For a long while, her mum held parties and gatherings at Beit Trad until she passed away in 2003 and that was when Sarah herself stopped going. She told us how the time spent away from the house, she noticed something, "it is when I realized it was falling apart that I decided to restore it into a guesthouse and bring life back into the house." That was when Beit Trad was born.
Each guest that arrives at this mountain home gets to take a step back in time and get a taste of nostalgia as the house is filled with antique furniture that was hand picked from antique dealers and flea markets across Beirut, Damascus, Aleppo and Paris. Beyond that, it's also home to high ceilings, gentle archways with hanging vines, and whitewashed walls, boasting the ultimate quaint environment.
With its mountain setting and unique backstory, we had a feeling that it's the kind of hotel that boasts a unique experience for its guests. Trad gave us quite the extensive itinerary when it came to a day spent at the family home, "a typical day can start with a delicious Lebanese breakfast, followed by a hike or a massage or a dip in the pool (depending on the weather). Followed by lunch, a game of Talley (backgammon), a read on the terrace. Teatime is served at 5pm… and then sunset watching on the terrace with sundowners."
For the history buffs and adventure seekers, Trad told us that guests can venture outside the home itself and either go sightseeing to Jbeil or Byblos or even go monastery hopping in the surrounding area. There is also wine tasting available at several neighbouring cellars like chateau Musar and the Atibaia winery.
With the summer season coming up, Trad told us about what guests can expect during those sunny months, "a lot of greenery all over, a beautiful pool, delicious Lebanese food, jazz music, good times, good vibes and fog on some days." She even mentioned how there is a special summer menu with many of the dishes locally sourced from organic farm in Benchley with a lot of their desserts enriched with fresh peaches, apricots and figs grown in that very farm.
Taking a shift into the world of tourism, we wanted to get a glimpse into what the tourism industry is like today in Lebanon. Trad told us how it had been difficult since 2019 especially with the series of civil protests that rippled through the country. When asking Trad about how she hopes to see tourism evolve in the country, she expressed how she hopes that the country stabilizes, "politically and economically in order to build up its reputation as a great destination in the Middle East".
When it comes to what's next for the family business, Trad told us that they are working on a new sister project abroad but with Beit Trad itself, there are no plans of expansion, "we love our home as is!"