Afghanistan is a nation where extremist organizations such as "The Taliban" have seized control over the country and have been ignoring all of the basic rights of women. With that being said, the situation has worsened, with some two dozen Afghani women who have been observed chanting "food, work, freedom" in Kabul, the Afghani capital, in protest of the Taliban's harsh limitations on female rights.
Seizing power in August 2021, the Taliban have reversed the small advances won by women during the US-led intervention in Afghanistan for the past two decades. As a result, the demonstrators assembled in front of the ministry of education, many of them wearing face-covering veils and chanting, "Reopen schools" According to France24, demonstrators marched for a few hundred meters until the event was called off as officials deployed Taliban fighters in civilian clothing. "We wanted to read some statements, but the Taliban wouldn't let us," Zholia Parsi, a demonstrator, told Arab News. "They took some females' cellphones and barred us from photographing or filming our protest."
But, more specifically, what are the restrictions? Thousands of girls have been prevented from attending secondary schools, and many women have been barred from returning to government employment. Women are also prohibited from traveling alone and are only permitted to visit public gardens and parks in the capital on days when they are not accompanied by men. In addition, Hibatullah Akhundzada, the country's supreme leader and Taliban chairman, declared earlier this month that women should normally stay at home. If they had to go out in public, they were told to cover their entire bodies, including their faces.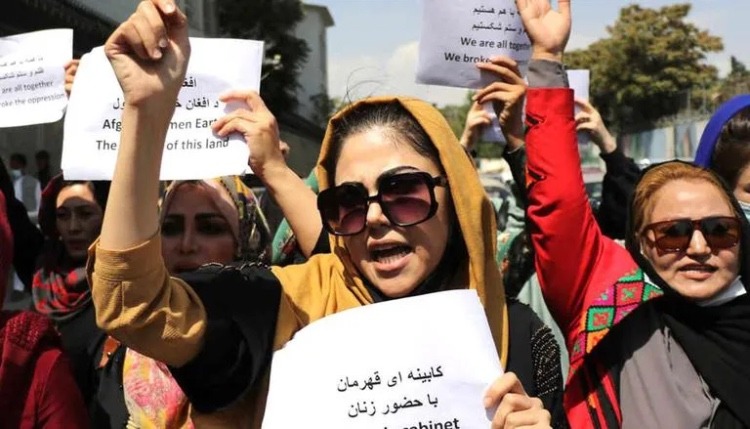 How did this scenario get so out of hand, to begin with? Since the Taliban reclaimed power over Afghanistan, the situation has worsened. Women's rights have been almost completely abolished because many Taliban men feel that women have no place in leadership positions and that their role outside of their households should be very limited, if at all. Even if it is not the same in every region of Afghanistan, the prevalent perception still persists that women's roles in society are unjust and disempowered. The Brookings Institution, an American think tank, has published detailed research on the situation in Afghanistan and the steps that the international community can take to improve women's lives there.