A Walking Paradox: Ali Cha'aban, The Lebanese Artist That Merges Arab Identity While Celebrating Carpet Creations Along With Kahhal 1871
Art transcends all cultures and societies as it symbolizes an open door for unlimited creation, allowing artists to delve deeper into their own viewpoints to create works that tell their own stories. It's worth noting that the Arab world has produced some of the world's best artists over the years. Ali Cha'aban, a prominent Lebanese artist, is one remarkable creative who has captured the world's attention. He was born and raised in Kuwait, and his art frequently reflects his interest in culture and traditions. Cha'aban has an anthropology background, and his work is centered on the concept of nostalgia, which is depicted so deeply in his art, addressing socio-political problems such as Arabian identity and dystopia.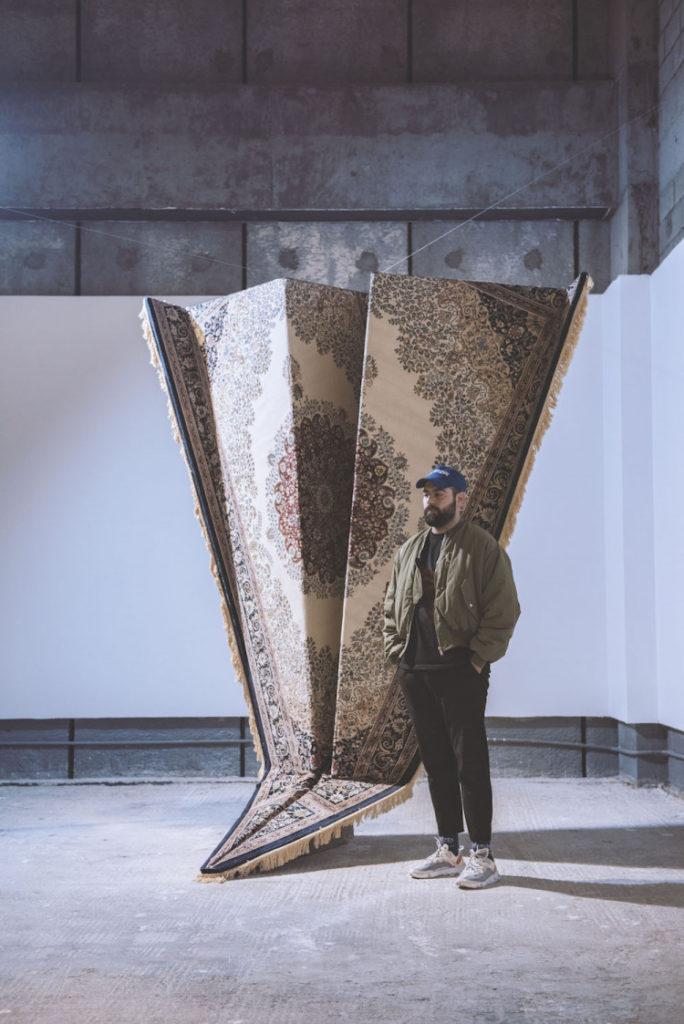 Cha'aban is an artist who has previously collaborated with well-known brands such as Nike. He told About Her magazine about this fantastic cooperation "It all started with the Vice x Nike collaboration, where I created the Satellite Culture campaign, which was a way of rediscovering our past with humble intents before the internet with the Air Max 97. From then, we developed a long-lasting friendship, and they gave me the opportunity to design my own line of sneakers, Dusk to Dawn. Since then, it's evolved into a supporting brand that aids me in realizing my vision."
Previously, Cha'aban collaborated with Kahhal 1871 on the "Arabic Dream" series, in which he attempted to portray Modern Orientalism. His artwork exhibits a new way of expressing tradition through Modernization.
Therefore, Cha'aban also developed with Kahhal 1871 the new carpet design titled "I Am Not Here" that conveyed a concept of "preservation." When the carpet was on exhibit, it couldn't be seen clearly, which is the objective of how it's being portrayed or preserved, as he claimed in our most recent conversation with him. He discussed how because carpets transcend all cultures and customs, they are a simple approach to producing artistic beauty.
Cha'aban is a walking paradox and highly empathetic whose works is constantly changing to become innovative, and his most recent project with Kahhal 1871 depicts this form of empathy. The artwork that Cha'aban did for Kahhal 1871 was something that he worked on previously but never got to share with anyone. Thus, when he was approached for this collaboration, Cha'aban instantly thought of this artwork and knew that this was the perfect time for this piece.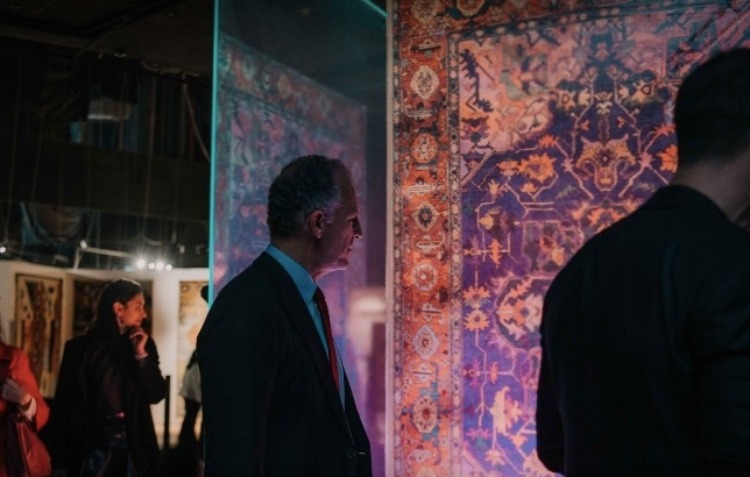 Cha'aban is a true artist who strives to reinvent the beauty of art and how its perspective changes through time, just like everything else in life. As a result, Cha'aban maintains his identity as an Arab male in high regard, as evidenced through his artwork. We all know that identification is important, but Cha'aban takes this kind of identity and combines it with elements from Western cultures to produce something that is both beautiful and accurate in depicting how Arabs are portrayed around the world.
We sat down with Lebanese artist and observer of culture, Ali Cha'aban, to speak on his archival concept behind the "I'm Not Here" piece at the OUTLOUD exhibit Last February. This collaboration with the oldest and most renowned manufacturer of luxury handmade carpets and rugs in Egypt, Kahhal 1871, and Ali Cha'aban transformed the traditional craft of carpet making into a piece on preservation of culture at the art event of the season: 'OUTLOUD'.

Posted by Scoop Empire on Tuesday, April 5, 2022
WE SAID THIS: We can't wait for Cha'aban's new projects that will influence the Arab world.