Today, the beautiful Queen Rania of Jordan celebrated her 27th wedding anniversary with King Abdullah II in an Instagram post with a caption that said, "How could you not fall in love with that smile, over and over again for 27 years! So lucky and grateful to have you by my side, happy anniversary." And we couldn't help but fall in love with the two love birds together!
The year 1993 saw one of the most iconic royal weddings in the world; King Abdullah and Queen Rania's wedding. The royal duo met in 1992 when King Abdullah was a prince, and a year later, they tied the knot in a royal wedding in Jordan that the entire Arab world followed and enjoyed. The Arab world was taken by the beauty of the wedding, but more so, by the queen's stunning wedding dress, which was designed by British fashion designer, Bruce Oldfield.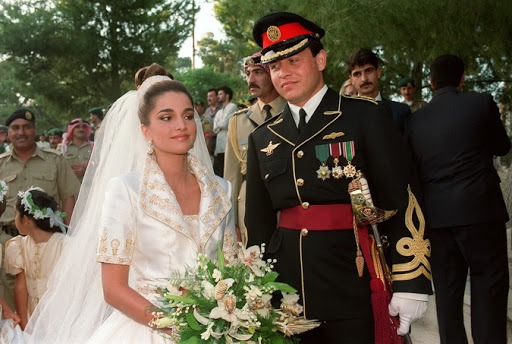 The couple have four children. Their first child, Crown Prince Hussein was born in 1994, followed by Princess Iman in 1996, Princess Salma in 2000, and the youngest, Prince Hashem in 2005.
Even with no special occasions, this royal couple is known for repeatedly showing their love, appreciation, and support for each other, to the public, and we love them all the more for it!
WE SAID THIS: Who's your favorite royal couple?