A Scoop of Hope: From Dubai to Gaza, Here's how to Support Chloe's run for Palestinian Children
Amidst the tragic news and updates we heard and still hear on a daily basis regarding the atrocities and loss of life in Gaza, and in the occupied Palestinian territories, there are those who have sprung up and continue to take action, providing awareness and support for our Palestinian neighbors. There are countless ways to take action, be it from utilizing social media platforms and sharing information, to volunteering with NGOs. However, there are also other ways to take action. Chloe, a mother of three based in Dubai, has decided to take the matter into her own hands and legs, embarking on a vigorous journey to run and cycle a total of 2,147 km from Dubai to Gaza! The contributions to the cause will be donated towards the PCRF (Palestine Children's Relief Fund), and Chloe has currently completed 427 km of her journey to Gaza, with 1,719.92 left to go. Not only are we inspired by her sheer determination to fulfill this objective, but we had a chat to delve even deeper into Chloe's initiative, and learn more about the soul-stirring woman behind the cause. Hats off to her for undertaking this arduous venture, and may every kilometer lead to the improved livelihood of Palestinian children.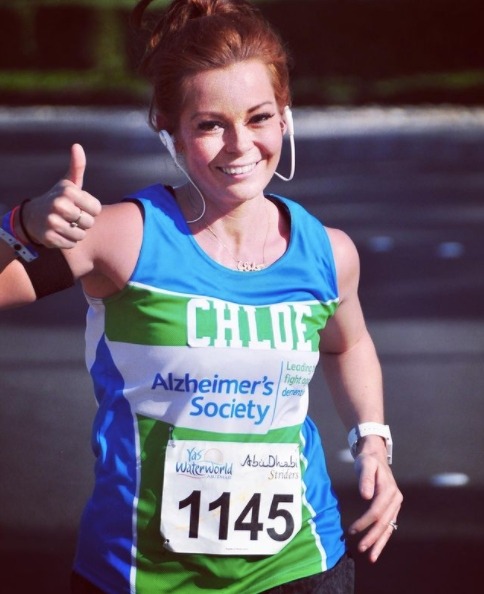 1) What's your background, and what was your life routine like before this cause?
Prior to embarking on this journey to raise awareness, I was (and still am) a busy mum! I have three beautiful girls, 8, 7, and 2 years old. We do not have a helper or family here, so it can be very tiring! I've always loved cycling and running. In the past, I've run for a few different charities to raise funds, including Alzheimer's society and 'Look good feel better,' a charity helping women with cancer, that teaches beauty techniques to help them manage the appearance-related side effects of cancer treatment. My daily routine before I started this campaign was to wake up, get the girl's ready for school, take my youngest to nursery, pop to the gym, and come back home to clean and get things prepared for the girls' return. I'd then do the school pick up, come home, and make dinners and lunches for the following day. This is a standard routine in my house, and has to be done with military style accuracy. Luckily, I have a very supportive husband who is very hands on and helps me no end when he returns.
2) What primary factor drove you to commit to such a physically strenuous cause?
The primary factor which drove me to start out on such a physical strenuous mission, was that I didn't want it to be easy. I wanted it to be difficult to remind me that, in comparison to what the Palestinian people have to endure and have endured for such a long time, that what I am doing is really nothing at all. Luckily, I live very close to a cycle track and I enjoy running – which has made it easier. I wanted to do something that doesn't cost any money, so that other people are able to join in and continue the initiative. My bike alone is around 10 years old, a little rickety and squeaky – but it gets the job done!
3) Besides donations, how do you think others too can take action to help with the PCRF?
Other than donating, others can take action through sharing the initiative, discussing the issues faced by Palestinians, and pledging their support by being a voice for the people of Palestine. There's so much good we can do with social media, and we need to ensure we capitalize on this. The first step to raising awareness is having the confidence to discuss what is happening.
4) After the run to Gaza, what do you plan on doing afterwards?Are there similar initiatives like this planned for the future?
After I complete this challenge, I hope to continue raising awareness with a similar challenge that is inclusive to everyone. Something that doesn't cost money and that everyone can do. I have seen a great initiative called 'Run the wall,' where people group together and pledge to run 750 km (the length of the West Bank barrier wall) over a set length of time.
I'd also really like to organize a 'Knit for Palestine' drive, to provide knitted hats and blankets for the displaced children over the winter period.
5) What was the process like in preparing for this journey to Gaza?
The process to prepare for this has been difficult, due to my busy job as a full time mum! Sometimes I struggle mentally with the thought of heading out to get my kilometers in after a long day with the children. I have received such great support from followers that the encouragement alone, had been enough to push me out the door! I've had to overhaul my diet, making sure I eat the right foods at the right time, something that as a busy mum, I just used to snack on biscuits! It's been a real lifestyle change, which has been beneficial to my health, but not only that, it's given me a sense of achievement, and I hope that I'm making some difference to people in Palestine.