Renowned global real estate development company ORA has gathered the man behind all of its properties, Naguib Sawiris the chairman & CEO along with his management team in a five-episode documentary in order to discuss the details of what makes ORA's portfolio truly stand out. From Pakistan's Eighteen golf course to Cyprus' Ayia Napa Marina's twisting towers, let's dive into the second chapter of the captivating story that's unparalleled with quality; meeting every guest's needs across its projects: Silversands Grenada, Mykonos's Yi Hotel, Silversands Mykonos, Pakistan's Eighteen, Cyprus' Ayia Napa Marina, Egypt's Silversands North Coast, Pyramids Hills, Zed West, Zed East, and Solana.
Sawiris, Chairman and CEO of ORA and the team delved into their Caribbean venture, Silversands Grenada, a hotel that embraces nature with an ultra-modern aesthetic. But what truly makes the Silversands Grenada hotel stand out is its 100-meter pool that seeps into the ocean, creating an infinite feel for its visitors, making it the longest pool in the history of the Caribbean.
The real estate company took things to the next level by purchasing a land in Cyprus that featured two high-rise buildings and completely turning it on its head by launching Ayia Napa Marina. The facelift didn't end there as they aimed to create special buildings that didn't exist in Cyprus before then and that's how the twisted towers were born. Reflecting on this project, Sawiris said, "I want this project and this marina to be the jewel of the Mediterranean… I want to leave a legacy on the Island and I want to build the best design project." The twisting towers on both the East side and West side are home to beach villas. In addition, the Ayia Napa Marina itself offers a commercial area with restaurants and bars in addition to a host of other facilities such as a spa. All of which were designed by American architects, Smith Group JJR.
Moreover, Yi Hotel in Mykonos is the first of many projects of ORA's contemporary brand. The hotel boasts an atmosphere that couples adventure with a grounded experience. After all, Yi does translate to Earth in Greek. The hotel also caters to several types of guests through its mix of minimalist and modern decor, inspired by Japanese architecture.
Similar to the aforementioned projects shining through unique architectural landmarks, Pakistan's Eighteen project shines within its 18-hole golf course. A true masterpiece since the sport typically depends on the topography of the land so with Eighteen, it goes from the highway of zero level to a minus 65 and so forth. Moreover, with the golf course representing 35% of the land, people are always surprised that ORA was able to bring to life the vision they dreamt of.
ORA is also creating landmarks across Egypt with its residential compound Pyramids Hills along with its expansion across Sheikh Zayed's Zed West and New Cairo's Zed East. Nevertheless, New Zayed's Solana, is the sunny side of Cairo that lifts the shadow. But of course, that's not all as it's making waves in Silversands, North Coast.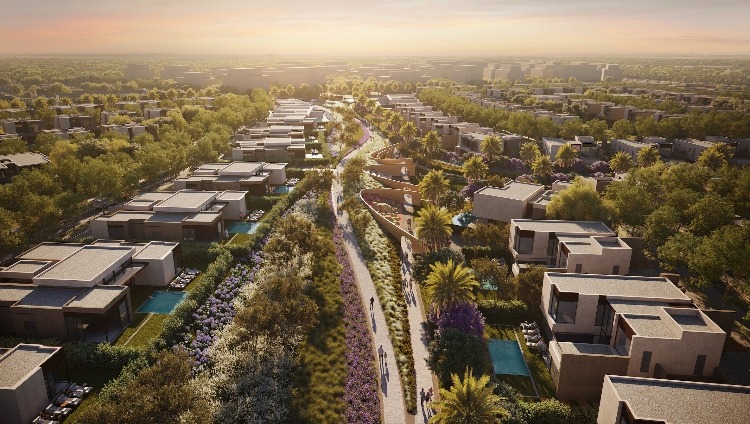 Just like there are the twisting towers in Cyprus, the golf course in Pakistan, the infinite pool in Grenada, Egypt's ZED towers are soon becoming a landmark of Sheikh Zayed and will be delivering units this year, in record time.
The real estate company is also launching its largest development and first footprint across the UAE region. Located in Ghantoot, Abu Dhabi, the project is in partnership with Q Holding with the aim of creating a smarter and more sustainable city. The Sawiris-led developer has officially become the largest real estate company in the history of UAE's private sector.
Through a comprehensive area of 20,000,000 sqm, ORA hopes that Abu Dhabi becomes a simultaneously up-scale and sustainable space. This project is geared towards both residents and tourists who are looking to strike the ultimate balance between work and play. Moreover, one of its facets is its unique location on the sandy beach between Dubai and Abu Dhabi, creating an easy commute between the two cities.
WE SAID THIS: Don't Miss…Exploring ORA's Global Expansion Through The Eyes Of Egyptian Businessman, Naguib Sawiris