By Nivert Walid
If you live in the UAE, or if you planning on spending Ramadan there, then you're in luck. Every year, the UAE hosts a great number of stunning Ramadan tents. With the setting of the sun, it's time to treat yourself to a mouth-watering meal after a long day of fasting and to some fun quality time with your family and friends.
If you found yourself hesitant about which tent to choose during this holy month, check out our list of the best Ramadan tents in the UAE.
DIFC Ramadan Majlis
Dubai International Financial Centre, in partnership with The Ritz- Carlton, launched its Ramadan Majlis. You'll have a distinctive experience there as the tent is specialized with the outstanding Arabic hospitality and cuisine. You'll taste the best food from Asia, India, Turkey, Lebanon as well as Arabic and American dishes. They also have 16 live cooking stations as well as a full yummy dessert buffet. It starts daily from sunset onwards.
For individual reservations:
Phone Number: +9714 372 2323
Email: difcrestaurants@ritzcarlton.com
For group reservations:
Phone Number: +9714 372 2628
Email: events.dubaiifc@ritzcarlton.com
Ewaan at The Palace Downtown Dubai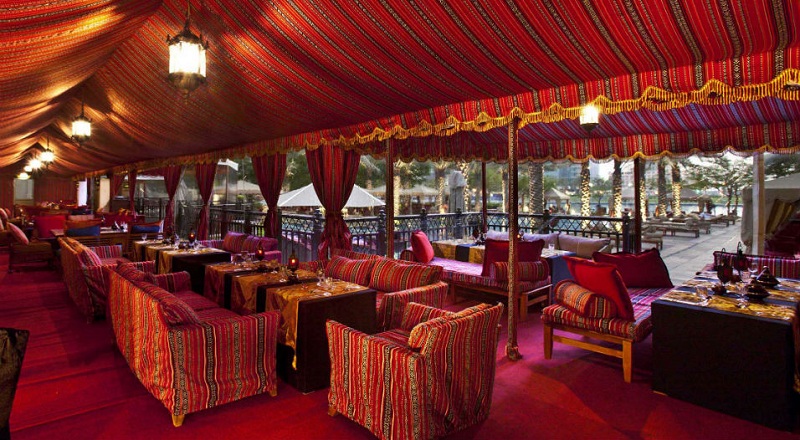 You can go there for Iftar or Sohour to enjoy the amazing view of the Dubai fountain and indulge your ears with the traditional flavors of the melodic harmonies of the Arabic Oud. As for the food, you'll experience there the best mix of Arabic and International tasty dishes such as fried baby marrow with yogurt tahini, roasted quail with sumac, and a tender chicken tagine.
For Reservations:
Phone Number: +971 4 428 7951
Al Fanous Lounge at the JW Marriott Marquis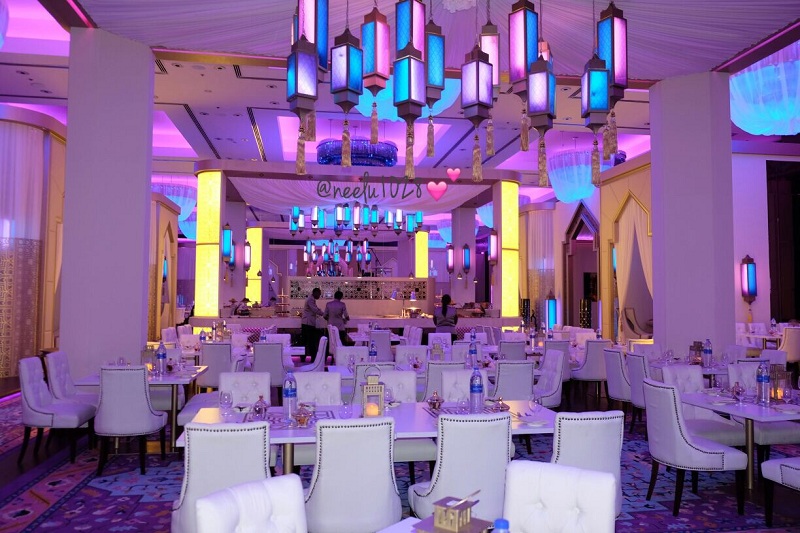 Indulge a memorable wealthy Iftar experience in Al Fanous lounge at the iconic Dubai Ballroom. There you'll enjoy the taste of more than 200 dishes and the fluent oud music. Al Fanous is the ideal place to relax and to make memories with your beloved ones. All of this comes with AED 215 per person and Iftar hours start from sunset till 8:30 pm.
For reservations:
Phone Number:+971 4 414 3000
Email: jwmmrr@marriott.com
Fairuz Tent at Fairmont the Palm
Don't miss the Arabian themed 'Fairuz' Ramadan Tent at the 'Fairmont The Palm Hotel' which promises a breath-taking experience during Ramadan. Fairuz offers an amazing traditional open buffet as well as tasty desserts. Live Arabic entertainment is also available at the venue in the form of an oud player during the week. Iftar will be available from sunset till 9 pm daily while suhoor will be a la carte menu offered from 9pm-2am.
Prices AED 215 per person onwards, kids under five years dine free, and children aged six to 12 years old will be 50% off.
For reservations:
Phone Number: +971 4 457 3457
Email: palm.dining@fairmont.com
Al Hadheerah Tent at Bab Al Shams
Daily Iftar buffet is available from sunset to 11:30 pm and is priced at AED 265 per person (including food, still water, Ramadan juices, soft drinks and Arabic coffee). There is 50% discount for children from 5 to 12 years old while children up to 4 years enjoy Iftar for free.
For Reservations:
Phone Number: +971 4 8096194
Email: bas.Restaurants@meydanhotels.com
Al Falak Ballroom at Burj Al Arab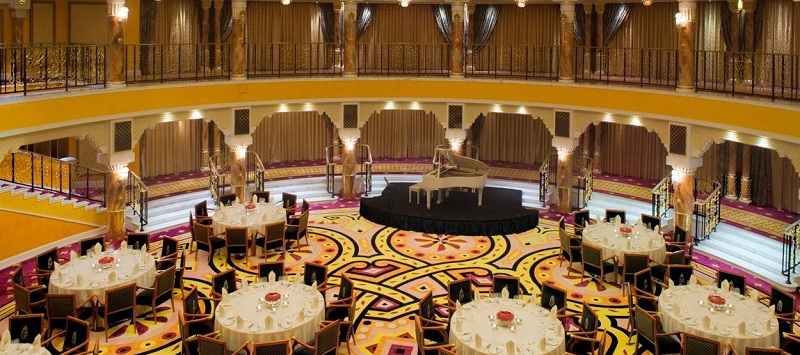 The world famous Al Falak Ballroom which is inspired by The Viennese opera house is Transformed during the holy month into a palatial hall dressed in Arabesque patterns. Guests will enjoy an Arabic Iftar buffet featuring a wide selection of local dishes, as well as a live Badri band. Iftar is available from sunset till 8:45 pm with cost 255 AED per person.
For reservations:
Phone Number: +97143017600 and note that it's only available for group bookings
Iftar at The Mövenpick Ibn Battuta Gate
Do you wish to break your fast under a perfect setting of 88 Arabic lanterns? Do you want to enjoy some quality time with the spirit of Ramadan all around you? Then The Mövenpick Ibn Battuta Gate must be your destination. With soothing oud music in the background, enjoy a tasty buffet in Al Bahou inspired by Ibn Battuta's travels through Italy, Morocco, India, and Asia. All of this comes for only AED 185 per person inclusive of soft beverages and Ramadan juices.
For Reservations:
Phone Number: +971 4 444 0000
Email: hotel.dubai.ibnbattuta@movenpick.com"
Hilton Abu Dhabi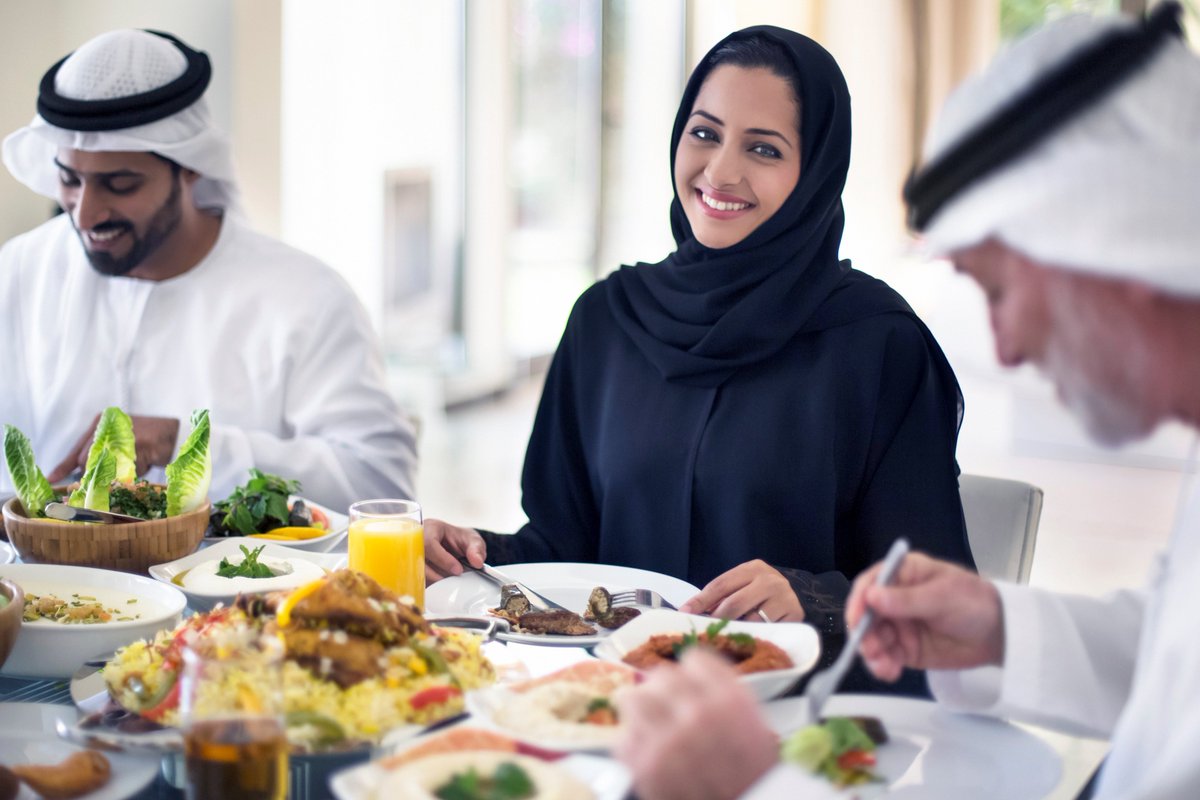 During the holy month of Ramadan, Hilton Abu Dhabi hosts its usual tent. It brings you a variety of exciting food, beverages, and activity options to choose from. The highlight of the buffet is the pastry corner which features favorites like cheese Kunafa, Um Ali, and Mahalabiya. Iftar is available from sunset onwards and the price is AED 210 per adult, and AED 85 per child.
For reservations:
Phone Number: +971 (0)2 692 4247
Email: abudhabi.info@hilton.com
Kahraman Tent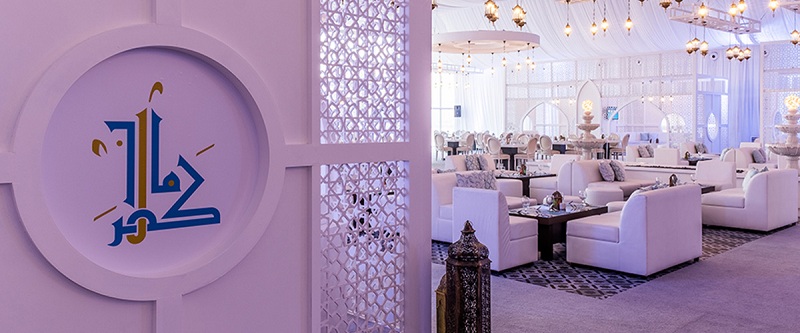 Located in the Kahraman area of Ajman, This tent creates for you the most authentic Ramadan experience in a fabulous traditional atmosphere. Kahraman features a set of mouthwatering Iftar and Suhoor dishes as well as the soothing music of Oud complete with a traditional yet contemporary setting. For Iftar, there is a special buffet available at AED 135 per person and 'A La Carte' Suhoor is available for AED 80 per person. Children below 7 get a complimentary entry for Iftar only.
For reservations:
Phone Number: 0564226521
WE SAID THIS: Ramadan is a good opportunity for you to enjoy some time with your beloved family and friends. Choose your favorite place among the options we provided and go indulge yourself.