There have been several libraries throughout Middle Eastern history that took readers' breath away, The Library of Alexandria and Baghdad's House of Wisdom, to name a few, however, as they fade away with the sands of time, a new one is emerging to be a beacon for the modern age.
The Mohammed Bin Rashid Library intends to become a new focal point within the MENA region to offer what its predecessors did, knowledge, preservation, and enlightenment.
Original Idea and Opening Date
The largest cultural project in Dubai's history to date, its concept was first conceived back in 2016 during the "Year of Reading," with the goal of opening its doors in 2018. That said, it took a little longer to add the final touches, and it's set to welcome guests this Thursday, June 16.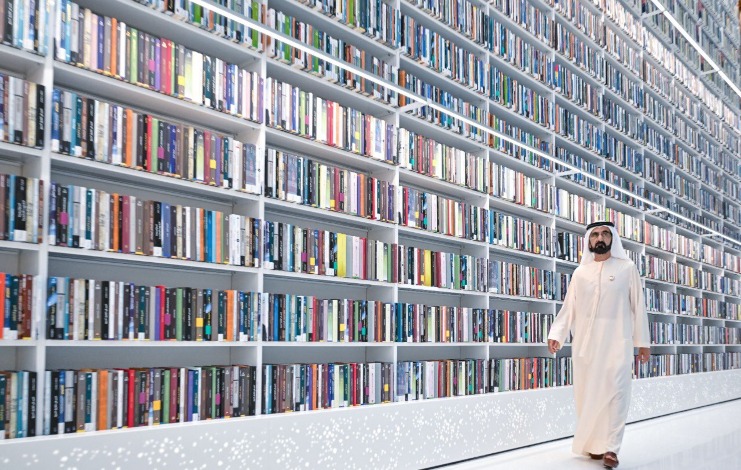 Dubai's ruler, Mohammed Bin Rashid Al Maktoum, inaugurated the one billion AED project named in his honor. He oversaw the latest developments and took a look at the several sections within the bookstand-shaped building.
What's Inside The Library?
The structure is full of smaller subsections including the Emirates Library, General, Children's, and Young Adults.
Those join the Maps and Atlases, the Special Collection, Media and Arts, Periodical, and finally a Business one.
The building also includes two museums, which contain delicate old transcripts and artifacts from the region. There's a 500-seat theater too, which is fully equipped and ready for seminars, lectures, and events.
Mohammed Bin Rashid Library is also integrating AI and robots within its walls; using a first-of-its-kind smart system to store over a million book titles.
The impressive Ai will have the power to give commands to service robots so that they locate and provide a book upon a reader's request and bring it to them wherever they are in the building.
What Did Mohammed Bin Rashid Say About It?
Sheikh Mohamed Bin Rashid took to Twitter, where he shared his excitement about the project. He also talked about how its development will affect future generations, not just locally but internationally as well.
"Today, we inaugurated the Mohammed Bin Rashid Library, a symbol of science and a beacon of knowledge," wrote Sheikh Mohamed Bin Rashid on Twitter.
He shared what the library includes when it comes to its rich content and the cost of getting the project off the ground. He also went on to state that the library aims to consolidate the region's Arab identity and culture.
"Comprising of nine specialized libraries, more than a million books, six million research theses, and costing one billion dirhams; our goal is to consolidate our identity, culture, and thoughts as well as prepare the future for upcoming generations," he continued.
Sheikh Bin Rashid went on to explain the needs required to progress and how people can find them within books.
"Economy needs knowledge, politics needs wisdom, and nations need learning, all of which can be found in books. Today we have a platform filled with millions of books, with which we guarantee the evolution of our developmental path. As well as the life and thoughts of our generations," Sheikh Bin Rashid explained.
Building's Design
The design of the building is quite literal, with the structure's concept resembling an open book on its stand. The building's roof brings in natural light with attached solar panels that provide it with 10% of its power.
It's an impressive cultural piece that will undoubtedly provide something unique for the whole region.
WE SAID THIS: Don't Forget… 6 Mysterious Mythical Creatures From The Middle East