When it comes to planning your wedding, the location of the ceremony and reception is one of the most challenging choices you'll have to make. After all, your dream wedding wouldn't be complete without the perfect venue. When you're selecting the spot, you'll need to consider the cost, the availability of nearby accommodations, and the flexibility of your booking. You'll also need to make sure that there's space for all of your guests and room for that wedding jazz band you've always dreamed of for your big day. Here are a few of the features you should look out for when selecting your venue.
Capacity That Matches Your Guest List
Before you begin your search for the perfect wedding venue, you'll need to assemble the guest list to determine who's going to be there. The right wedding venue for the ceremony and the reception matches the size of your guest list, whether you're seeking to invite only a few family members or throw a big party. While it's obvious that you don't want to book a space that's too small, you should also avoid bringing the event to a venue where there will be too much space. If you aren't 100% sure about your guest list, a rough estimate of how many people can still help you decide which venue is right for you and your significant other. 
Convenient Location or On-Site Accommodation
The location of your wedding venue can play a significant role in making your big day even more memorable. First, consider how your guests will get to the venue, particularly if they are from out of state. What kind of transportation options are available? In addition, what are the nearby options in terms of accommodations? While it might seem nice to host your wedding at a venue tucked away in the mountains, this arrangement can often lead to logistical problems. Remember, the location of the venue can also alter your overall budget.
If your wedding venue offers on-site accommodations, and if there is enough room for everyone on the dates you're selecting, you can more easily choose a location that's off the beaten path. This type of feature is usually a part of bed and breakfasts, which offer a comfortable, quaint atmosphere that's away from the hustle and bustle of the city. The location of your venue can also factor into what catering or bar options are available for the reception.  
Indoor and Outdoor Spaces
Organizing an outdoor wedding ceremony or reception sounds nice- until it starts raining or the winds are too high. Luckily, the best wedding venues offer both indoor and outdoor spaces that can accommodate your guest list without feeling too cramped. If you're planning to host the event outdoors, it's always a good idea to select a venue that allows for a backup plan in case of inclement weather.
Room for Your Wedding Band or DJ
Your wedding venue should accommodate a wedding band or DJ in addition to your guest list to ensure both your reception and ceremony have an outstanding atmosphere. Whether you're hiring a DJ to play the hits or bringing a live jazz band, you'll need to make sure that your venue offers the necessary sound system or stage space. If you're unsure how much space might be required for this type of setup, don't hesitate to contact a wedding entertainment professional.
Reasonable Costs and Budget
One of the primary considerations you'll need to take into account when selecting a wedding venue is the cost. Before you book or purchase anything for the event, it's essential that you set down a budget that you'll feel comfortable sticking to. If you select a place that's too expensive, you often won't leave enough room in your budget for making the most of that venue. If your desired spot is too pricey for your dates, don't be afraid to think outside the box. Everything from botanical gardens to museums and even zoos offers the space and services you need to make your wedding more memorable.
Venue Packages Are Available
Many wedding spots bundle together a variety of ceremony and reception services in addition to the actual venue rental. You can expect to pay a set amount per person for services such as catering, a bar and bartender, music, tables and chairs, and cleanup staff. This charge is usually in addition to the rental fee and often includes a service or gratuity fee, with rates depending significantly on the size of your guest list.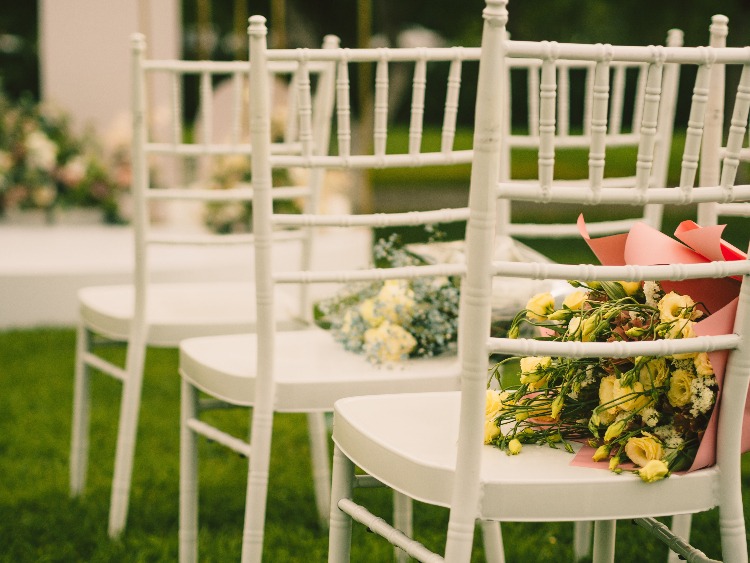 Flexible Booking Options
As we continue to experience the effects of the Covid-19 pandemic, it's important to make all of your bookings flexible in the event that you need to change the date. If your friends and family are unable to travel safely, you won't have to worry about how much it's going to cost to push things back a few weeks or months. Flexible bookings also allow you to get in line for your favorite venues earlier without having to worry about predicting what the case numbers will look like down the road.
A Match With Your Wedding Style
In 2022, fewer people will get married in a church than ever before. There are plenty of venue options to choose from beyond the traditional that serve as a better match with the couple's style. Want a modern, chic wedding? Consider looking at top-of-the-line hotel venues, a yacht, or maybe even a train station. Want something a bit more traditional but still off the beaten track? A bed and breakfast spot might be the perfect fit for you and your significant other.
Museums and historical sites make for a beautiful wedding venue, as do retreats and botanical gardens. For adventure seekers, a national park or an aquarium are fun options. We've even seen wedding receptions at distilleries and breweries. Consider how much glitz and glamour you want for your wedding, and you'll likely have a good place to start with deciding what wedding style is the perfect match for you. Remember, the wedding venue you select should simply look and feel like a match.
WE SAID THIS: Having trouble narrowing down your wedding venue? We've got you covered with these tips!