14 Things to Do in Egypt in 2014
Explore the canyons and caves of Egypt's Red Sea. This one is off Dahab's coast.
This year, fall in love with Egypt all over again. As the Euro and dollar climb and inflation in Egypt skyrockets, get out of your comfort zone and re-discover the wonders of our country, or explore it for the first time. There's a reason so many tourists come (maybe not so many these days) here and sites are just a flight or car ride away. Here's a list of things to do in Egypt!
1. Go sandboarding: Since skiing isn't really an option in this country, why not try the Middle Eastern alternative? Dune Raider Sandboarding does almost weekly trips from Cairo, but leave the booze at home – alcohol isn't welcome.
2. Visit Fayoum: Don't miss Wadi Al-Hitan, the valley of whale skeletons and a UNESCO World Heritage Site. For where to stay, we recommend Zad ElMosafer Guest House and Sobek Camp. It's about an hour and a half from Cairo and is perfect for even a day trip with the kids.
3. Take a road trip to Siwa: A great excuse to stop at Marsah Matrouh, which has been pumped with investment recently, on the way. Don't miss Cleopatra's Beach and Rommel's Beach. If long drives aren't really your thing, fly into Burj al Arab and continue your journey from there. At the oasis, check out its renowned olive groves and palm gardens, the Temple of the Oracle and the Libyan souq. Consider staying at one of Siwa's many Eco Lodges.
4. Visit Abu Simbel: Better yet, experience the sanctuary during the famed Sun Festival, which happens twice a year around Feb. 22 and Oct. 22. On these dates only, the interior chamber of the temple of Ramses II fills with light. Meanwhile, sunrise illuminates the statuettes of Ramses, Ra and Amun in the central chamber.
5. Visit Alexandria: Instead of spending hours in traffic going from Zamalek to Masr Gedida, go north and get out of Cairo for the day – it'll take you the same amount of time, if not less. Get a taste of old Alexandria and have lunch at the Greek Club.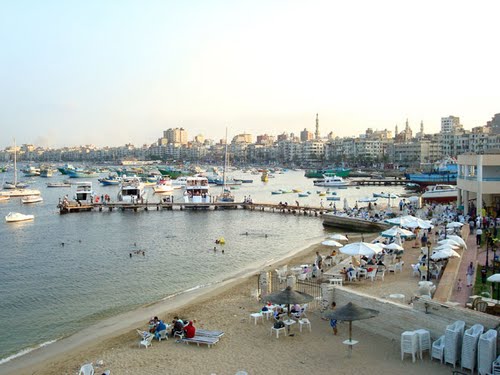 6. Take a religious tour of Cairo: You can hit the main spots in one day or plan a tour over several as most sites are nearby each other. Great for photographers.
7. Take a safari in South Sinai: South Sinai is fantastic for hiking, trekking, rock climbing and otherwise just exploring its many hidden wadis and sensational canyons. The colored canyon is not to miss as is sunrise from the famed Mt. Sinai (also a UNESCO World Heritage Site) – both of which you can reach from resort hub Sharm El Sheikh or hippy haven Dahab.
8. Visit the blue desert in South Sinai: Forget the black and white deserts, check out these incredible baby blue boulders. Also accessible from any South Sinai city.
9. Take a dahabeya on the Nile: Leave the feluccas and Nile cruises for the tourists and explore a different way to see Luxor and Aswan. Dahabeyas range in luxury and price and offer privacy and comfort.
10. Go on a health retreat: Get out of the city and get zen. You can join an organized retreat, such as those offered by Mandala Yoga, or create your own wellness-themed getaway to any seaside town. Instead of escaping for a weekend of partying, focus on your well-being: mind, body and soul.
11. Go fishing on Lake Nasser: Some fishermen travel from the other side of the world just to come fish at Lake Nasser. Lucky for you, it's just a road trip or short flight away, located on the southern end of Egypt and the northern edge of Sudan.
12. Visit Taba: Divers will love exploring the fjord, while those looking for a more historical experience should check out Salah El Din Fortress on Pharaoh's Island.
13. Take a dive safari: Go on a long weekend and put your certification to good use – or finally get one. Diving in Egypt's Red Sea is world-renowned and unrivaled. Go on a liveaboard from Hurghada to Brothers Island or dive Dahab's notorious Blue Hole and Canyon. And if you're not into scuba, you can always snorkel.
14. Go kite surfing: Challenge yourself with a new hobby this year and try kite surfing. Egypt is a magnet for kite surfers for its almost daily epic wind conditions. The towns on the Red Sea coast are all prime kite spots – from Marsa Alam on the west side to Matarma Bay on the east.
WE SAID THIS: Don't miss "10 Photos to Remind You How Beautiful Egypt Is".
[do_widget "Jetradar Cheap Flights"]