Veganism is all the rage these days, for reasons ranging from health benefits to animal cruelty activism. Avoiding meat and animal products altogether may sound extreme to many of us kebab lovers here in the Middle East, but it's more popular than you probably imagine. Here's a brief list of celebrities and prominent personalities who have adopted the diet:
Ladies:
1. Anne Hathaway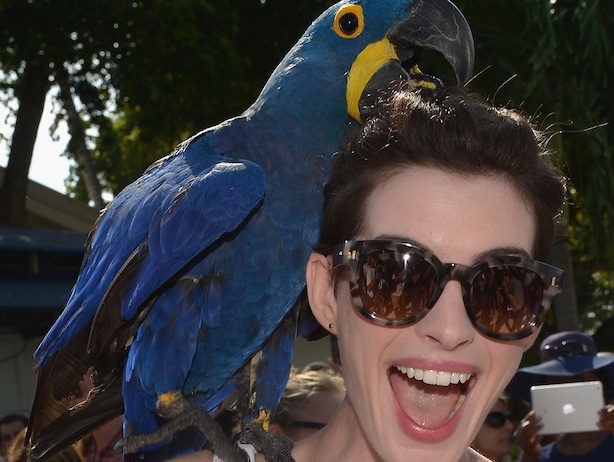 We all know her from The Princess Diaries, Les Misérables and The Dark Knight Rises. Anne became a full-on vegan after her role as Catwoman, which she trained for profusely on an already semi-vegan diet. According to USA Today, the multi-talented actress became vegan after the filming ended because she felt sick when she tried to go back to her normal diet.
As a vocal opponent of animal cruelty, Anne demanded that all her clothing for Les Misérables include faux-only materials, rather than real leather or fur.
2. Ellen Degeneres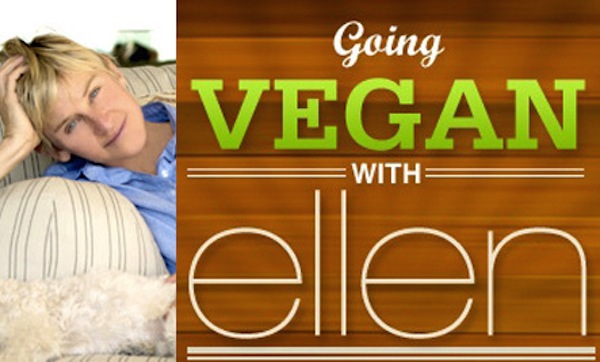 Popular TV Host and comedian, Ellen Degeneres is widely known for being fun loving. As if she wasn't awesome enough already, Ellen is a proud advocate for animal rights and went as far as adding an extra section on her website devoted entirely to veganism.
She hopes to demonstrate to people how a cruelty-free life can actually be fun and healthy, and provides tips for how to make the transition.
3. Pamela Anderson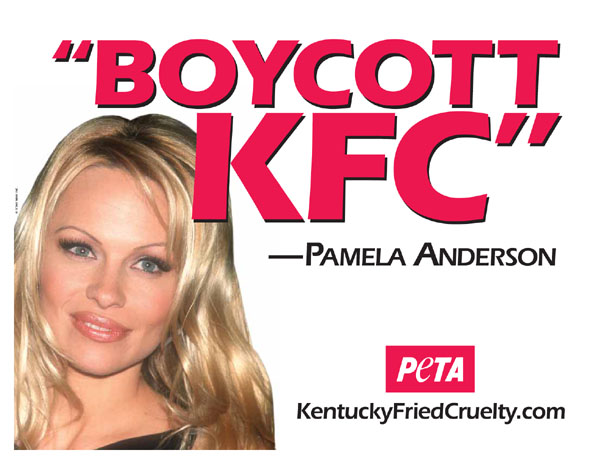 She's not just a blonde bombshell and a previous Bay Watch star. Pamela Anderson is yet another celebrity who is a proud animal rights activist and she has organized multiple successful campaigns against the fur industry.
Pamela is also a member of People for the Ethical Treatment of Animals (PETA).
4. Kristen Bell 
The star of Veronica Mars didn't just lend her voice for the highly successful animated movie Frozen, she also speaks of animal cruelty and veganism and constantly encourages people to live a cruelty free life.
Kristen always thought of becoming vegan because she could never understand why it's okay to eat certain animals but consider others as pets. She finally made the decision to become vegan after watching Forks Over Knives, a documentary about how animal based diets contribute greatly to bad health and a variety of diseases.
5. Jessica Chastain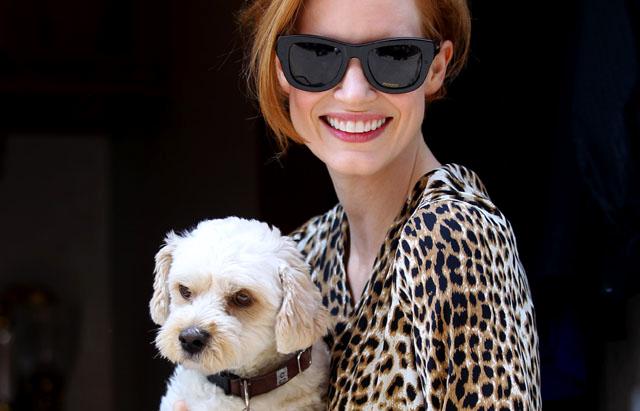 After being vegetarian for 15 years, the talented Oscar nominee has transformed into a strict vegan five years ago. Jessica stated that she relies heavily on vegan diet to maintain her slim figure.
Gentlemen
6. Joaquin Phoenix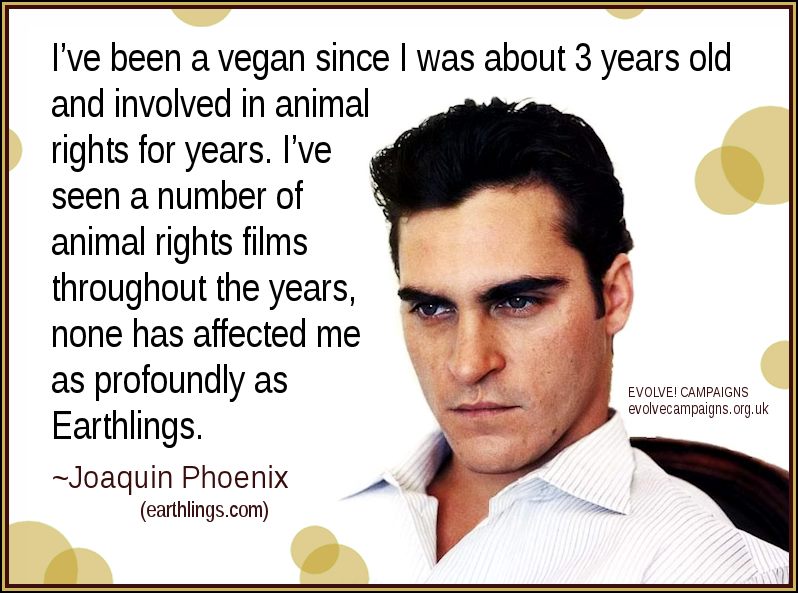 Probably one of my favorite actors out there, Joaquin Phoenix has been vegan since he was three years old. Now a proud animal rights activist, he recalls going fishing with his parents – one of the fish they caught was thrown over and over again against the side of the boat in order to kill it. He stated that it was a brutal act and ever since then he has lent his voice to animals and tries to enlighten people about the realities of animal cruelty.
7. Russell Brand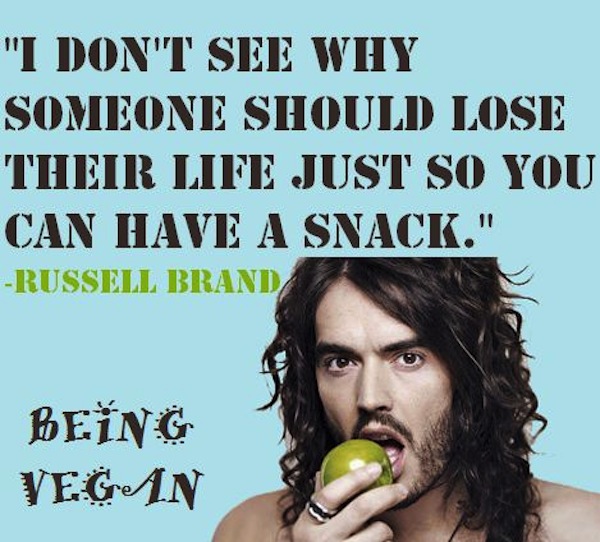 Notorious comedian and actor Russell Brand is always making news due to his battles with drug abuse and alcohol dependency. However, now that he's turned the table around and recovered, he has a new healthy understanding of his body and life in general, which led him to watch documentary Fork Over Knives.
Vegetarian since age 14, Bran adopted a full vegan diet at the age of 36.
8. Samuel L. Jackson
Yes, Mr. Jackson is vegan and has actually credited a 40 pound weight loss to his plant based diet. Known for his badass roles in many, many films, Samuel adapted a vegan diet to "try to live forever" in 2013.
9. Travis Barker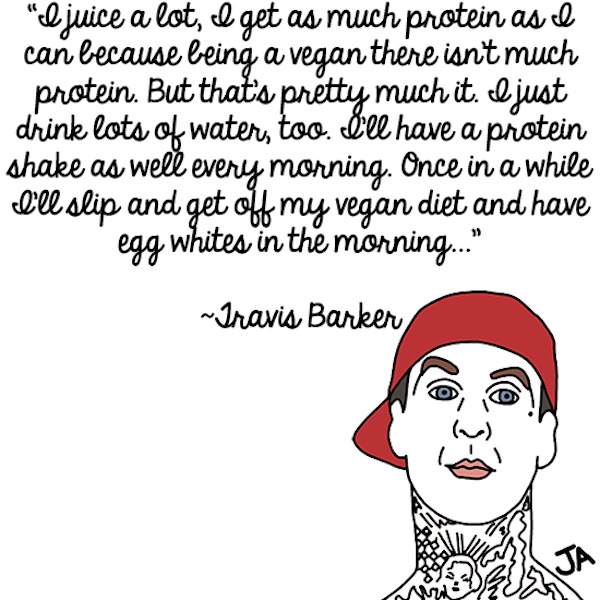 Who doesn't love a hot drummer with tattoos? Rock & roll star Travis Barker was vegetarian for over 25 years but embraced a completely vegan diet in 2012 after a health scare that made him change his ways.
Barker, a plane crash survivor, cheated death yet again by letting go of his unhealthy habits such as excessive drinking/smoking and transitioning from a diet high in animal protein to a healthier, plant based diet.
10. Casey Affleck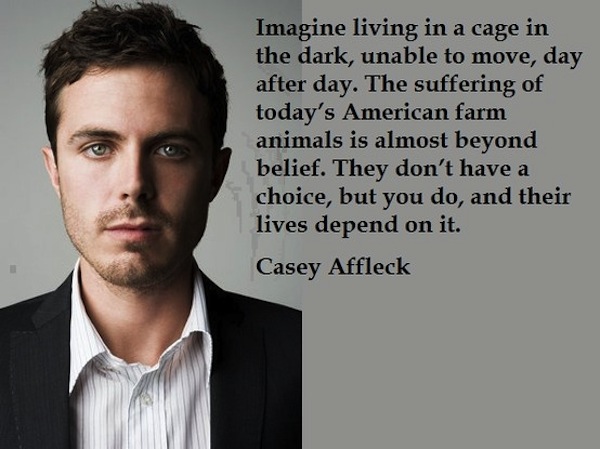 Casey Affleck, Ben Affleck's younger brother and Joequin Phoenix's best friend, is yet another world renowned celebrity advocating for animal rights and is living a healthy and cruel-free life by being a full on vegan.
Casey has participated in many PSAs attacking the meat industry. However, television networks have refused to air them because of their graphic nature. According to PETA, the reason why Casey is a vicious opponent of factory farming and slaughterhouses is because "chickens, cows and pigs in factory farms spend their whole lives in filthy, cramped conditions, only to die a prolonged and painful death."
WE SAID THIS: Give back to the planet with these 7 Simple Things You Can Do to Save Earth.