Love or hate it, tv shows have become an essential part of our Ramadan experience. We wait all year round to get to watch some of the finest television productions that fill our summer with emotions and action. The trend of airing series solely in Ramadan is slowly coming to an end with epic shows like El-Tofan, Abu El-Arousa and Ana Shahira..Ana El-Kha'en coming to life in what is known as the offseason.
Yet, the Ramadan race is still going hard. Production houses are spending millions on the cast and locations, actors haven't slept in months, scripts are being constantly modified and directors have turned into working machines to deliver 30 episodes before the end of this week. So, obviously, things aren't as glamorous as the final product we watch on television.
But with all the hard work put into tv series of 2018, things haven't been going in the right direction. It all started with Al-Adl group announcing the return of Fadl Shaker as the singer of their show's theme song. Ladayna Aqwal Okhra, starring Youssra, Sherine Reda, and Naglaa Badr has been under attack by the Lebanese people for supporting an alleged ex-terrorist. The backlash resulted in a public apology by Al-Adl group and retracting the song.
Days later, Mohamed Henedy announced that his show, Ard El-Nefaq, will not be aired in Ramadan as per ON ENT channel's decision. The show is another Al-Adl Group production. Rumors are that Saudi Arabian leaders were offended that show starred Ibrahim Eissa; who has been quite vocal in the past against KSA. The complaint led the show to change Eissa's scenes with another actor to be aired on Arab channels, and it has been claimed that Egypt will air the original episodes with Eissa.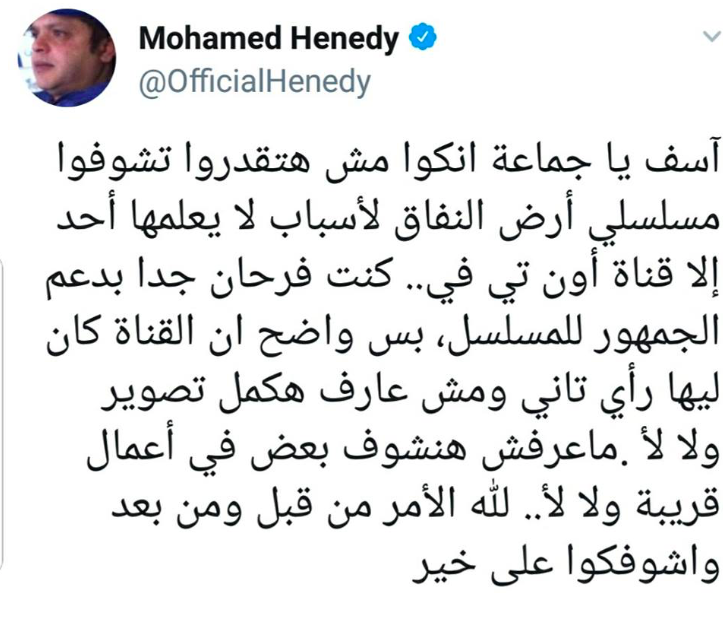 One day after Al-Adl Group dealing with two crises targeting Ramadan's biggest series, news spread that Youssra's show got axed as well. With the unexpected and unexplained turn of event, viewers were glad to hear that the show will still run on Youtube and Arab satellite.
Yet, in the most tragic turn of events, Amr Youssef's tv show, Taye3, received another hit that left everyone mourning. Rober Talaat, Executive Director, passed away in Istanbul's airport. Every filmmaker out there took to social media to express sadness and anger over the insane working hours and inhumane work conditions that led to such events.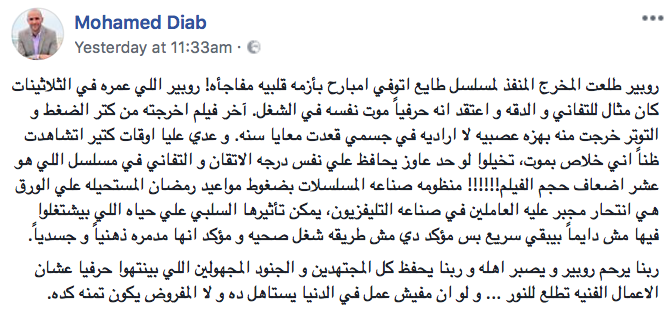 WE SAID THIS: Rest in peace, Rober Talaat.