Your Travel Plans Got Cancelled Last Minute? Experience The Next Best Thing At The ST. Regis Almasa
With Eid Al Adha just around the corner, the almost 10-day vacation is upon us, and if you happen to be looking for somewhere to stay at that's close to Cairo, but has everything a tropical island in the Caribbean would have, then, without a doubt, The ST. Regis Almasa is your destination.
At the ST. Regis Almasa, every day is a new experience. There, you could embark on an adventure like no other. Splash around the hotel's chilled pools with your kids or experience mouthwatering delicacies in front of sizzling barbecue and grills over the wavy beach. It does not end here, as you can immerse yourself in a full mindful vibe with the delightful tunes that play all day by the DJ while sipping on your tropical cocktails. Your little ones can have the time of their lives with a dedicated animation team that has one and only mission and that is to spread good vibes. At night, you can get the full nightlife experience as you party with none-other-than Anastasia, the renowned belly dancer, and sway with live Jazz performance of the dazzling Rahma.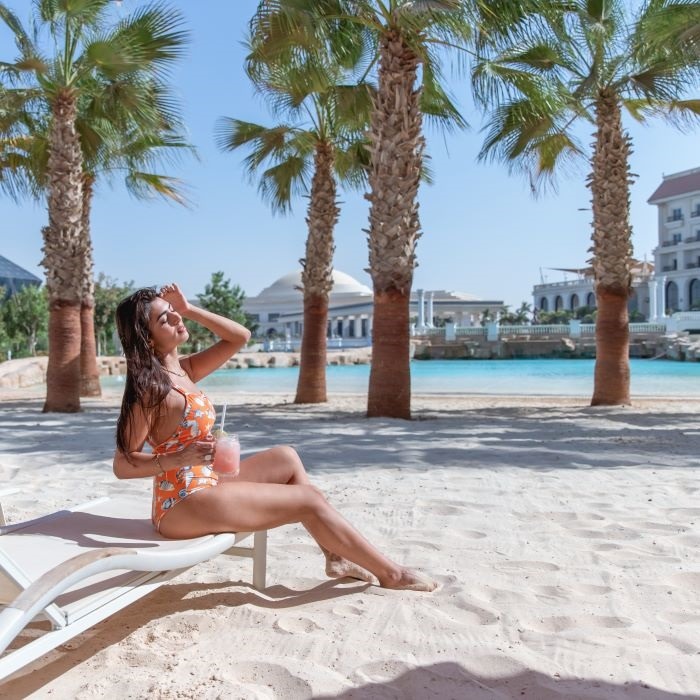 When it comes to food, you're in for a treat. The hotel offers dine-around experiences to savor at your plate; these are part of their signature Middle Eastern, Italian, and international cuisines. Make sure to also drop by "El Khan", where you can enjoy an authentic cup of tea with mint over Shisha puffs in a medieval vibe almost similar to the one you would fine at Khan El Khalili.
This family-friendly vibe can not be found anywhere else but The ST. Regis Almasa. Let your kids have the adventure that they will remember for years to come with the hotel's kid's entertainment program, that will keep them happily occupied as they engage in "Make Your Own Pizza" activity, go into drawing competition, and get inspired with a magic show and a funny clown. The hotel's cinema, which is located within the complex, will also have the latest Eid movie, so you wouldn't miss a thing.
This is the last time we're going to get a long vacation like this in 2022, and it's time for you to make the most of it. At the hotel, you can rejuvenate your mind and soul by treating yourself at the luxurious spa and indulge in the tranquility of the clubhouse Jacuzzi and warm indoor pool. You can also get a relaxing massage to unplug from the hassles of everyday life in the city. It's time to activate your ultimate relaxation mode.
WE SAID THIS: Prices starts from EGP 4,700 including breakfast and all applicable taxes per room. For booking and reservation, call +20246111000 or visit www.thestregisalmasa.com