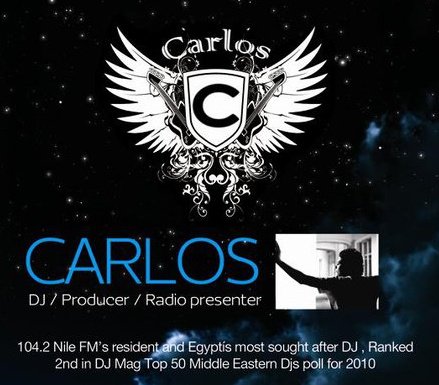 DJ Carlos, best known as the "electronic music king" on Egypt's radio station, Nile FM, also played once again at the WMC.
Carlos played in three venues this year, "Global Mixx Radio" showcase at Whitelaw, "Global Mixx Radio" showcase at Chelsea and "By the Light of the Night" at Catalina Red Bar.
While describing how this time's experience was different from last year, Carlos said, "This year was so intense, as WMC & MMW were merged again, so we were mostly running to catch performances of our favorite DJs in different venues. I was also working on playlists for my own gigs, collecting new material and producing radio shows for Nile FM to bring my listeners the latest from Miami."
Carlos gladly sat down with me and shared this year's experience.
What genre of music did you play?
This year, I wanted to do something new. I introduced a different side of me each gig and didn't repeat the same playlist during my performances. For the first gig, I introduced what I call "The Drums" Tech House vibes, which included lots of native instruments and percussions, and was a very popular sound in the Miami underground scene.
For the second gig, I played what I call "The Crowd Teasers", which includes uplifting modern House sounds with lot of vocals and remixes (such as daddy's groove remix of "Its Not Right But It's Ok").
For the third gig, and because my set time was from 3 till 5 AM, I played "Main Mix" Pumping Energetic House (Tracks like Nicky Romero's "303" , Hardwell's "Spaceman", Chris lake's "Sundown" and David Tort's remix of "Yawn")
Did you include any original material?
WMC is about testing new original material. I was prepared with a brand new remix that me & DJ Vega made for the upcoming American singer, Jasmine Rhey, on her tune "International", which was requested by the crowd more than once. You can check out the track here, or on YouTube.
How was the crowd's reaction to your set? Did it make a difference that you're Egyptian?
Well, the best thing about the crowds during WMC is that they're there to enjoy new music, so the more solid your sound and mixing are, the more cheers and interaction you'll get on each track you drop.
Being Egyptian got them more interested to know what else I had to offer, as they never heard of Egyptian DJs (except for our Trance superstars Aly & Fila).
Who were your favorite DJs/producers this year?
My favorite DJ this year was Hernan Cattaneo, who reinvented himself and reintroduced that magical progressive sound that brought us to our knees, with a modern spin for 2012.
My favorite producers would be The Cube Guys, with their beautiful Tech House beach vibes, which were perfect for this year's WMC
What is the best new gadget in the market?
The best new gadget introduced this year would have to be the new PIONEER Remix Station RMX-1000. It blew people's minds, including my own. Watch out for that!