Why These 5 Mitch Albom Books Are a Must Read
Processed with VSCOcam with f2 preset
Reading a book by the same author can get quite boring after a while, but not if he tells a completely different story and manages to keep you grasping for me, staying up late until you rave through the pages and read every word.
Mitch Albom is one of those authors, and here's why these 5 incredible books are a must read:
1. Have A Little Faith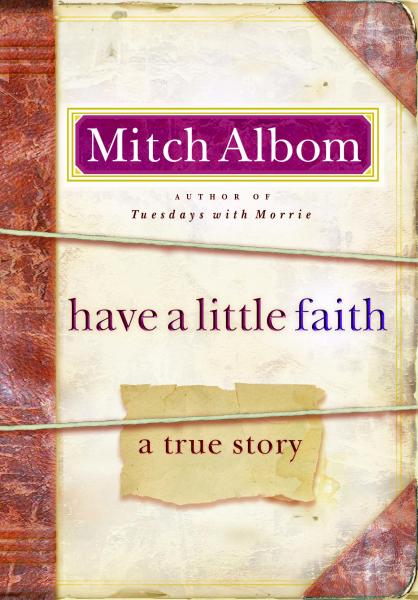 "Faith is about doing. You are how you act, not just how you believe." – Mitch Albom
In this book, Mitch Albom offers a very insightful written piece about religion, and how it is practiced. The book is about accepting everyone, dedicated to different religions. It is about understanding the main purpose of faith.
Through observing the lives of two men, devotees of different religions, Albom clearly shows that your background, race, job or even religion do not matter when it comes to believing in something bigger than yourself. This is the common characteristic that holds people onto their religion more and more. The book encourages tolerance, acceptance, doubts and faith.
Goodreads Rating: 4.15/5
2. For One More Day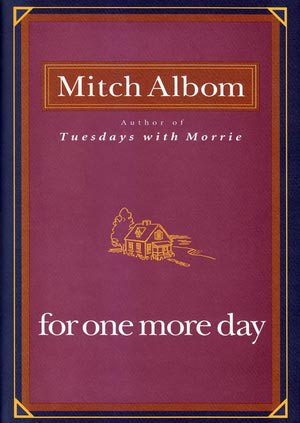 "Have you ever lost someone you love and wanted one more conversation, one more chance to make up for the time when you thought they would be here forever? If so, then you know you can go your whole life collecting days, and none will outweigh the one you wish you had back." – Mitch Albom
"My relationship with my mother improved after reading this book"- This is what I mostly hear from my friends who have read this book. And it is true; the book provides the significance of mothers, with all their sacrifices, love, tries and efforts. Have you ever wanted to have one more day with a dead person? Well, Charley Benetto had this chance with his most precious person, his mother. A day he longed and yearned for. He would try to make things right by having another chance with his mother, by talking to her, asking her questions and acknowledging her importance. Regrets? We all have them, yet we do not all have the chance Charley had.
From this book, you will realize that the sooner you make things right with your parents, the better it will be for your own consciousness and happiness.
Goodreads Rating: 4.07/5
3- Tuesdays With Morrie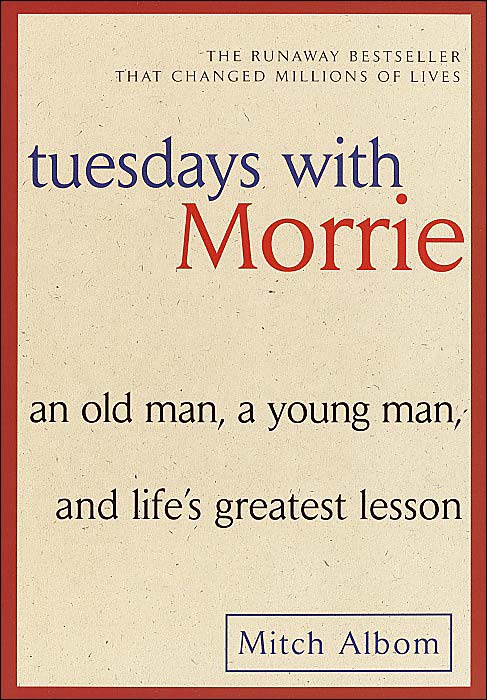 "Once you learn how to die, you learn how to live"
My favorite of all! Morrie Schwartz is Albom's teacher at college, a very intelligent and influential one. Once Mitch knew of his disease, causing his soon death, they both decided to have a Tuesday-Ritual, where they get to meet each Tuesday to discuss different topics, or to be more accurate, to learn from Morrie's wisdom.
The book tackles every topic you could ever think of. This ranges from regret, happiness, fear of aging, love, forgiveness, sadness, death…etc. The book offers a new promising perspective when thinking about these topics. It will enrich your soul and help you achieve peacefulness by all means.
Goodreads Rating: 4.01/5
4. The Five People You Meet in Heaven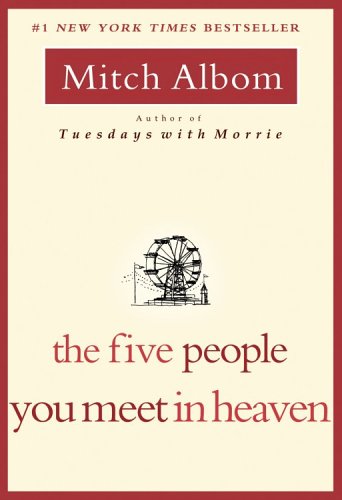 "All endings are also beginnings. We just don't know it at the time." – Mitch Albom
The book begins with "The End", when Eddie dies on his 83rd birthday. So you think life, with all its experiences, answers and journeys, ends at death? Mitch Albom decided to revolt against this common belief.
In fact, he begins a new journey, a more important one, where Eddie will meet the most influential five people in his life. These five people are not necessarily chosen from his friends, family or relatives. In fact, some of them are total strangers, yet they have all affected his life in a direct or indirect way. In the afterlife, Eddie gets the chance to learn more about his life, understands its meaning and his role. Each person will teach him a new lesson that he did not know during his life.
Goodreads Rating: 3.88/5
5. The Time Keeper
"'It is never too late or too soon. It is when it is supposed to be. There is a reason God limits our days.'
'Why?'
'To make each one precious.'"
What is time? And why is it so harsh on us? All of us have felt that they need more time, whether to study more for an exam, to get ready for a reservation or to sleep more. On the other hand, we sometimes need time to go as fast as possible so we don't feel the long boring ride, or to end the useless days, or fast-forward our days at school and go directly to holidays. Mitch Albom tackles these two feelings we all have.
More time or less time? Well, he tries to teach us that time is planned accurately for us. From the beginning of time, Mitch examines the person who decided to measure this gift from God. Through understanding the lives of this man, along with a teenage girl and a wealthy old man, one gets to understand the meaning of time and its usefulness.
Goodreads Rating: 3.83/5
WE SAID THIS: Don't miss The 10 Best Selling Books in Egypt Right Now