UAE's Oldest Christian Site Opens Doors to Public
Via Visit Abu Dhabi.
Last Thursday, Sheikh Nahayan Mabarak Al Nahayan, Minister of Tolerance along with Mohammad Khalifa Al Mubarak, Chairman of the Abu Dhabi's Department of Culture and Tourism (DCT) opened the UAE's oldest Christian site to the public for the very first time, according to Gulf News.
Discovered in the early 1990s, the Sir Bani Yas Church and Monastery, which happens to have the earliest known signs of Christianity in the Emirates, is considered to be one of the most important heritage sites in all of the Arabian Peninsula.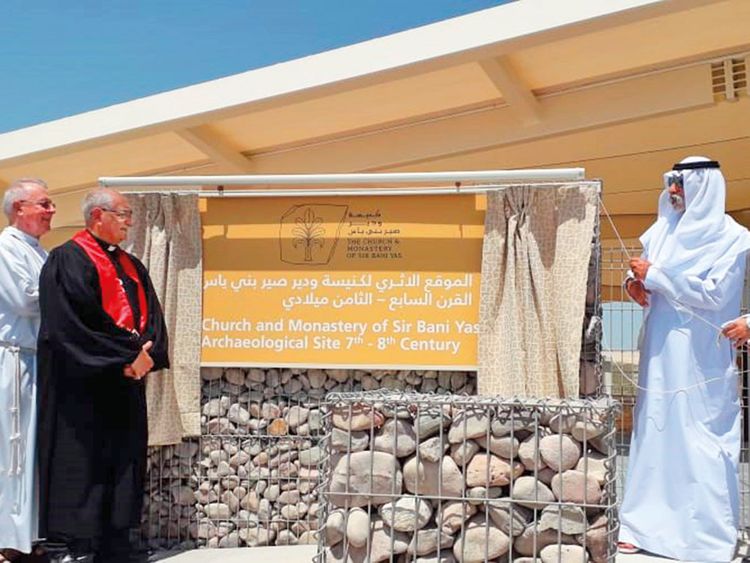 Archaeologists excavated the historical site near the eastern part of the Sir Bani Yas Island and found that it dated back 1,300 years to some time between the seventh and eighth centuries.
Al Nahayan and Al Mubarak were given a tour of the church with its dormitories, kitchens, and the attached burial site.
"This site received special attention from the UAE's founding father, the late Shaikh Zayed Bin Sultan Al Nahyan, due to the great significance and value it holds as a historic part of the UAE's cultural heritage," said Shaikh Nahayan to Gulf News.
"This further emphasizes the importance of cross-cultural dialogue and collaboration, as the site provides evidence of the UAE's openness to other cultures. It is perfect timing that the inauguration of this landmark comes during the Year of Tolerance, which was marked this year by the historic visit of His Holiness Pope Francis, Head of the Catholic Church, to the UAE", he continued.
Paul Hinder, the Catholic bishop who oversees the activities of all Catholic churches in Oman and the UAE, attended the opening ceremony and praised the efforts of the UAE for integrating different cultures and religions.
"Even I didn't know that a church existed in the UAE centuries back," he said. "So, I'm sure people would love to know about it and its past. Such measures open up the minds of people, which is very important, and it favors the relationship between religions."

The DCT stated that the church was part of a network of Christian sites across the Arabian Peninsula during the early years of Islam.
The artifact confirmed a theory that the inhabitants of the monastery used to feed on seafood and livestock, while the glass and ceramic relics revealed that they traded with other inhabitants of the region.
Currently, 13 percent of the UAE's population identify as Christians, many of them expats. The government recognizes a number of denominations, with many Oriental and Eastern Orthodox churches in addition to Roman Catholic as well as Protestant ones.