The United Arab Emirates (UAE) and Japan are honoring their close diplomatic ties which span 50 years with an exhibition titled "Variation and Autonomy: The Prints of Contemporary Japanese Painters." This exhibition, directed by Kyoji Takizawa of the Machida City Museum of Graphic Arts in Tokyo, will run until July 7 and will feature the work of 10 artists who experimented with prints in the 1970s in the field of contemporary art.
Works by internationally acclaimed artist Yayoi Kusama, as well as other Japanese artists including Masanari Murai, Toshinobu Onosato, Yasukazu Tabuchi, Natsuyuki Nakanishi, Hitoshi Nakazato, Tomoharu Murakami, Naoyoshi Hikosaka, Kosai Hori, and Toeko Tatsuno, are on display at The Galleria Al Maryah Island which is one of the biggest malls in Abu Dhabi. Also, this show is part of the Abu Dhabi Festival 2022, which is themed "Crafting the Emirates State of Mind: Creation, Innovation, and Joy," According to Arab News.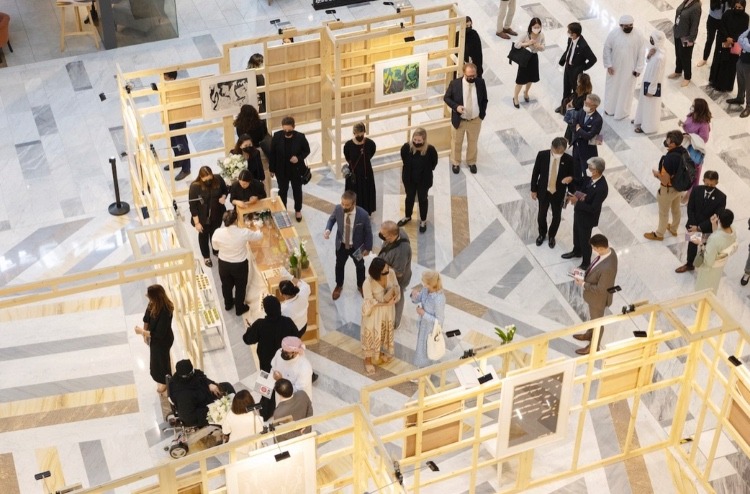 Huda I. Alkhamis-Kanoo, the founder and creative director of the Abu Dhabi Festival stated:
Audiences in the UAE will have the chance to see the beauty of contemporary Japanese art and learn about the talent of the country's leading artists.

Via Arab News
Consequently, Japan's Ambassador, Akio Isomata, wanted to convey his message to the UAE by emphasizing the need for encouraging cultural exchanges between the two nations, citing this show as an example of such a contribution that will benefit both cultures. Furthermore, this exhibition focuses on artists who worked in the 1970s, such as Yayoi Kusama, whose instantly recognizable work has been exhibited at the Tate Modern in London, the Hirshhorn Museum in Washington, DC, and countless galleries across the world.