Summer is almost here, and there's no better time to let loose and unwind. Sometimes, people need a relaxing getaway, something to take their minds off the hustle and bustle of Cairo. Unfortunately, now with 'adulting' becoming a thing, we all don't have the luxury to travel outside of the capital each weekend. What if there was a way for you to enjoy your short weekends without wasting time traveling hundreds of kilometers. What if the beach comes to you right here, just a short drive away from Cairo?
The St. Regis Almasa offers all of this and more! It's the perfect day-use if you're looking for the ultimate summer vibe destination. For a staycation that you could spend with family, friends, significant other, or all by yourself, here are the six reasons why you should consider The St. Regis Almasa.
Turn the weekend into a short vacation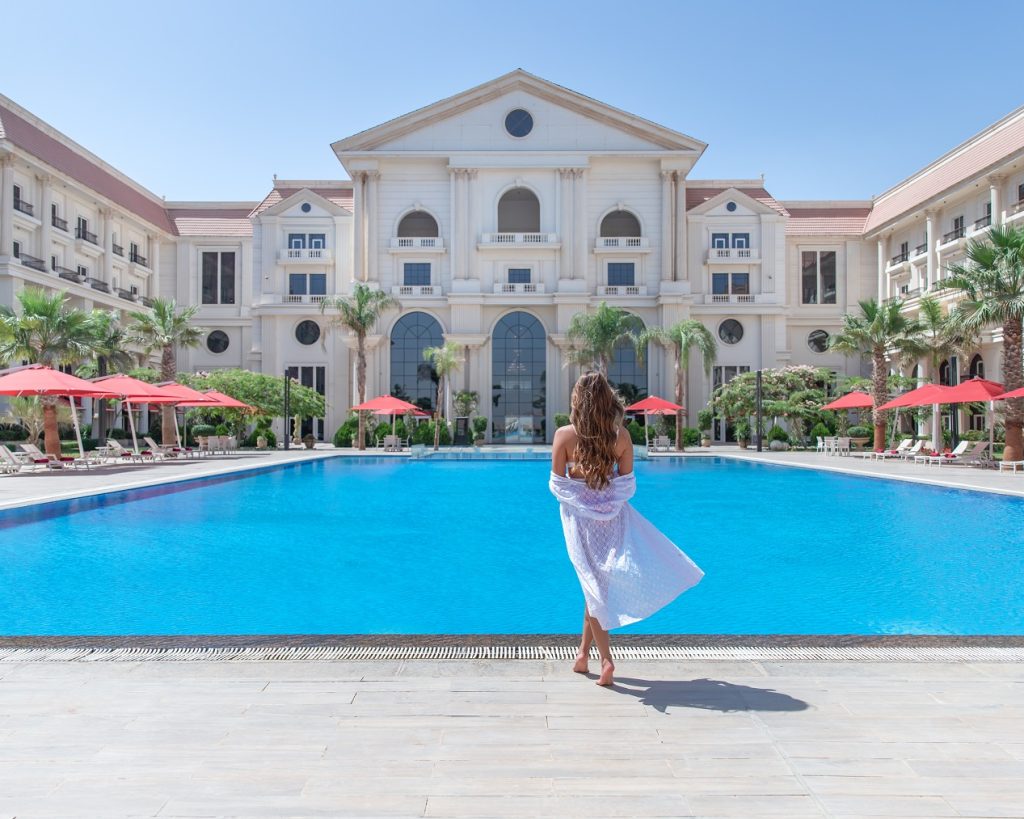 In under 45 minutes, you will find yourself surrounded by glimmering lakes, clean air, breathtaking gardens, and azure-blue swimming pools; It's just that combination you need for a carefree weekend.
Bringing the beach over to you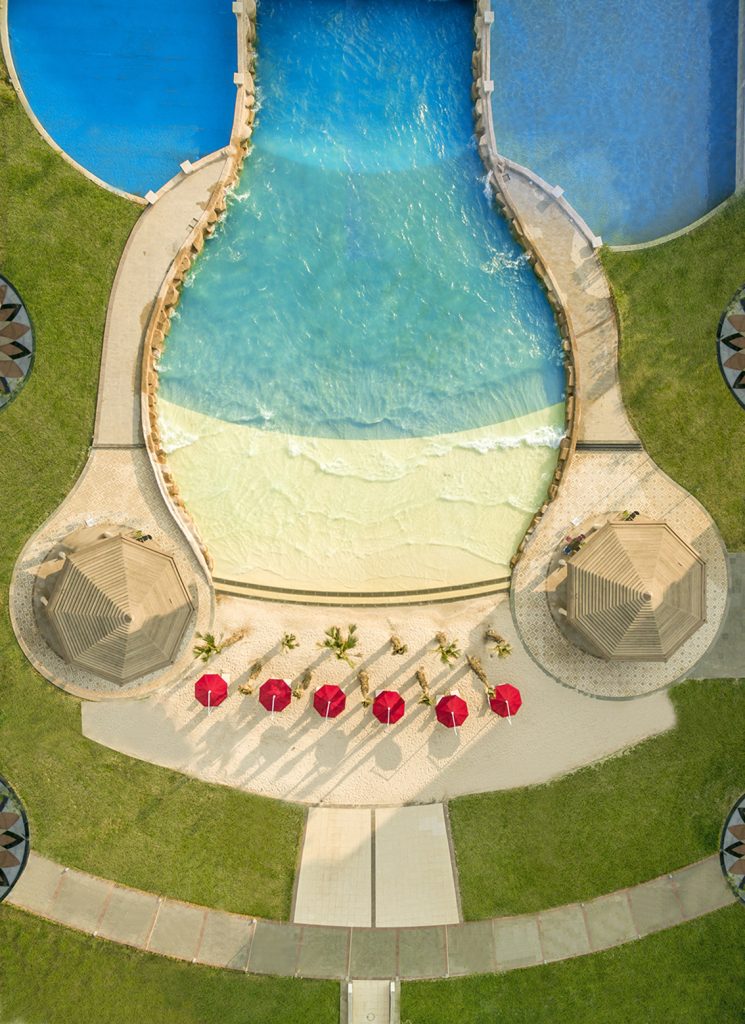 With golden yellow sand, warm summer breeze, and waves crashing along a shore, the artificial beach at The St. Regis Almasa is a piece from heaven. There, you could sip refreshing cocktails from one of the bars or take a dip in one of the tranquil swimming pools. The tropical retreat is surrounded by palm trees, providing shade in this palette of blue, yellow, and green specially designed for the comfort of your eyes.
The ultimate bike ride
Explore 120 acres of lush gardens, crystal blue lakes, and European-style buildings on bikes. This activity is best done by sunrise or as the sun sets to get the full scope of the hotel's glamorous makeover. The hotel has assigned bike lanes for you to experience everything that makes The St. Regis Almasa the haven that it is.
One-of-a-kind romantic experience
From candle-lit dinner by the beach to a private dining experience at La Sponda, the Italian Specialty Restaurant, The St. Regis Almasa offers a bespoke romantic getaway that treats you and your loved one to a well-deserved staycation. There is also a custom-made romantic package to enjoy a stay decorated with flowers, candles, balloons, and lavish amenities. Luckily for you and your significant other, it doesn't end here! Treat your loved one to a relaxing, warm swim dip in the hotel's indoor pool or perhaps a bubble served over a relaxing Jacuzzi experience in the midst of a myriad of indulging services to enter a world of relaxation at the hotel's spa.
Unmatched kids entertainment
You might be worried about what your kids will be doing, but fortunately, The St. Regis Almasa has designed itself to be a family-friendly destination. Inside its walls, every moment becomes an unforgettable memory as your kids jump happily in their own children's pool. Not only that but also a state-of-the-art Kids Club is waiting for your little ones to help them learn how to draw, color, cook, read, run in mazes, jump in the ball pit, and play bumping cars. There's also a cinema, wherein young ones are invited to watch their favorite cartoons.
A destination within a destination
Sports aficionados brace yourselves for what's coming next! Starting with a two-story gym, and a few sports courts for football and tennis, The St. Regis Almasa has got your back.
In case you're not that big a fan of sports, the clubhouse promises you a classic game of billiard.
Indulge your tastebuds with delectable dine-around experiences from signature Middle Eastern, Italian, and international cuisines. You can also enjoy Hookah with tea and fresh mint served at "El Khan", a mini replica of Khan El Khalili, or watch your latest favorite movies screened at the grand cinema halls located next to "El-Khan". All of this is designed to provide exquisite experiences that are distinctive enough to match with no other hotel in town.
WE SAID THIS: At its heart, The St. Regis Almasa is a comprehensive experience that caters to solo travelers, couples, families, and friend groups who are on the lookout for something that's wholesome.