The Sound of Movies is a journey through reminiscence, memory, and 125 years of movie music magic. Paying tribute to Egypt's long-lasting leading role in cinema, the magnificent celebration takes you by the hand and walks you down avenues of memory in an incomparable, immersive, and grand setting.
Taking place on the 29th of October at the historic Abdeen Palace, the venue is the perfect royal backdrop to celebrate Egypt's Hollywood glamour. The evening is set to be picture-perfect as it is in collaboration with MBC group, so you can expect the highest diligence and a most opulent celebration. The list of attendees expected to grace the premises of Abdeen Palace on this evening of the profound cultural revival includes excellencies, royalties, and high-ranking officials. In such a regal atmosphere, behold as you witness yourself straight out of black and white movie frames, singing along to the tunes of Abdelwahab and Farid Al Atrash and enjoying a dreamy evening.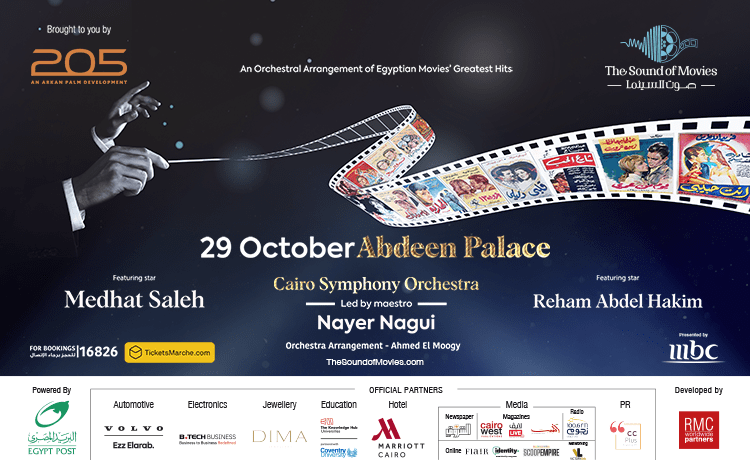 This series of magical musical shows is headlined by the iconic Cairo Symphony Orchestra. The alluring and meticulous orchestra will charm away all those in attendance, by breathing life once more into the songs and melodies we have all come to know by heart since infancy. The classical heritage pieces will be revisioned, reorganized, and played in an orchestra conducted by the world-renowned Nayar Nagui. Among the performances that will recapture the sands of time are Medhat Saleh and Reham Abdel Hakim. The complete list of performances has yet to be announced, but you can expect an authentic and transforming harmonica of voices.
The Sound of Movies transcends you into the olden days in a soulful and delicate sensory escapade, as the waves of memory come over you like a flood. This pure tribute to the sweet melodies of Egyptian cinema celebrates the three eras of its renaissance in musical arrangements. Focused on appreciation, education, nostalgia, and cultural preservation, The Sound of Movies is a defining cultural cornerstone that one would regret to miss. Some live their lives dreaming for the day to come when they see the movies they grew up with on the big screen. But, how about an experience of complete soulful immersion and sensory overload? Make sure to tune in on their website to see the full list of performances, and find out more on what The Sound of Movies hopes to inspire culturally within the hearts of Egyptians, and throughout the world.
WE SAID THIS: Buy your tickets now!