With a fresh new concept of agritainment, Hazel Farm, located on Alexandria Desert road, is a place where farming meets entertainment through hands-on activities. The farm has a mission of spreading awareness about the value of clean eating, being in touch with nature and protecting the environment.
To learn more about the business and the inspiration behind it, we sat down with Hazel Farm's founder and managing director, Iman Mostafa.
With the uniqueness of the concept of Hazel Farm and its inception in 2021, how did you come up with this idea and what was it influenced by?
The idea came up when I realized that making a business from organic farming requires a lot of investment and patience. So, I started to think of how I can keep going in this direction without getting bored or disappointed. I have always been passionate about environmental consciousness, clean eating, and connecting back to nature while being a people's person who loves hosting and sharing with people what I love.
So, from here I started to develop a model that combines all these elements, and the agritainment concept introduced through Hazel Farm perfectly fulfills this while generating revenue that is not dependent on the seasonality of agriculture. Also, while researching, I got a very strong validation that there is a big need for such a model in Egypt. This is because of all the hustle & bustle of the city, people are always looking for getaways where they can connect back to nature and learn more about organic farming as well as knowing where their food comes from.
How do you personally relate to Hazel Farm?
I literally found myself in Hazel Farm. Now, I can't imagine myself doing anything else. It is my comfort zone where everything I love is there. I have always been dreaming of having access to clean food, and it really feels great that I am growing my own food and I am 100% sure that it is safe. As a result, I am sharing this experience with people and it is so rewarding when I see my guests happy or when I see kids getting to learn new things through involving them in hands-on farming activities.
What are some of the unforgettable personal experiences you have encountered while running the farm?
An unforgettable personal experience, is the first event that took place at the farm in collaboration with the United Nations celebrating World Children Day with around 100 children. It will always remain a special day, because it was the very first event and the first day where I felt that the project came to life. It was also the moment I felt that all the hard work was paying off as I saw the children having a blast.
Also, with every time I harvest a crop, I feel so grateful and happy as I know how much work was behind it. In general, I don't take these simple things like food for granted any more. Actually this experience has changed me on many levels.
The Agritainment Concept is new to a lot of people, was
Firstly, let's explain what "agritainment" is, a concept that combines both farming and entertainment together while involving the guests in the farming process. The process encompasses planting, harvesting, farm to table food experience, in addition to seasonal festivals, fun games and tailored activities depending on the target group. 
Based on my research, I knew before starting that there is a big demand for such activities. The stressful pace of life in the cities, urged people to look for outings that are different and there is an increasing interest in outdoor outings especially after COVID. So I thought to myself, why not add to this outdoor outing, hands on activities to make the concept more attractive to a variety of target groups including schools, corporates, yoga/ meditation retreats, and others. So It was not met with resistance as people accepted the idea instantly.
We know that you get a lot of school trips, but do corporations also come frequently and what are the types of activities that you tailor for them?
Yes, corporations are another target group to which we tailor activities. We offer team bonding activities that are related to farming. Such as "adopt a slot", where the team prepares a slot of the land and plant it with a certain crop, and we put a sign in this slot with the name of the company, and they can come back to check on their plants anytime as well as receive updates from us through pictures.
We also, offer them some fun games like treasure hunts that mostly happen in our "Maze". (We have a maze that differs according to the season so in the summer it was a sunflowers maze, now it is a wheat maze). Also, a very important element that we are getting really good feedback on, is our farm to table food experience. We offer an authentic breakfast that includes freshly baked feteer meshaltet and lunch that includes the farm vegetables casseroles, salads, and BBQ.
What are some of the popular farming techniques that you advocate for at Hazel Farm?
The farming technique that we advocate is "agroforestry" which basically means growing different crops in the same slot of land. This includes vegetables, herbs, landscape plants, and trees. This technique restores the ecosystem and improves the soil quality and helps the farm to remain organic as it decreases the probability of pests attacks.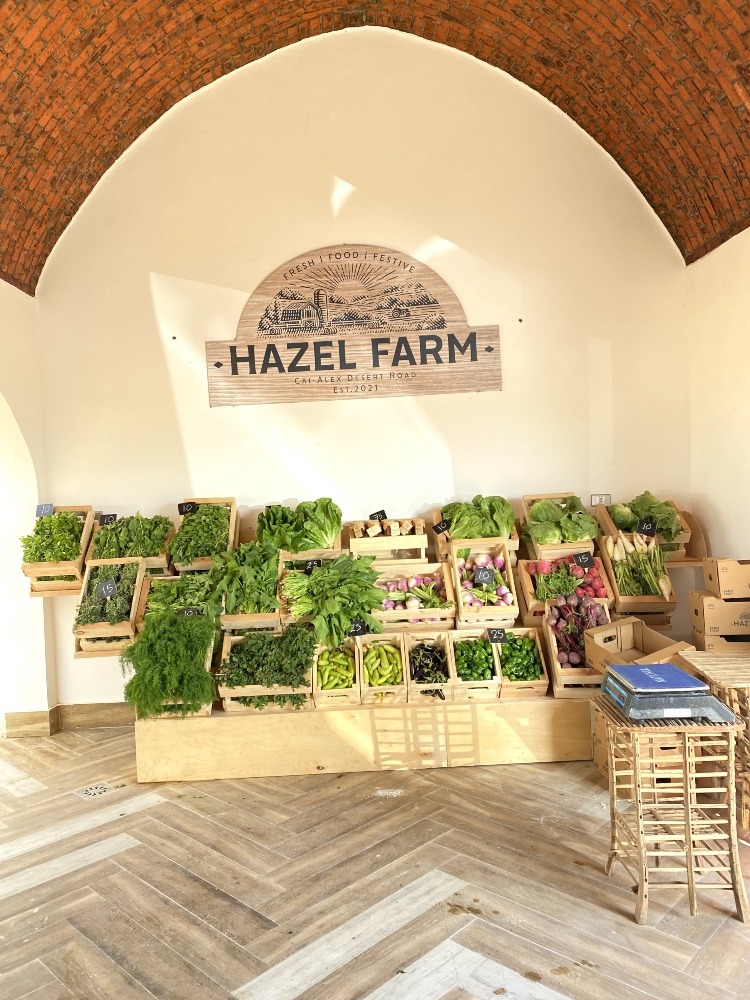 Since there is a variety of crops, this means that a a lot of insects act like natural pesticides and protect the crops from negative impacts that result from climate change. For instance, when you have a tree next to vegetables, its shade protects the vegetables on hot summer days.
What were some of the challenges that you faced while creating Hazel Farm and how did you pick out the location?
Convincing the farmers to change how they used to work and switch from conventional farming to organic farming was a great challenge. However, step by step the farmers started to believe in it when they saw how different organic farming is and how people are happy with the results. Also, starting something from scratch whether planting an empty land or building space for people to gather was another big challenge as it includes a lot of uncertainty, doubts and risks. I overcame these challenge by patience and persistence. it just needs to keep going regardless of any negative thoughts.
The farm is initially a family farm. A slot of it was not planted to be used soon by my family. My brother thankfully proposed that I can use this slot for the project and it became Hazel Farm.
What is your ultimate goal from Hazel Farm and what concept do you mostly hope to spread around Egypt's agriculture scene?
My ultimate goal is to raise awareness about clean eating and its benefits, exposing people and kids to memorable experiences where they can learn new things related to health and environment and enjoy at the same time. I also aim at creating a model of an integrated and sustainable farm that optimizes the use of resources and brings the best out of everything and be a role mode for other farmers to start thinking green.
Hazel Farm is a great destination for your next outing, whether it's with your family or friends, due to its innovative approach to agriculture and capacity to provide an enjoyable experience. This location is a hidden gem for anyone looking for a thrilling experience because of the welcoming atmosphere and chance to re-connect with nature.