Every other day, we find something going viral on Facebook that has everyone talking about. Today's topic happens to be an Egyptian high school prom. While a high school prom might be irrelevant to almost everyone, the American International School's — known as AIS — prom seems to be extremely relevant to everything that's wrong with Egypt today!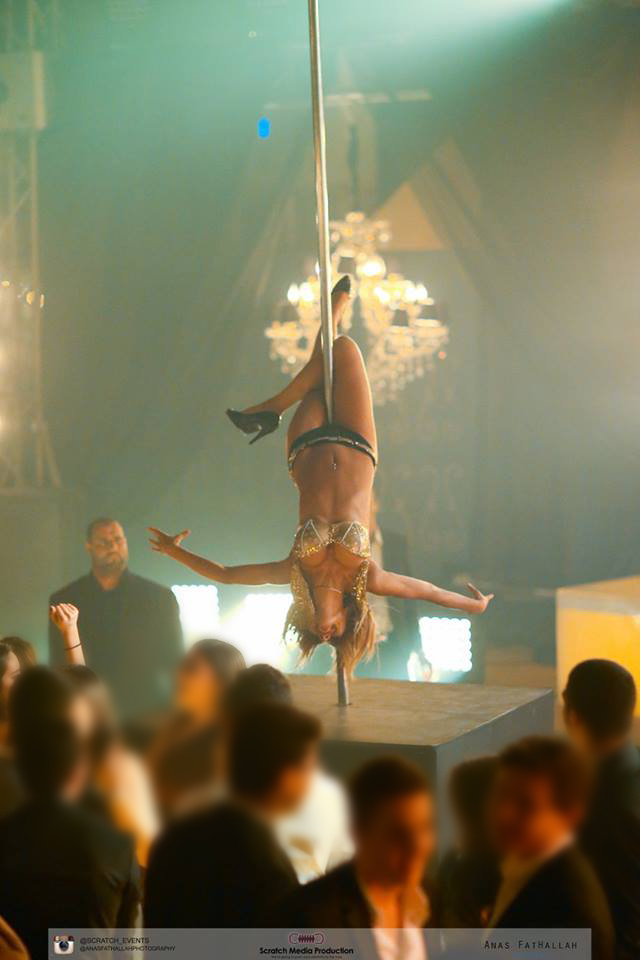 The whole controversy started when a Facebook page called "The Night Out" posted pictures from the prom, and it featured table and gogo dancers, as well as a visible bar. While there's absolutely nothing wrong with dancers and bars in general, it's extremely problematic when they're at a kids party.
Before we get into any debates on what's right and what's wrong, we here at Scoop Empire have decided to delve deep into this situation to find out the truth. Let us start with this simple fact, this wasn't this year's prom, it was last year's.
There's an adult out there who went out of their way to look for pictures that have underage students and posted it on their Facebook page for hundreds of thousands of likes!
The Night Out page is a sister page to Moves Places, an account with over 600,000 likes that operates on posting controversial events pictures, and in many cases events that aren't even in Egypt with the claim that they're actually in Egypt.  The page thrives on causing controversy and posting pictures of exposed women to grab views, and that's exactly what they did to these high school kids.
The pictures from this prom were shared on the event organizer's page nine months ago, but Moves Places only decided to share the pictures with the gogo dancers and the underage girls now to cause controversy.
The actual page that's posting these pictures isn't the only problem. It's the fact that some adults helped with bringing this event together for these kids.

While many might not agree on the use of the term "kids," I completely stand by it. The attendees of the event were between the ages of 15 and 17, meaning they were under the legal age — 21 — to be in this environment, yet here they are.
The first one anyone would blame for this mess would, obviously, be the school. But since Egypt operates in mysterious ways, we had to make sure that the school knew what was happening. We contacted them through Facebook and got a reply telling us to email them. A few minutes after, we received this message:
Hello, Thank you for reaching out to us. Mr. Walid Abushakra has asked me to contact you on his behalf. He is currently out of the country but can be reached on his Egyptian mobile number. He is currently in a meeting but will be available in about two hours. Have a good day. Regards.
The immediate respond showed that the school did, in fact, care about what's happening. We later called Abushakra, who was in Beirut, about the situation and he sounded visibly upset by it.
"I'm in Beirut, so I haven't had time to check Facebook and see what's happening, but I've been informed about it. The school had nothing to do with this event, we only did the graduation ceremony. This event was a celebration held by the students for themselves and their friends at a hotel, but it has nothing to do with the school."
For those you don't know who Walid Abushakra is, well, he is the chairman of the school, and founder of Esol Education — the biggest organization in the field of primary and secondary education for the American education system outside of the US. Through the phone conversation, Abushakra went on to explain his side of the story.
"AIS is one of the biggest schools in Egypt, and Esol is, in fact, the biggest operator of high quality American schools outside the US. We do, however, face a lot of problems in Egypt, mostly from people who want to harm our image. Our main policy is adapting to the surrounding environments and sticking to student's customs and traditions. Ethics and discipline are our priorities, then education.

We don't know who put our name on the event, but whoever it was, we'll be taking legal action. We had 32 students in our graduating class at the AIS West Campus in 2016, and the images in question show hundreds of people. Neither the students, nor any event organizers are allowed to use our name and logos for any unofficial event, and whoever was behind this will have to face the consequences.

The organizing company has to be banned from dealing with kids. What they provided for the students was not appropriate or acceptable. I am a Lebanese-American, and at AIS we deeply respect the Egyptian culture and teach our students to be proud of their heritage and to adhere to their country's values, customs, and traditions."
So, Abushakra has made it clear that the school had nothing to do with it and the blame falls completely on the event organizers.
WE SAID THIS: We decided not to attach the original albums or add any of the pictures of the students out of respect for their privacy.
The article was edited at 7:52 pm, 26/03/17 for clarification per the source's request for clarifications that were lost in translation and to correct the number of students.