By Aly Siam
Four Ancient Egyptian artifacts that were illegally smuggled to Italy have been returned to Egypt. The artifacts of cultural heritage were given back to the Egyptian Embassy in Rome a while ago. The foreign ministry then gave the artifacts back to the Ministry of Tourism and Antiquities in Egypt, bringing the Egyptian relics back home where they belong.
According to Nadine El-Aref from El Ahram, "the repatriated artifacts include a part of a coffin lid carved in wood and decorated with rows of hieroglyphic text from the Late Period that was recovered in 2017; a ceramic vase and a part of a statuette depicting a female figure from the Graeco-Roman period recovered in 2018; and a 2.5cm tall Djed pillar recovered from Turin Museum in 2022."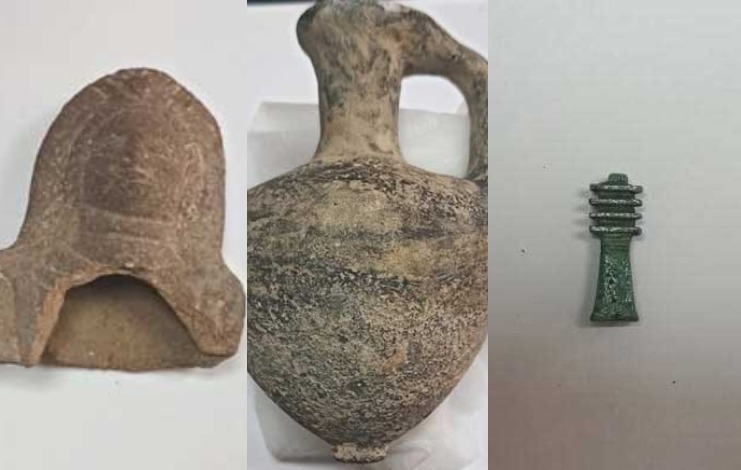 Mostafa Waziry, secretary-general of the Supreme Council of Antiquities (SCA) expressed his gratitude saying he was "grateful for the fruitful collaboration between the Egyptian and Italian authorities."
According to a research article titled "Graeco-Roman Fertility Figurines from Gayer-Anderson Museum, Cairo" written by Noha Shalaby, the fertility figurines have a long-standing history in Egyptian tradition. Each and every different figurine has a certain significance to it and is unique in its own way. Moreover, the figurines occupy a particular role in religious rituals or festivals. Additionally, both Egyptians and Greeks obtained these figurines largely for protective and apotropaic purposes.
Furthermore, according to the Brooklyn Museum, the djed-pillar can possibly be interpreted as the backbone of Osiris, or that of the dead related or linked with him. The Egyptians acknowledged the significance of the spine and understood it as a symbol that preserved Osiris, the resurrected god, unbroken and with the capability to function.
Shaaban Abdel-Gawad, Supervisor of the Antiquities Repatriation Department at the SCA said, "Egypt has a plan to restore its historical and archaeological heritage by combating smuggling endeavors and through agreements against the illegal transfer of artifacts."