"Softly-Softly": A New Approach to Integrate Syrian Refugees in Egyptian Community!
Syrian internally displaced people walk in the Atme camp, along the Turkish border in the northwestern Syrian province of Idlib, on March 19, 2013. The conflict in Syria between rebel forces and pro-government troops has killed at least 70,000 people, and forced more than one million Syrians to seek refuge abroad. AFP PHOTO/BULENT KILIC (Photo credit should read BULENT KILIC/AFP/Getty Images)
By Kareem Sheta
History has proven that Egypt always stands by its fellow neighboring Arab countries through times of turmoil. Refugees, one of the most widespread and constantly increasing segments, are in desperate need of help from both the Middle East and the rest of the world. "Egypt has hosted 10 million refugees from Syria, Iraq, Yemen, Palestine, Sudan, Somalia and other countries," said Parliament speaker Ali Abdel Aal.
Egypt's commendable methodology focuses on integrating refugees rather than isolating them in refugee camps. This technique is also referred to as a "softly-softly" approach. All registered refugees have access to the country's public health care system while those from Syria and Sudan have access to public education. The UNHCR previously stated, "The model that Egypt represents with regards to social inclusiveness has proved to be successful and fosters the co-existence and social cohesion between Egyptians and refugees."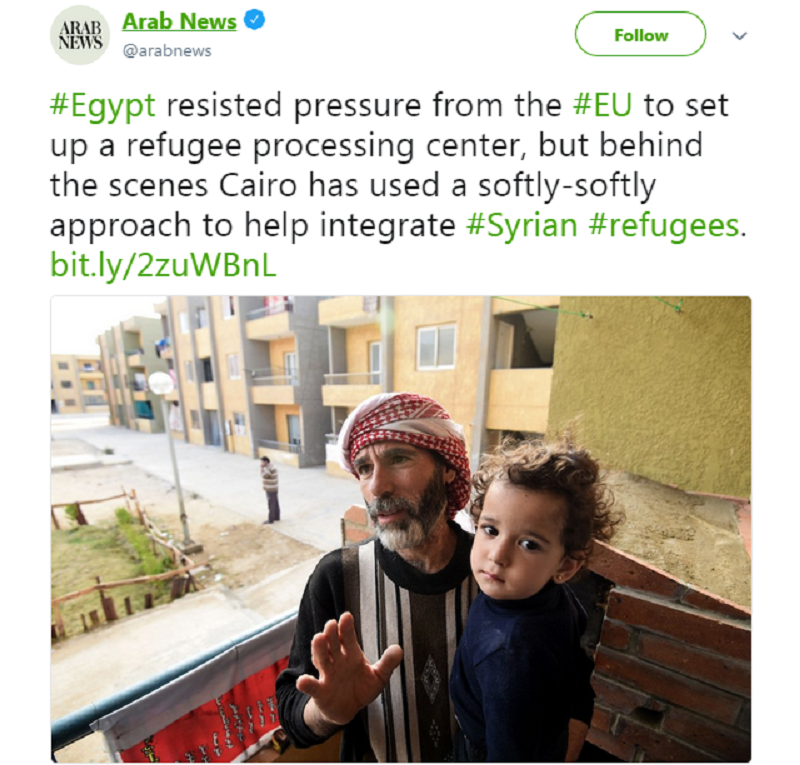 Consequently, Cairo rejected the European Proposal for setting up refugee camps in Egypt that would be used as processing centers for the resettlement of refugees fleeing Sub-Saharan Africa and the Middle East. Abdel Aal justified Egypt's opinion stating that EU's proposal would "violate the laws and constitution of our country and that "Egyptian law does not allow for the establishment of refugee camps, and that legally registered refugees should be free to choose where to live".
WE SAID THIS: Refugees don't deserve less than this righteous approach!