Shakira Cancels Her Show In Tel Aviv In Wake of The Gaza Massacre
Via: The961
By Nada Hamouda
Pop star, Shakira, has canceled her concert in Tel Aviv, as announced in April 2018, in the wake of the violent events which occurred in Gaza in the last month at the same time of the opening of the U.S embassy. This supportive response of such an international artist has been very much welcomed by Pro-Palestinian activists and the BDS (the movement for Boycott, Divestment and Sanctions against Israel) supporters.
This decision followed a campaign by the BDS movement as they have been sending letters to Shakira prompting her to cancel her show, scheduled to be in July 2018, after the death of 58 Palestinians when Israeli troops opened fire during protests. "We ask you not to "la la la" to the system of injustice that is denying them their human rights and very dreams," stated the letter.
However, Live Nation, a US- based international concert producer company, has commented on the issue stating that any reports on Shakira performing in Tel Aviv were already incorrect in the first place. As no tickets have been put out for sales in Isreal.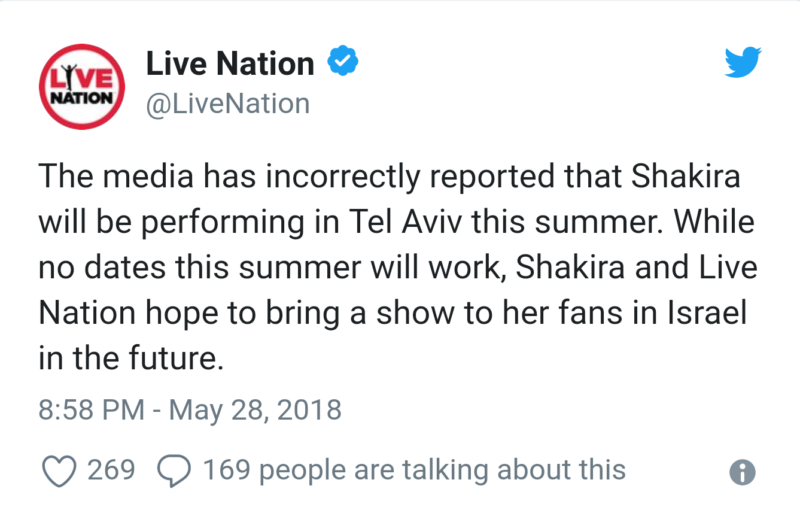 Last time the Colombian star with Lebanese roots appeared in Israel was in 2011 with her boyfriend, Barcelona player, Gerard Pique. The pair visited the Western Wall back then.
WE SAID THIS: Standing for the victims whose souls have been wasted while others were celebrating their victories is just brave and humane!