Saudi infuencer Alanoud Badr just sparked mad inspiration for women all over! In her Instagram posts, she shared about her experience throughout the egg freezing process, also known as mature oocyte cryopreservation. Egg freezing is a medical method that allows a woman to become pregnant at a later stage in her life. With many women facing social pressures for getting married and having children, this method serves as a viable option for those who may not be ready or willing to have a child at the current moment in their life.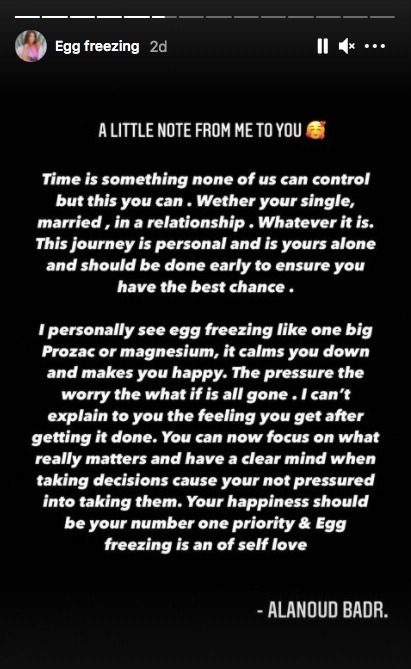 In her Instagram stories, she shared her journey throughout the process, giving us all the ins and outs of her procedure. With special behind the scenes stories uploaded to her Instagram account, Badr has undoubtedly reminded women everywhere that they too have the freedom to do as they wish with their bodies, and be the sole decision-makers over themselves.
Before this procedure, a doctor will discuss with the patient how the procedure works, the potential risks, and whether or not the procedure is suitable for them, based on both their needs and their reproductive history. "I wish I did this years back, but so happy with the results," Badr said in her Instagram story.