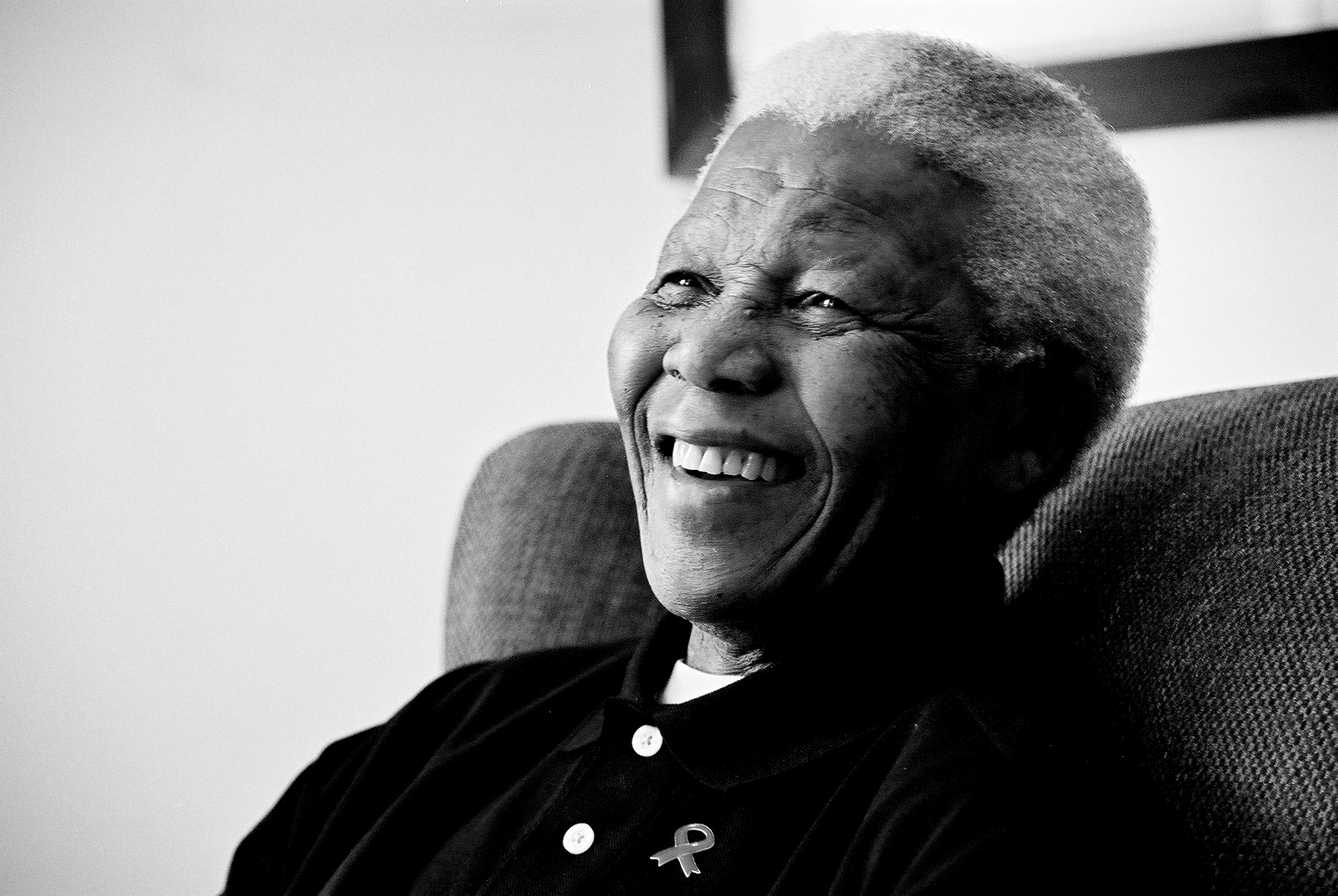 Nelson Rolihlahla Mandela, the reason behind South Africa's democracy, a legend and first black President in history, passed away yesterday from a severe lung infection at home after spending three months in the hospital.
"Our nation has lost its greatest son," South African president Jacob Zuma said. "Our people have lost a father," he continued.
We may have lost him, but his words will forever stay in our hearts.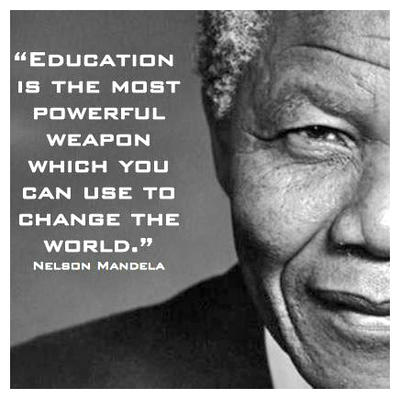 "Peace is the greatest weapon for development that any person can have."
"When a man is denied the right to live the life he believes in, he has no choice but to become an outlaw."
"You will achieve more in this world through acts of mercy than you will through acts of retribution."
"A leader. . .is like a shepherd. He stays behind the flock, letting the most nimble go out ahead, whereupon the others follow, not realizing that all along they are being directed from behind."
"Courage is not the absence of fear — it s inspiring others to move beyond it."
"For to be free is not merely to cast off one's chains, but to live in a way that respects and enhances the freedom of others."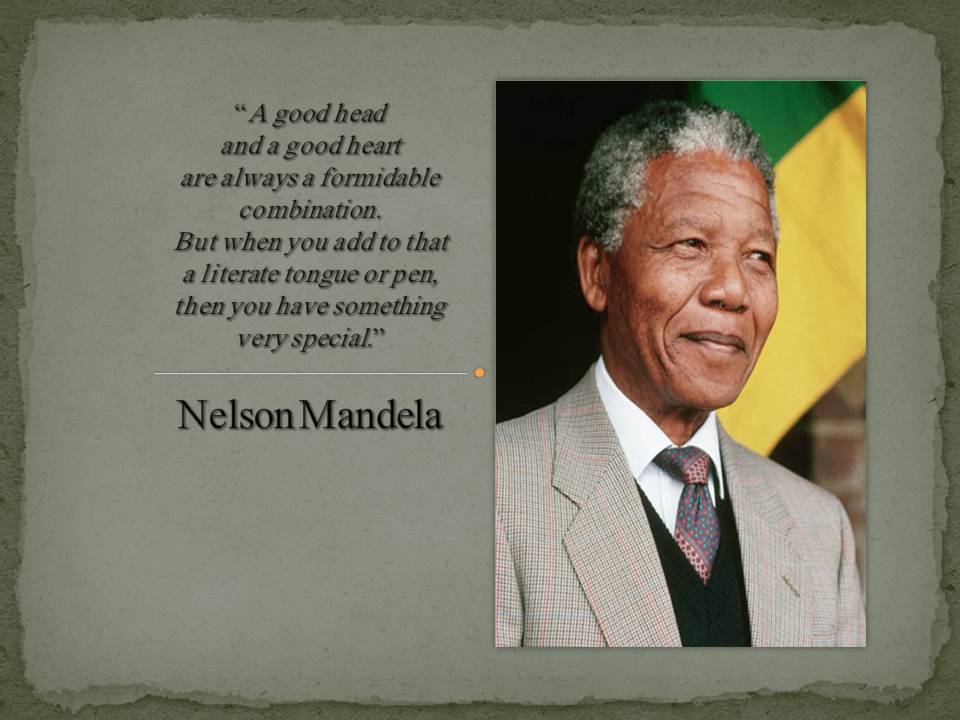 "Resentment is like drinking poison and then hoping it will kill your enemies."
"Appearances matter — and remember to smile."
"There is nothing like returning to a place that remains unchanged to find the ways in which you yourself have altered."
"Lead from the back — and let others believe they are in front."
"We ask ourselves, who am I to be brilliant, gorgeous, handsome, talented and fabulous? Actually, who are you not to be?"
"After climbing a great hill, one only finds that there are many more hills to climb."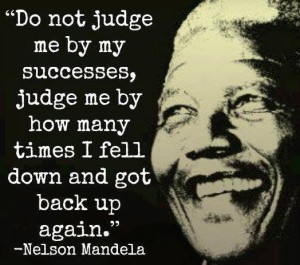 "I am not a saint, unless you think of a saint as a sinner who keeps on trying."
"A winner is a dreamer who never gives up"
"The greatest glory in living
lies not in never falling,
but in rising every time we fall."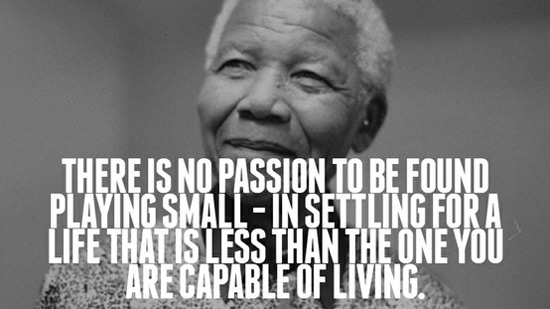 "If you talk to a man in a language he understands, that goes to his head. If you talk to him in his language, that goes to his heart."
"Where you stand depends on where you sit."
"Nothing is black or white."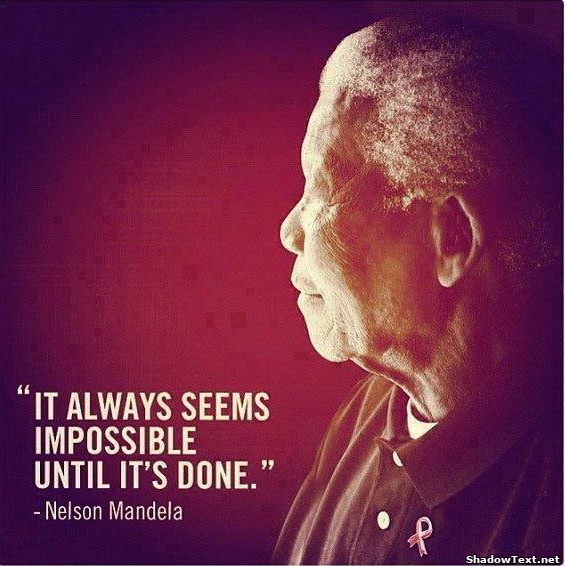 "One cannot be prepared for something while secretly believing it will not happen."
"Know your enemy — and learn about his favorite sport."
"Freedom is indivisible; the chains on any one of my people were the chains on all of them, the chains on all of my people were the chains on me."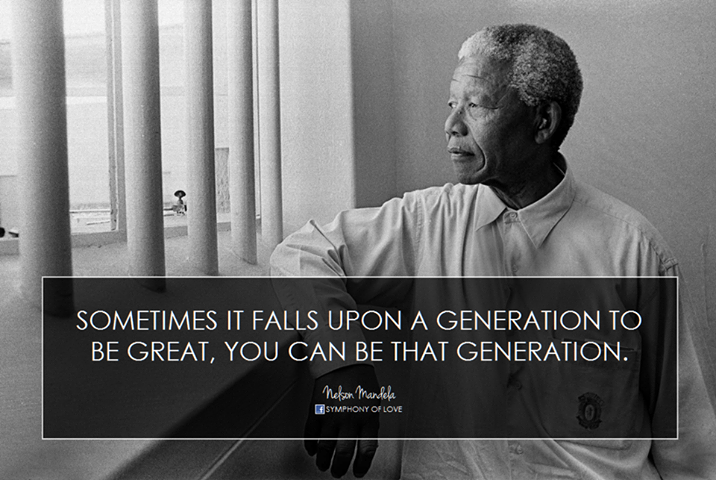 "Quitting is leading too."
"It is not where you start but how high you aim that matters for success."
"When the water starts boiling it is foolish to turn off the heat."
"I am the master of my fate and the captain of my destiny."
"Your playing small does not serve the world. Who are you not to be great?"
"Keep your friends close — and your rivals even closer."
"I am not an optimist, but a great believer of hope."
"A good head and a good heart are always a formidable combination."
"Lead from the front — but don t leave your base behind."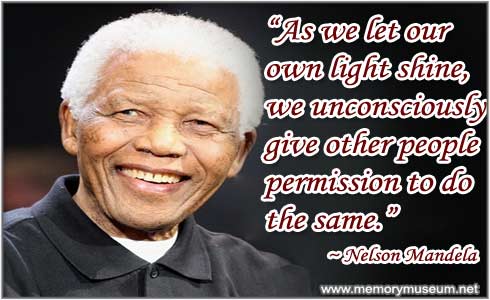 "Once a person is determined to help themselves, there is nothing that can stop them."
"Your playing small does not serve the world. There's nothing enlightened about shrinking so that other people won't feel insecure around you."
"What counts in life is not the mere fact that we have lived. It is what difference we have made to the lives of others that will determine the significance of the life we lead."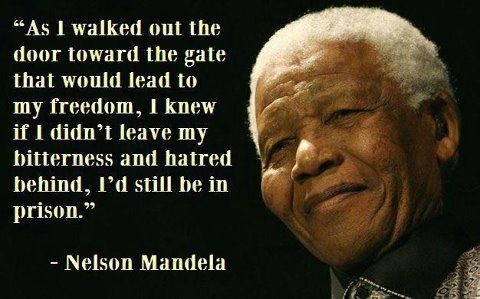 "Money wont create success, the freedom to make it will"
"We must use time wisely and forever realize that the time is always ripe to do right."
"If you want to make peace with your enemy, you have to work with your enemy. Then he becomes your partner."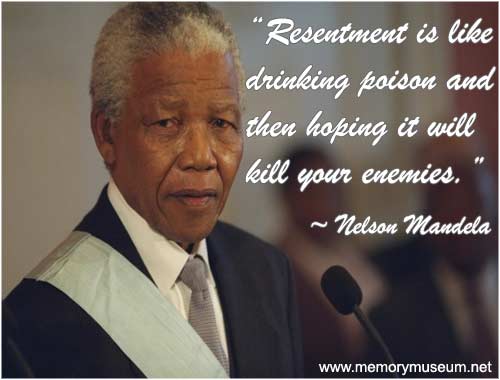 "We forgive but not forgotten"
"It is most unusual to return to a place that has changed in ways you yourself have altered."
"Sometimes it falls upon a generation to be great…"
"It is music and dancing that make me at peace with the world."
"There is no such thing as part freedom"
"In some ways, it is easier to be a dissident, for then one is without responsibility."
WE SAID THIS: R.I.P. Nelson Mandela, such an inspiration for humanity.