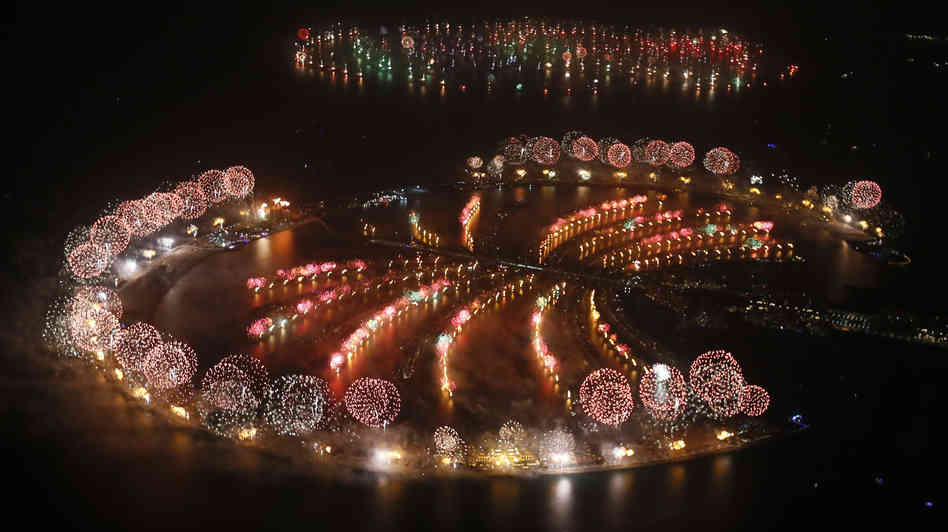 Dubai's spectacular New Year's Eve fireworks display broke yet another Guinness World Record with over 400,000 fireworks set off to ring in 2014 – because simply, it's Dubai.
The six-minute long pyrotechnic extravaganza took over Palm Jumeirah, Burj Khalifa, Burj Al Arab and Dubai Festival City and was broadcast worldwide.
But – never mind that the show started late – what those cameras didn't reveal were the hundreds of revelers stuck in gridlock around the Palm, most of them trying to get to Sandance.
Even though the NYE fireworks show took some ten months of planning and even though we expected the bumper to bumper traffic, hundreds of Sandance ticket holders – many who traveled to the emirate just for the event – were left stranded on their way to the massive festival.
Shortly before midnight, police prevented guests from boarding the shuttle buses heading from the American University to the Palm Jumeirah. The route was gridlocked anyway, since the bus-only lane that was promised was not enforced. Some partiers decided to walk, only to be turned away at the tunnel.
A flurry of angry #Sandance social media posts then followed, trending throughout New Year's Day in Dubai. Organizers quickly promised to resolve the complaints and today, they launched a refund website for all Sandance NYE ticket holders (some 17,000 guests were expected).
"While the situation on New Year's Eve was the result of various factors that were not under our control, the experience of our guests is our top priority. As such, we are taking action to reimburse all valid New Year's Eve Sandance ticket purchasers the full ticket value."
They're also offering a 50% discount to the next festival for all NYE ticket holders. Guests have until 11:59pm (GMT+4) Sunday, Jan. 12, 2014 to register their information.
WE SAID THIS: Go to the Sandance refund website here: http://www.sandancenye2013.com/.