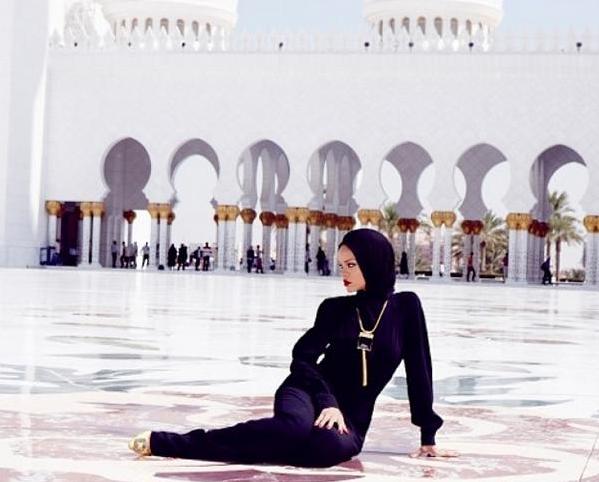 Rihanna may have given a wicked performance at last week's Abu Dhabi concert, but she made headlines instead for the pictures of her posing near the Sheikh Zayed Mosque, prompting angry comments and reportedly a request by the mosque's staff that she leave, saying that a fashion shoot was a violation of the "status and sanctity of the mosque".
It's been quite a busy week for Kanye. After having a conversation with Jesus during a Seattle concert (Jesus asked him to show people the light, you guys), and using the Confederate flag on tour merchandise (because ironic racism?), West proposed to Kim Kardashian in a baseball stadium he rented out for the occasion.
Exiled Syrian wedding singer Omar Souleyman has just released his new album Wenu Wenu, produced by Four Tet and released by Domino, the label behind artists such as Arctic Monkeys and Franz Ferdinand. Here's Souleyman looking badass in front of a green screen on "Warni Warni":
In case you didn't believe that Paul McCartney could get basically anyone to appear in his video, here's some proof: I spy a couple (or thirty) A-list celebrities in his new "Queenie Eye" clip:
And here's Calvin Harris and Alesso's new one "Under Control", featuring Hurts:
Quincy Jones has filed a lawsuit against the Michael Jackson estate, claiming that the posthumous use of his work in the This Is It film, the 25th anniversary edition of Bad and the MJ Cirque du Soleil show, among other projects, is a breach of contract. The lawsuit states damages, unpaid royalties and compensation for the loss of credit of at least $10 million.
Tom Hardy has been cast to play Elton John in upcoming biopic Rocketman, which will start shooting next year. John's first choice for the movie was apparently Justin Timberlake, who had previously portrayed him in his "This Train Don't Stop There Anymore" video.
Jane's Addiction are being honored with a star on the Hollywood Walk of Fame at the end of this month. Their most recent album The Great Escape Artist was released in 2011.
WE SAID THIS: Check out last week's For the Record for more music news and new releases.