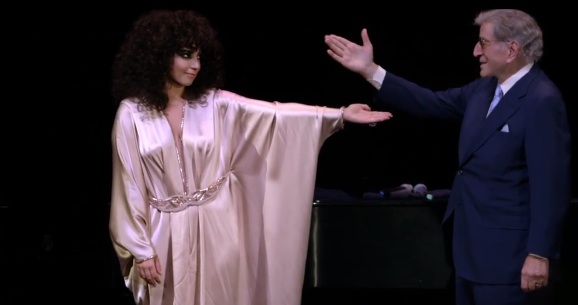 Lady Gaga and Tony Bennett have just released the first single off their upcoming jazz album Cheek to Cheek, a cover of Cole Porter's "Anything Goes", and now I'm hoping that she gives up pop forever and sticks to jazz. The album will include other classics such as "Bang Bang", "Sophisticated Lady" and title track "Cheek to Cheek", and will be released this September. Check out "Anything Goes" here:
Everyone's favorite new singer and professional heartbreaker Sam Smith sings about cheating in new single "I'm Not The Only One", and recruits Dianna Agron (from Glee) and Chris Messina (from Argo, The Newsroom, The Mindy Project, etc.) for the brand new video:
Katy Perry is still playing with her food, but this time with multiple costume changes and some seriously questionable advice in new and overdue summer anthem "This Is How We Do":
And Janelle Monáe throws a great sorority party in the new video for "Electric Lady", which features Estelle, T.I., T-Boz, Monica and best of all, Monáe's mother:
The track isn't anything to write home about, but we miss her voice, so here's Sinead O'Connor's new one "Take Me To Church":
The queen of creepy and dreamy does it again with the title track of her album Ultraviolence, in which Lana del Rey sings about an abusive relationship dressed as a bride. The video was recorded on an iPhone and directed by her boyfriend Vogue photographer Francesco Carrozzini:
And Ne-Yo finds a way to both brag about his bank account while preaching about the things that "Money Can't Buy" in his brand new single of the same name, the first off his upcoming album Non Fiction, due this fall:
WE SAID THIS: Check out last week's FTR, More Artists Speak Out Against Gaza.