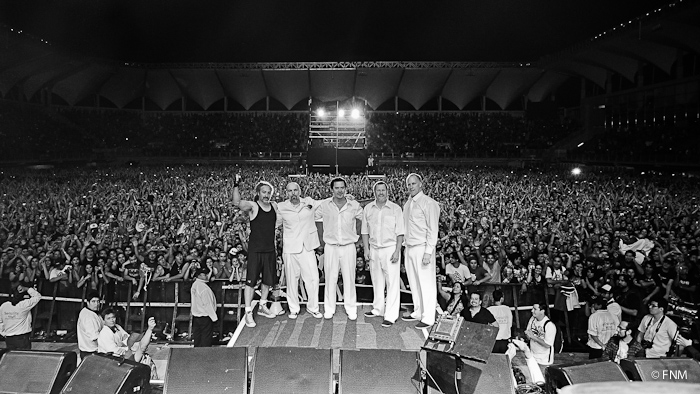 Mary J. Blige is wading into the world of electronica with her new single "Right Now", co-written by Disclosure, who she worked with on "F For You", and Sam Smith, who she's also worked with recently, adding her distinctive vocals to his hit single "Stay With Me". "Right Now" is the first single off Blige's just-announced album The London Sessions, which will be out this fall and will also feature Emeli Sande and Naughty Boy.
And Evanescence's Amy Lee is also trying her hand at the genre with brand new track "Push the Button", which appears on the soundtrack of new film War Story:
I didn't know how I felt about Usher's new single "She Came To Give It To You", but then I saw the video and remembered that Usher is awesome. Shit, but he can dance:
And I had high hopes for the video to Jhené Aiko's "The Pressure" because it's directed by Childish Gambino, but it's… just okay. The song and that voice don't need much help though:
Faith No More have announced that they will be releasing their seventh album, the first in almost 20 years, in 2015. The as yet untitled album will be released via the band's own label Reclamation Records, and the first single is titled "Motherfucker". Their latest album was 1997's Album of the Year, after which they disbanded for 10 years before getting back together in 2009 and resuming touring.
Meanwhile, Eminem just wrapped up his Monster tour with Rihanna, and has already released new music. This Sia-assisted track "Guts Over Fear" was recorded for the soundtrack of The Equalizer, and will also be featured on his upcoming album Shady XV:
Sam Smith should just go ahead and cover all the songs. And a good place to start is his cover of Tracy Chapman's "Fast Car", performed for BBC Radio 1's Live Lounge:
And the new one by rap group Clipping is a bit rough, but this is the best lyric video you've ever seen:
WE SAID THIS: Check out this week's Eargasm: 12 Ultimate Movie Soundtrack Songs.