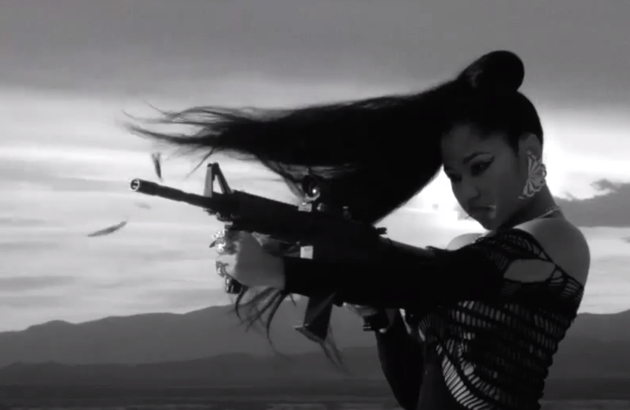 In this week's new videos, Nicki Minaj goes from overly colorful to monochrome and basically rips everyone a new one in "Lookin Ass Nigga":
Avicii reinvents Bonnie and Clyde with a twist in "Addicted to You":
And J Cole makes an awkward appearance in "She Knows", off his album Born Sinner:
Mariah Carey's new single "You're Mine (Eternal)" is reminiscent of her older R&B-inspired pop numbers, and was released just in time for Valentine's Day. Here she is wearing nothing but a whole lotta glitter:
Tiesto uses his tried-and-tested formula for both track and video in new one "Red Lights", and it works:
Everything about this video is fantastic – it was filmed in just two takes, and the artist had a broken rib while performing her amazing moves. Check out "Hideaway" by up-and-coming Canadian musician Kiesza:
On the other hand, Buck 22's resurrection of "Achy Breaky Heart" is obviously the worst thing in the world ever. Here is Billy Ray Cyrus dancing with sexy aliens and plugging his 1992 hit and Miley's music:
WE SAID THIS: Have a great week from the Empire!