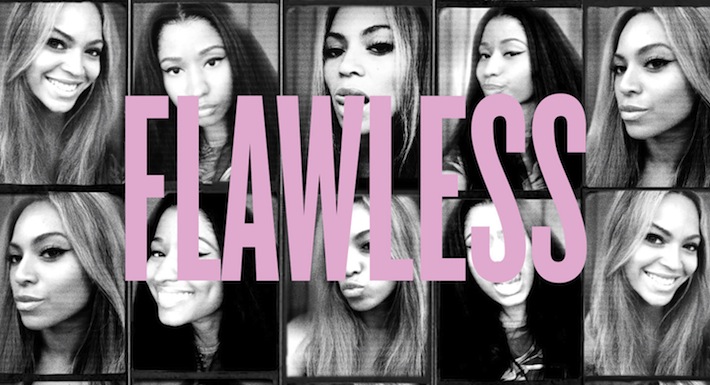 If anyone's going to pull a Beyoncé flawlessly, it's Beyoncé. She unexpectedly dropped a Nicki Minaj-assisted remix of her hit song "Flawless" last week and caused another internet frenzy, particularly with a line addressing the elevator incident with Jay Z and Solange: 'Of course sometimes shit goes down when it's a billion dollars on an elevator'. Check out the new mix here.
And Nicki Minaj is creating waves in her own right with new single "Anaconda", which samples Sir Mix-A-Lot's "Baby Got Back" and features more of Minaj than I'd care to see. Give it a listen below, and watch this space for the video, which promises to feature all sorts of booty:
I honestly thought that the guys who brought us "#Selfie" didn't have another hit in them, but they're back with a new track that's just as formulaic, but just as catchy. Here are The Chainsmokers telling us how much they want to be like Kanye in "Kanye":
In this week's new videos, Wiz Khalifa shows us his sensitive side with new single "Promises", off his upcoming album Blacc Hollywood, due this month:
Songs about cheating are usually accompanied by videos about cheating, but Ed Sheeran's new one "Don't" is all about the choreography, featuring some wicked moves by a So You Think You Can Dance contestant:
The MTV Video Music Awards are only two weeks away, and it looks like Beyoncé is already a winner. She leads the nominations with eight, and will be performing during the ceremony, as well as receiving the Michael Jackson Video Vanguard Award. Eminem follows with seven nods, as does Iggy Azalea, who will be joined by Rita Ora for a live rendition of their hit single "Black Widow". The show will also feature live performances by Ariana Grande, Usher, Maroon 5 and Taylor Swift. Check out the full list of nominations here.
WE SAID THIS: Need some tunes for your beach getaway? Eargasm: Music to Power Your Road Trips.