The word hieroglyph literally translates to "sacred carvings". The Egyptians first used hieroglyphs exclusively for inscriptions carved or painted on temple walls. This form of pictorial writing was also used on tombs, sheets of papyrus, wooden boards, potsherds, and fragments of limestone. It is an essential part of Egyptian history. Now, new initiatives are arising to teach hieroglyphics and one of them is by the Bibliotheca of Alexandria. The world-renowned library has launched the "Hieroglyphics Step by Step" website, in cooperation with the Information Technology Department and the Center for Font Studies, to teach hieroglyphics according to Egypt Independent.
The website, which caters to university students, enthusiasts, and those with an interest in the ancient Egyptian language at all levels, is the first interactive website for teaching the language. The website is a long-term project; the first phase of which was launched in 2015, and its scientific content has been continuously updated since then, whether in terms of the educational lessons and the tests, the number of words in the dictionary, or samples of artifacts. Once you enter the website, homepag has numerous hieroglyphs. The website requires you to click on the image and choose its place in the middle of each word and then show the result according to Egypt Independent.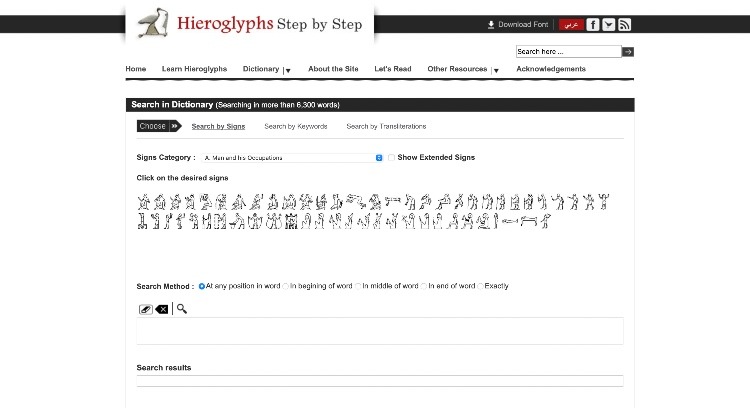 Back in 2021, The Director of the Curriculum Development Center at the Education Ministry Nawal Shalaby announced that the ministry will teach hieroglyphics in school curricula, in an effort to pay special attention to archaeology and tourism, starting with kindergarten and up to the first to third grades of elementary school. As for hieroglyphic symbols, they will be taught starting from the fourth grade.
Shalaby claimed that when students know their ancestors, their history, writing, and their monuments, that way, they are able to appreciate and understand their civilization much better. Additionally, Minister of Tourism and Antiquities Khaled al-Anany in February said that he met with Education Minister Tarek Shawki to discuss introducing archaeological and touristic material to the educational curricula, to help foster an awareness of history for the newer generations.