Left overs, one of those things that one usually dreads when brought to the table, but Thanksgiving is one of those fun meals that give so much variety for the next day that reinventing is truly appetizing.
I have sampled a couple recipes that work perfectly with leftover turkey. You may add a nice green salad to this or left over mash to really perfect this meal.
Next-Day Turkey Soup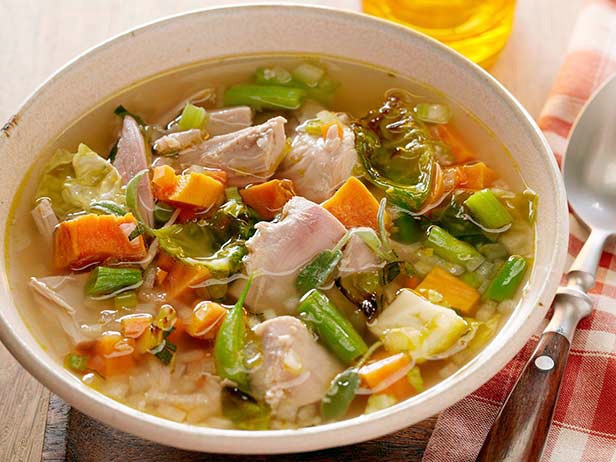 Ingredients
8 cups chicken broth
1 turkey carcass, all meat removed
1 carrot, halved lengthwise, plus 1 carrot, minced
1 whole stalk celery, plus 1 stalk, minced
1 onion, halved, plus 1 onion, minced
2 bay leaves
3 cups dark turkey meat
2 cloves garlic, smashed
2 tablespoons olive oil
3 cups leftover cooked Thanksgiving side vegetables (Brussels sprouts, sweet potatoes, green beans)
1 tablespoon chopped fresh sage
Mashed Potato Polpetti (Patties), for serving, recipe following
Method
Put the chicken broth, turkey, carrot halves, celery stalk, onion halves and 1 bay leaf in a large stockpot. Bring to a boil and then simmer, about 1 1/2 hours.
Dice the turkey meat. Make sure the meat pieces are no larger than the size of a soupspoon. (If preparing the soup the next day, be sure to store leftover turkey meat in an airtight container before placing it in the refrigerator. Top with 1 or 2 ladles full of broth to keep the meat moist.)
Before straining the broth, remove the large bones and carcass with tongs. Strain the broth through a sieve covered with wet cheesecloth. Discard the solids. Transfer the broth to a bowl set in a bath of ice water, which will cool the broth quickly and help keep it fresher longer. This can be done the night before and stored in the refrigerator until the next day.
In a large soup pot, heat the garlic in the olive oil over medium heat. Allow to brown slightly, about 3 minutes. Add the minced carrots, celery and onions. Sweat over medium-low heat until softened, 7 or 8 minutes.
Dice the leftover Thanksgiving vegetables. Add the sage to the soup pot along with the turkey broth and the remaining bay leaf. Bring to a simmer. When simmering, add the Brussels sprouts, green beans and diced turkey meat to the soup. Bring it back up to a simmer. Finally, add the sweet potatoes to the center and gently push them down. Turn the heat off and cover. Allow to sit and steam, 5 to 7 minutes. Let simmer for 5 more minutes and serve with the Mashed Potato Polpetti.
This recipe is courtesy of Easy Entertaining with Michael Chiarello.
Turkey Banh Mi
Ingredients
Chilled cooked turkey
Mayonnaise
Asian chile sauce (such as our favorite, Huy Fong Sriracha; importfood.com)
Thinly sliced peeled cucumber
Grated carrot
Generous handful of fresh cilantro
Whole-wheat baguette
Jalapeno chiles, if desired
Method
Chop chilled cooked turkey, and mix with mayonnaise spiked with Asian chile sauce (such as our favorite, Huy Fong Sriracha; importfood.com).
This recipe is courtesy of Martha Stewart Living, November 2009
WE SAID THIS: Don't underestimate how good this meal can be, sometimes leftovers are even better then the meal itself.