Crostinis are one of the easiest and fastest ways to impress your guests with minimal effort. I am always looking for new ingredients and as I was walking around the supermarket the other day, I stumbled across ready-made mini crostini: Bake Rolz! These are perfect to have in your cupboard for a quick fix and come in multiple flavors.
I have put a trio of recipes all gathered from different places to give you an array of ways to prepare this fun and colorful bite of happiness.
Basil and Smoked Salmon Crostini
Ingredients:
1 bag of Olive Bake Rolz
1 x 110g pkt goats cheese
2 tbs thickened cream
1/4 cup chopped fresh basil
2 x 200g pkts sliced smoked salmon
Small fresh basil leaves, to serve
Method:
Lay Bake Rolz on a tray.
Meanwhile, combine goats cheese, cream and chopped basil in a bowl.
Spread the crostini with goats cheese mixture. Top with salmon and basil leaves.
 Dried Beef Canapes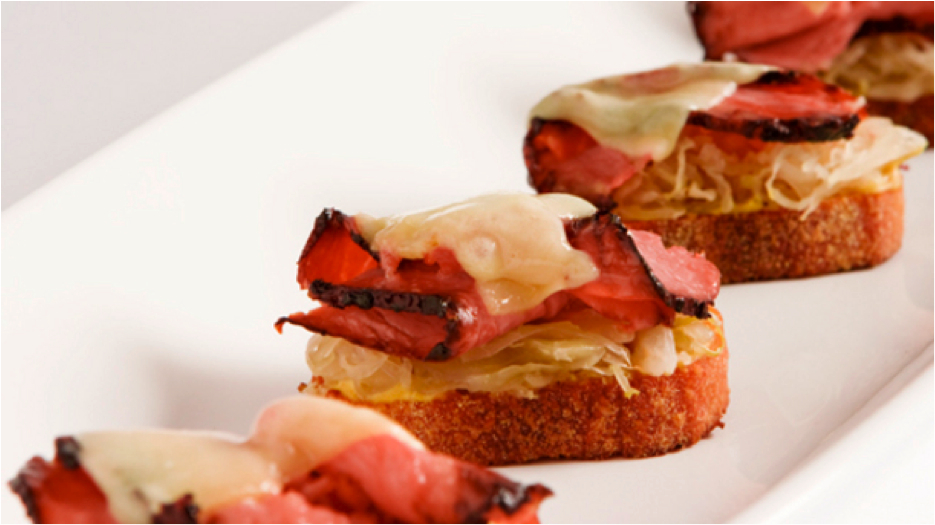 Ingredients:
1 bag of Salt Bake Rolz
2 tbsp (25 mL) Dijon mustard
2/3 cup (150 mL) drained sauerkraut
12 (8 oz/250 g) thin slices smoked meat, (cut in half)
24 small slices Gruyère cheese
Method:
Brush the Bake Rolz with mustard. Top each with about 1 tsp (5 mL) sauerkraut, half slice dried beef and 1 slice cheese. If desired, broil until cheese is bubbling and melted, about 1 minute.
Another variation of this fantastic recipe:
Pesto, Salami Canapes: Omit Topping. Top each Bake Rolz with about 1/2 tsp (2 mL) pesto sauce; half slice salami; 1 fresh basil leaf; and 1 slice bocconcini cheese.
And a veggie option:
Goat Cheese and Roasted Pepper Canapes: Pull out a bag of Ketchup Bake Rolz. Top each toast with about 1 tsp (5 mL) goat cheese; 1 small strip roasted red pepper; and half black olive.
Smoked Trout and Boursin Canapes: Omit Topping. Top each toast with about 1 tsp (5 mL) Herb and Garlic Boursin cheese; 1 slice English cucumber; and 1 small piece hot-smoked trout or salmon. Sprinkle all with 2 tbsp (25 mL) chopped fresh chives.
Caramelized Apple and Blue Cheese Crostini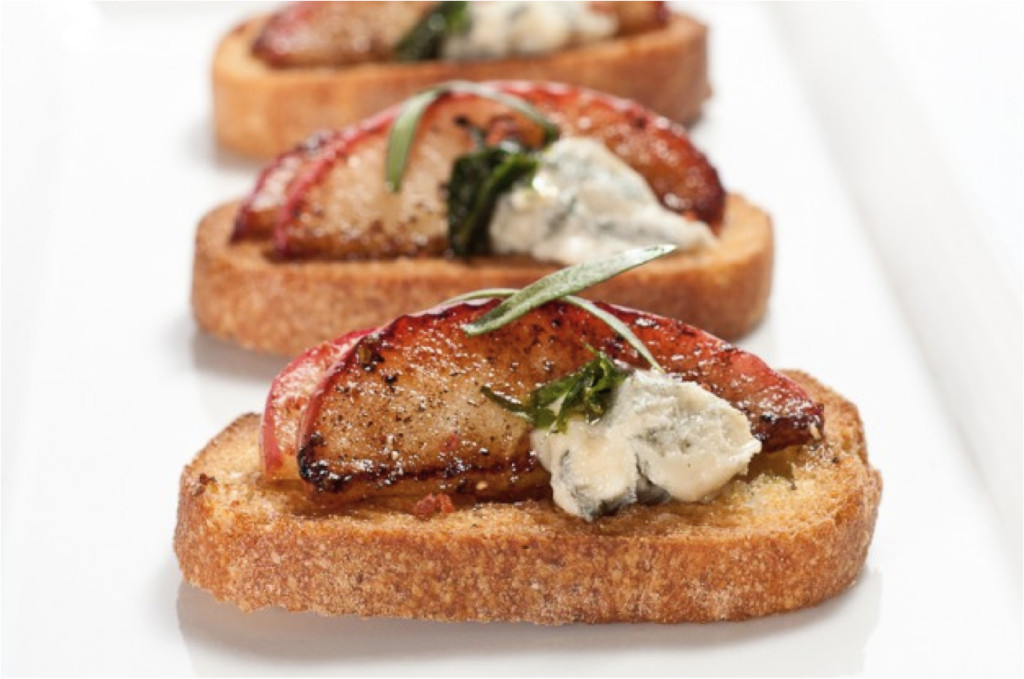 Ingredients:
½ cup loosely packed fresh tarragon leaves
2 tablespoons extra-virgin olive oil
Salt
1 bag of Salt Bake Rolz
1 tablespoon unsalted butter
2 small apples such as Pink Lady, cut into 16 wedges
Tiny pinch of cayenne pepper
Freshly ground black pepper
¼ cup blue cheese (such as Blue de Causses or Gorgonzola dolce), at room temperature
Flaky sea salt
Method:
Lay Bake Rolz on a tray.
Melt the butter in a large skillet over medium heat. Cook the apples on in a single layer, working in batches if needed, until both sides are golden brown and somewhat tender, about 5 minutes. Season with a pinch of cayenne pepper and several grinds of black pepper.
To serve, arrange two slices of cooked apple on each crostini. Top with ½ teaspoon of the blue cheese, a speck of the crushed tarragon, two whole tarragon leaves, and a few grains of sea salt.
WE SAID THIS: Who knew a bagged snack could look this elegant?