It has been dry lately, and no, we're not talking about the weather; we're talking about comedy. For centuries, Egyptians have always been known for their sense of humor, but now more than ever, it seems that we are losing our touch. Nothing has crossed this writer's radar that is light-hearted, fulfilling, and humorous at the same time. All online content is gravitating between seriousness and dullness. There's nothing wrong with serious content, believe me! But it seems as Egyptians, we've been losing our touch. Well, this has been the irrevocable case, until we came across "Quack Quack."
As more production houses adapt funnier plots that take from everyday Egyptian life, comedy is indeed making a comeback. Yet, between the cliches and the pointless satire, a few are putting in the work.
If you're, in fact, a big admirer of sitcoms, especially those which tell the stories of a unique family, then "Quack Quack" is the show for you. This is a digital show that is available on all social media platforms including Youtube, Instagram, Facebook Watch, and Tiktok. The stories this show presents make fun of our day-to-day issues and challenges and present them in a creative way that appeals to people from all walks of life.
There are seven quirky characters, including a zany four-person family. The list includes:
• Quack, the father, played by the comedian and influencer Islam Fawzy.
• Kiki, the mother, played by the influencer Yasmine Ebeid.
• Kaki, the daughter, played by a tv personality that debuted her career on
Fatafeat and Discovery Channel Sina Walid.
• K, the son, played by an influencer and Tiktok star Farouk Elgohary.
• Living with them is the paternal grandmother, Nana Koko, played by superstar Arfa Abdel Rasoul.
• The doorman is played by superstar Ahmed Fathy who is one of the most famous Egyptian comedians. Fathy is a visionary who believes in the new potential of social media content and has joined the QUACK team as a supporter of the progression of content creation. His participation is extremely beneficial to the show since it demonstrates how today's artists should collaborate with social media celebrities to provide value to families and young audiences. He plays the new 2022 version of the legendary role of Egypt's legendary Ahmed Zaki in the movie "Elbeh Bawab".
• Their maid, Kawkeya, played by Public Figure, TV Personality and Health
Advocate Rania Sidky.
Captain Boy, the production studio behind Quack Quack's creative social media webisodes, has turned this work of art from a concept to an actual show that people can now tune in to. If you haven't had the chance to learn about them before, this is production company offers a variety of services including content creation, branding, and concept development.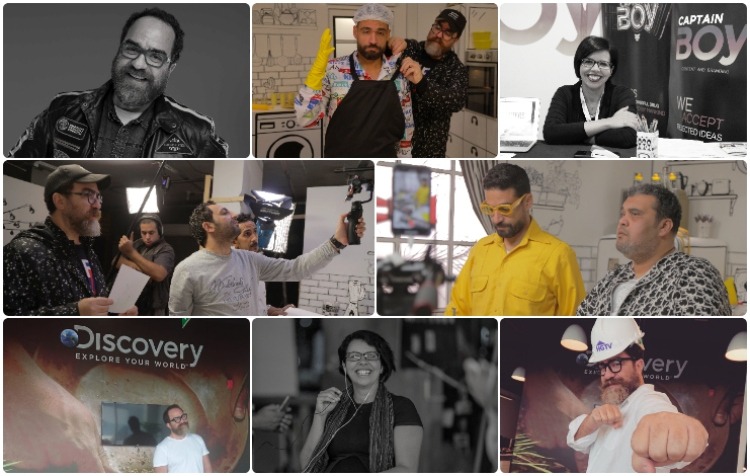 "Quack Quack" is a show that depicts the interactions, routines, conversations, struggles, and hustles of a modern, Egyptian, middle-class family in a down-to-earth, lively setting. From teenagers to parents who are raising their children, this show is for everyone. The show relates to people from different backgrounds including those watching just for the entertainment value to those who want to feel represented and be able to relate to one of the characters.
Art is evolving, and to describe how "Quack Quack" is playing into this revolution in comedy is not easy if you can't see through the friendly banter. This show is trying to reinvent the genre of family sitcoms; a show created by and for a family of five. Every single one of them has put forth a lot of effort to assist Egyptian society to understand and appreciate art. For instance, take the show's two main characters, the couple Quack and Kiki; they are married in real life, which helps the audience connect with real feelings and emotions. It isn't a drama because we've already seen enough shows with difficulties, tears, and tension. Quack Quack's primary genre is humor, which has always been our coping mechanism.
The Quack daily routine includes eating and cooking, which is a staple tradition in all Egyptian families' daily routine. It tackles everyday thoughts and scenarios that most Egyptians face, such as being too cold, watching a controversial film, struggling with Arabic examinations, and much more.
The creators of this show hope that it fosters family bonding, understanding, and empathy, as well as self-acceptance and a sense of being seen and well-represented on the internet. With their unique approach and major appeal to audiences, the show has reached almost two million views on all platforms combined organically in less than one month.
One of their most-viewed webisodes is a hilarious scene starring the comedy star Ahmed Fathy which can be found on their official Facebook page. Additionally, here is a glimpse of the behind-the-scenes of Quack Quack.
It is wonderful that such a piece of art is being developed in Egypt since we have seen many comical shows, but none that portray the true spirit of the Egyptian family and all of the problems that we all face collectively as a society.
WE SAID THIS: If you're feeling down or melancholic, Quack Quack is the show to watch to bring joy and happiness into your life.