It seems that these days in Cairo, people are obsessed with staying fit and being healthy, from daily gym sessions to detox cleanses. The Boot Camp embodies this health-minded lifestyle and recently launched a partnership with The Wellness Blog, an online daily workout and nutrition planner. We interviewed coach Ramy Kandil about The Boot Camp and his dedication to a healthy life, mind and body.
What is The Boot Camp? When did it start?
The Boot Camp is a wellness company covering all aspects of health and well being, general fitness sessions, athlete conditioning, an online magazine and many more projects promoting a healthier lifestyle. The Boot Camp first started as a project on the beaches of Dubai in Aug. 2010 and was founded later that year here in Egypt.
Who are the founders?
The company was founded by Nabil Rostom and Norshek Fawzy. A young Egyptian couple, Rostom left a career in engineering to pursue his on going passion for fitness which inspired Norshek to be a fitness fanatic herself.
What is the main inspiration behind it?
As cliche as this might sound, the people in The Boot Camp are its main inspiration. Everyday there's a new success story that pushes everyone working at The Boot Camp to work harder.
What is the one thing that all athletes in The Boot Camp have in common?
We'll have to say dedication. Everyone at The Boot Camp shares a positive, dedicated vibe. Even newcomers get inspired by that vibe and get just as dedicated in no time.
As a "workout-holic", what changed in your life since you joined?
It's quite simple really: The amount of commitment and dedication you find from the founders and the other members is what keeps you coming back. Think of it as a support circle where you all motivate one another to become better and healthier versions of yourself. You find yourself reaching out for carrot sticks instead of cookies at home, you find yourself packing an apple to work instead of day old cheese burger. The Boot Camp changes you from within, body and mind.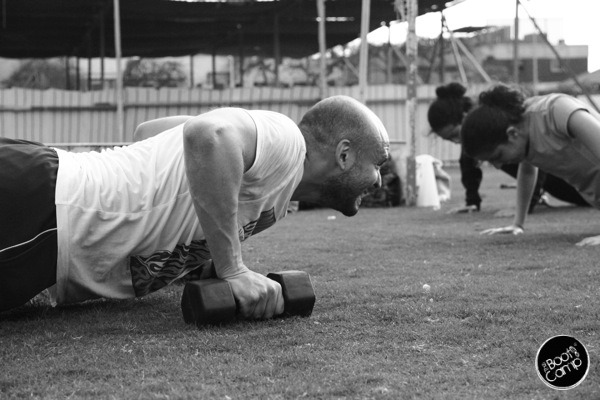 What do you personally think of the fact that most of the Egyptian youth are now concerned about their health and fitness?
I'd say it's less of an "Egyptian" thing and more of a global phenomenon. As technology advances, we are becoming more and more capable of dissecting what corporations put in our foods and what we in turn put in our bodies.
I think the eruption of social network websites has helped explode the conversation globally – particularly between youth who are the primary users of these sites. The youth are naturally more inquisitive and are always looking out to find out more and more about their lives, including what they ingest and what they can do to make it better.
Alternatively, the fashion and health magazine industries are somewhat guilty of creating somewhat of a panic amongst impressionable youth due to the way they portray individuals on their publications, which are in no way shape or form the norm.
This can take its toll on impressionable youth who are misguided into believing that size 0 is the norm and that anything else is excess. Thankfully, there are many other players in those same industries who are taking steps not to be part of this phenomenon by showcasing examples of different human bodies and sizes.
Where is The Boot Camp and who can join?
Right now we have sessions at Gezeira Club, Zamalek and Gardenia Park, 6 October. We are planning to expand real soon to the Heliopolis/Kattameya area.
Anyone can join! Just book a place through our website www.thebootcampers.com and show up. Newcomers are advised to show up 15 minutes early for their first session to be oriented about the routine. We monitor everyone at our sessions and help beginners work up their intensity.
WE SAID THIS: Be sure to check out The Boot Camp on Facebook for more info and diet and fitness tips!