Did you know that you can take free online classes from prestigious universities around the world? There's actually a term for them: MOOCs, or Massive Open Online Courses. Classes range from the uber technical to those heavy on theory, from general education to specialized topics, from game development to music history, from public speaking to drawing 101, and the list goes on.
Thankfully, SkillAcademy.com, a recent Egyptian startup, was launched to help sort through all of these course offerings. We talked to Bassem Fayek, one of the co-founders, to get the scoop on what SkillAcademy and MOOCs are all about.
Tell us a bit about your background.
I studied Electronics Engineering at AUC and was an Investment Banker at Beltone Financial for a year. Then I moved to Booz & Company as a consultant helping clients in the region. After three years, I decided to do my MBA at London Business School and UC Berkeley where I decided to kickstart a startup in the edtech space, which is now SkillAcademy. I also re-joined Booz & Company to bootstrap my way into financing the startup.
What motivated you to start skillacademy.com?
Think about every problem or a challenge we're facing and the reason will all boil down to education. We take for granted that we don't work with the education we attained at the university level – that thinking is fundamentally flawed and it was really hard to do anything about.
800,000 youths join the workforce every year in Egypt. If they don't have the necessary skills, they will end up joining 2,560,000 unemployed youths, representing 71% of total unemployment in Egypt. Taking a bigger perspective, youth unemployment in MENA is 75,000,000 and 360,000,000 worldwide – all because of a flawed and expensive education system.
Since 2011, there has been a trend of what is called Massive Open Online Courses (MOOCs) – free online courses offered by the best universities in the world including Stanford, MIT, Harvard and UC Berkeley. Some others are offered by employers themselves, like Google. And some are offered by industry experts.
We decided to build skillacademy.com to help people discover all these amazing resources. More importantly, we bundle them into "skillcamps" which you can think about as a combination of courses focused on a specific skillset needed in the job market.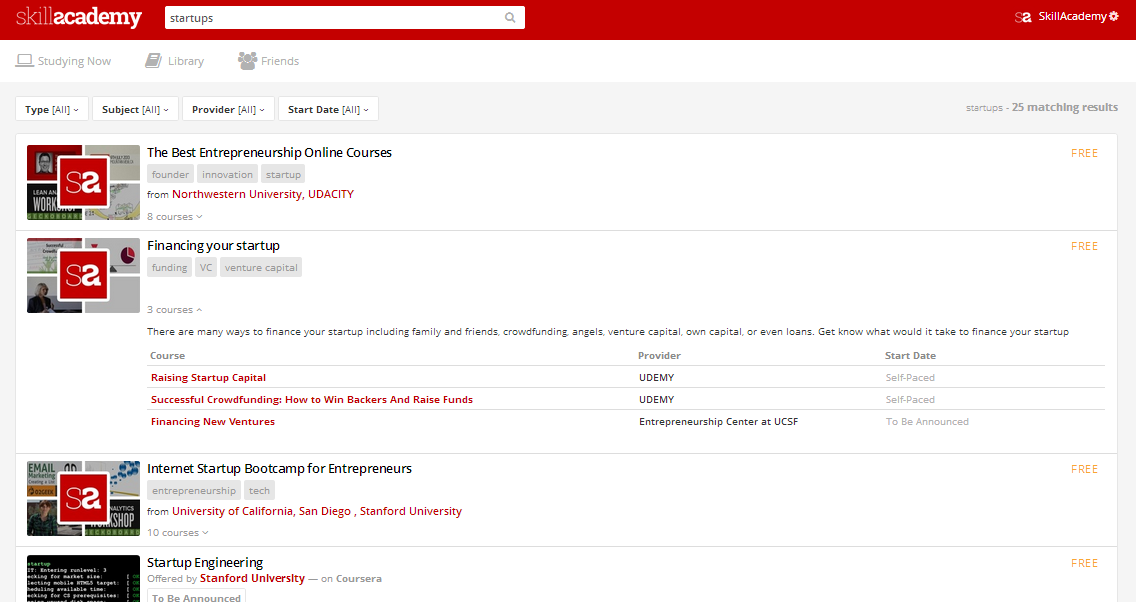 What's the philosophy behind it and what makes it special?
Now anyone can have access to the best courses anytime, anywhere – but it's hard to make sense of that. That's a core focus for us – we curate these courses and cherry pick the best ones to develop very high impact training programs.
Who is your target student?
We're focusing on those passionate to progress their career, which would include three sub-segments:
1. Those who are looking for promotion or new roles within their company.
2. Those who wish to shift their career and are looking for relevant coursework to acquire new skills.
3. Those who are about to graduate and want to equip themselves with quality courses from top universities and get certified to have a competitive advantage on their CV.
What are the benefits of taking MOOCs? And the challenges?
Benefits:
They are by the world's best universities including Stanford, Harvard, MIT, Berkeley, George Tech, etc.
You can find very specialized courses in areas that even the region's best universities are not offering yet.
It's all online, so you can learn from anywhere, anytime.
It's all for free and, in many cases, you will get a certificate if you attend all the videos, assignments and exams. You can also get a verification code to submit to your employer who can prove you took the course. For that, you pay USD 40-80 per course, which would cost you USD 3,000-5,000 in a traditional setup.
Challenges:
Self-education requires a lot of self-discipline and it's very easy to drop out.
Learners may not necessarily relate to the context of a foreign education institution.
There is negligible content in Arabic, which is a region-specific challenge.
Enrollment in MOOCs isn't as widespread here in the region as in others. What's your strategy for making it more common in the Middle East?
We're building a learning management system to help companies leverage that content to develop their own people within the organization. As employers continue to endorse MOOCs, they will become more mainstream. MOOCs are expected to contribute to 10% of tertiary education worldwide and we're super excited to get them into corporate learning and development as well – that's a USD 140 billion market worldwide.
We're looking for a grant to translate all of these MOOCs into Arabic. Since we're a startup we don't have the resources and we cannot own the content if we translate it. Our best bet is to find someone who is as excited about education and MOOCs and is willing to support us in the operations.
Are there any MOOCs offered in Arabic?
Unfortunately, most of the universities in the region have been very reluctant to join any of the top providers like Coursera and edX. Many of them still don't even understand what this is all about. However, there are three organizations that have started including Edraak, supported by the Queen Rania Foundation, Menaversity and Rwaq.
Where do you hope to see skillacademy.com in five years?
The world's best learning management system for learning, development and skill acquisition – which means taking the startup to a global level to serve the world's most innovative companies who want to stay at the forefront and care about human capital development.
Give us the scoop on your next big project.
MOOCs' current major challenge worldwide is the very high dropout rate of 95%. We believe that the only way to solve this problem is to provide an offline service of facilitators who would deliver and localize the content in an offline setup.
Unlike universities, facilitators don't have to be PhD holders, instead they need to be great communicators and practitioners. Also, delivery can take place outside of university boundaries – for example co-working spaces, empty offices on Saturdays, cafes and other similar community spaces.
If we can get people who sign up to the offline service to finish a MOOC and receive a certificate from a world-class university, then we'll be up to something really big that we can potentially replicate nationally, regionally and internationally.
WE SAID THIS: Check out SkillAcademy.com on Twitter @SkillAcademy. You can also contact Bassem at bassem@skillacademy.com and on Twitter at @brfayek.