The head of the Catholic Church, Pope Francis, has just made his historic visit to Iraq. After his visit, he sent out a message through his Instagram account, that you can see below! Nonetheless, his visit to Iraq is not the only planned trips for his agenda throughout the Middle East. Pope Francis promised afterwards that he would also be visiting the beautiful Lebanon.
The Pope commenting on Iraq
He sent out a message in Arabic on his post, asking everyone to work in unity towards peace and prosperity. In addition to that, he stated that he prays for the beloved and historical country of Iraq.
During his flight from Baghdad to Rome, he spoke to 75 journalists traveling with him on the plane. During these conversations, he admitted that the head of the Maronite Church, Bechara Boutros al-Rahi, had asked him to make a stop in Beirut on his way back to the Vatican. However, this was not accepted by the Pope, and didn't sit right by him. Besides the fact that his trip to Iraq was very tiring, he deemed it to be disrespectful to merely "stop by" Lebanon, as it deserves way more than that.
About "stopping by" Lebanon
"It seemed to me to be too little, like crumbs, for a country that is suffering like Lebanon"

said Pope Francis, according to The 961
Lebanon has been suffering politically and economically, yet has shown to be extremely welcoming for refugees, according to Arab News. Everyday in Lebanon the news are bombarded with traumatic news that saddens the whole nation. Although the country is currently going through several crises, the Pope has made it clear that it deserves a dedicated visit of its own, which he has promised to make.
The Pope on his flight back to Rome talking to journalists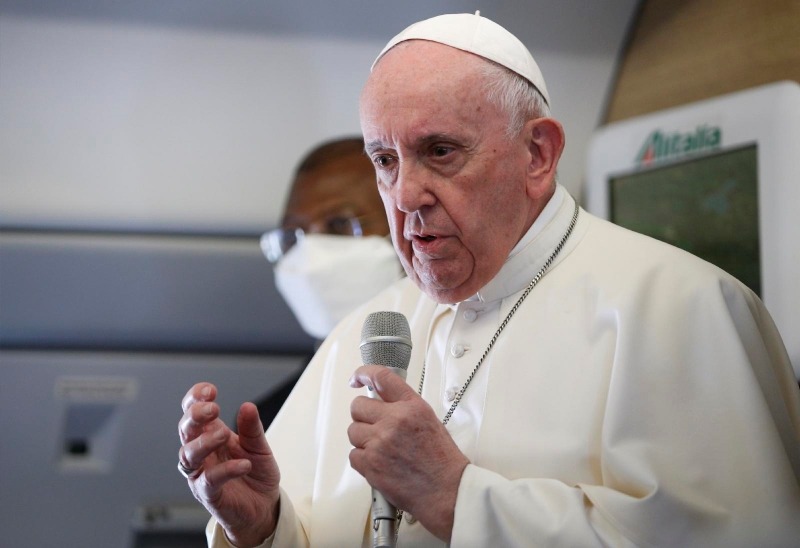 Hopefully in the near future the ongoing pandemic will finally come to an end, as well as for the struggles of the Middle Eastern countries. Following the Pope's wishes, we hope that every country be safe, healthy, and stable!