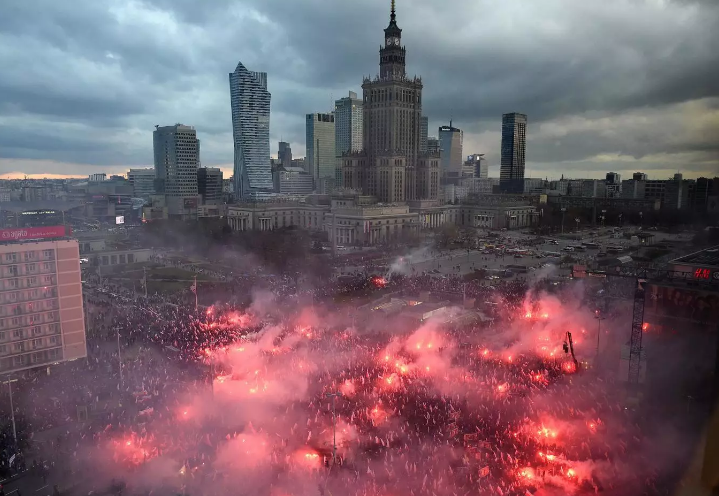 Last Saturday, tens of thousands of far-right demonstrators marched through Warsaw to mark Poland's Independence Day. About 60,000 people carried signs that expressed their fascist tendencies, with some saying "Pure Poland, White Poland," "Pray For Islamic Holocaust" and "Refugees Get Out!" on them.
It has been reported to be one of the biggest gatherings of far-right movement in Europe during the last few decades. The move did not only include Polish people — American white supremacist Richard Spencer, who was considered too extreme by the Polish government, attended the rally as well as other far-right leaders from Italy and the UK.

"The numbers attending this year seem to be bigger, and while not everyone at the march is a far-right activist or fascist, it is undoubtedly becoming more significant and is acting as a magnet for far-right groups around the world," said Nick Lowles, a member of one of Britain's anti-extremism movement.
An anti-fascist movement launched a small-counter protest on the same day. While it has been reported that most of the rallies were peaceful, some far-right protesters kicked more than a few individuals who had a banner saying "Stop Fascism" while chanting anti-fascist slogans.
While the Polish president, Andrzej Duda, has aggressively condemned the demonstrators' expression of xenophobia and racism, it has been praised and seen as patriotic by the rest of the government. "There is no place in the country for sick nationalism," said president Duda.
It's quite shocking to see the rise in xenophobic occurrences in Poland. It went from 20 a month to 20 a week in 2016, as reported by the Never Again Association.
WE SAID THIS: Let us know what you think in the comments secton.