Hanan Al Hroub was named the "world's best teacher" at a ceremony in Dubai on Monday, where she also won one million dollars in prize money.
"I am proud to be a Palestinian female teacher standing on this stage," she said after receiving the Global Teacher Prize, an award founded by the Varkey Foundation, the charitable arm of the GEMS international education organization.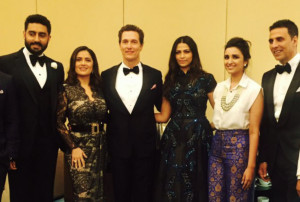 The high-profile prize and ceremony aims to elevate the teaching profession. This year's winner was announced in a video by Pope Francis, with the UK's Prince William, former U.S. President Bill Clinton and current U.S. Vice President Joe Biden sending video messages of congratulations to the top 10 finalists. Sheikh Mohammed bin Rashid Al Maktoum, Vice President and Prime Minister of the UAE, presented the prize to Al Hroub, with Hollywood stars Salma Hayek and Matthew McConaughey also in attendance.
Al Hroub, who grew up in a Palestinian refugee camp, specializes in teaching kids who have been affected by violence, primarily motivated by her life experiences.
"I was raised in an environment that was full of violence. I didn't have much of a childhood," she explains in her finalist video. "A child will mature quickly here because of the situation we live in."
After her husband and son were shot one day, she noticed a change in her children's behavior, personalities and academics. She says she felt alone in helping her kids cope with the trauma.
Gradually, through guided social activities like games, her children's grades improved, along with their self-confidence. Feeling a calling to help other kids in similar situations, she then changed her major to Elementary Education.
Al Hroub says she views her current role as a combination of guidance counselor, parent and teacher.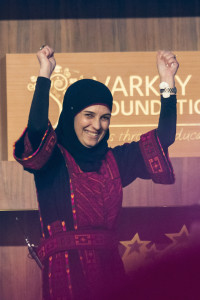 "I must deal with their personalities that were created because of their environment," she says of the children she teaches.
While not all of her pupils have experienced direct physical violence, they grew up in a place where it is the norm, hearing of bloodshed in their surroundings and seeing it daily on their screens.
A central theme in her work is the ideal of nonviolence.
"When I say no to violence, I pass it onto the students without them knowing it," she explains. "I move, simplify and present the curriculum in ways that teach 'No to Violence' through 'Playing and Learning'."
Al Hroub also trains fellow teachers, counselors and principals in her teaching style and methods, which promote positive reinforcement not through grades or gold stars, but through choices that emphasize morals and ethics.
"I tell all the teachers, whether they are Palestinian or around the world: Our job is humane, its goals are noble. We must teach our children that our only weapon is knowledge and education."
WE SAID THIS: Don't miss 8 Powerful Palestinian Women You Should Know.