8 Powerful Palestinian Women You Should Know
Kembarasufi © 2012
Palestine is a book striving to add pages, each page carrying with it the weight of the world. The weight of fighting to keep an identity, standing up to apartheid, holding on to one's land, and keeping the Palestinian flag high and proud.
Palestine is millions of little stories, none less inspiring than the other. Some cross borders and make it to world news and some remain within the streets of the West Bank, Gaza, Ramallah and Jaffa, leaving alasting imprint in the minds of those who witnessed it firsthand.
Women brought up under occupation are known to have immense strength. Some had to hold their lifeless sons or brothers in their arms, some were brought up in refugee camps and all struggle to sleep at night with explosions shaking their walls.
It's sad that we don't know the stories of all the beautiful women of Palestine, but we gathered some stories of those who made it despite their conditions, challenging themselves to be who they are today. Here are some of the ones we should all know:
1. Leila Khaled
Leila is a member of the Popular Front for the Liberation of Palestine. She is famous for hijacking two flights, one in 1969 from Rome to Athens when she asked the pilot to fly over her hometown of Haifa, which she'd never seen.
After that incident, she underwent six plastic surgeries to conceal her identity and be able to hijack the second flight in 1970 from Amsterdam to New York City as part of the hijackings carried out by PFLP. The pilot diverted the aircraft to Heathrow airport, where the United Kingdom later on released Leila as part of a prisoners exchange.
Leila was part of the Palestinian National Council and currently lives in Amman, Jordan.
Supposedly, Warrior Leela in Doctor Who is named after Leila Khaled.
2. Kholoud Faqih
Kholoud Faqih made history in 2009 when she was appointed as the first female Islamic judge in Palestine.
Faqih received two degrees from the University of Jerusalem and received her license in 2001. She had to beat out dozens of men in Islamic Law exams to secure the position for herself.
Between 2003 and 2008, she gained immense experience by working for an agency that defends marginalized women.
3. Hind Khoury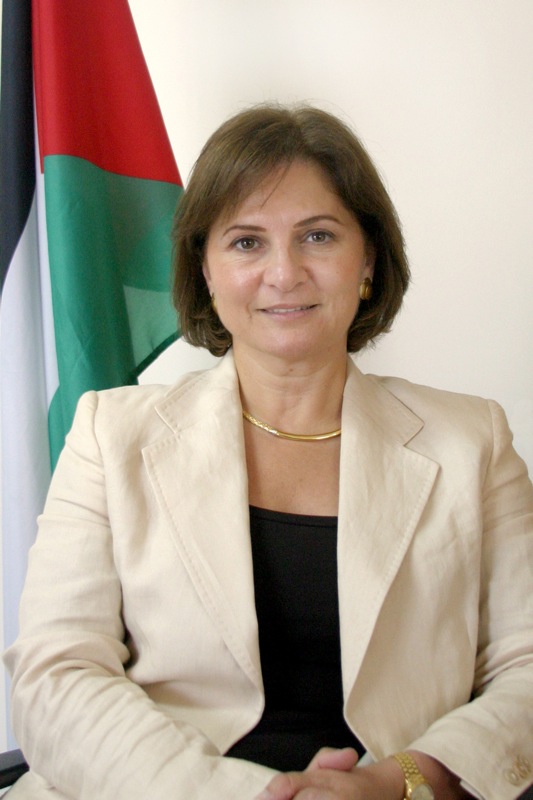 Hind is a Palestinian economist. She was the Delegate General of the Palestine Liberation Organization in France from March 2006 until June 2010.
Khoury also worked for a number of years with UNDP/PAPP, before she took up the position of Palestinian National Authority Minister of State.
In 2005, she held the prominent cabinet position of Minister for Jerusalem Affairs, where her responsibility was mainly handling the very sensitive issue of the final status of Jerusalem. Minister Khoury was also an active civil society leader for many years, focusing on developmental and religious and women's affairs.
4. Zahira Kamal
Since the ministry's establishment in 2004, Zahira Kamal has occupied the position of Palestinian National Authority Minister for Women's Affairs. With a background as a teacher and social and political activist, Dr. Kamal has been at the vanguard of the Palestinian women's movement since the 1970s.
Along with Hanan Ashrawi and Suad Amiry, Dr. Kamal was one of only three Palestinian women who took part in the Middle East peace talks in Washington in 1990. She has dedicated her life to Palestinian civil society with a number of organizations including the Federation of Palestinian Women's Action Committee.
Dr. Zahira is now the General Secretary of the Palestinian Democratic Union party.
5. Hanan Ashrawi
Hanan Ashrawi is arguably the most well-known Palestinian female politician and has spent her life advocating on behalf of the Palestinian people, particularly Palestinian women.
She was born in Ramallah in 1946 and has been active in Palestinian civil society since her early years، founding the Palestinian Initiative for the Promotion of Global Dialogue and Democracy (MIFTAH), as well as establishing a name for herself in academia as Dean of the Faculty of Arts at Birzeit University.
Later on, she came to international prominence as the spokesperson for the Palestinian delegation to the Madrid and Washington peace talks. She continued to occupy a prominent position within the Palestinian government as a member of the Palestinian Legislative Council. Dr. Hanan is the first woman elected to the Palestinian National Council.
6. Suad Amiry
Famous for her book Sharon and My Mother-in-Law, which was translated to 19 languages and received numerous prominent awards, Amiry is an author and architect who currently lives in the West Bank of Ramallah. She is actively engaged in major peace initiatives with Palestinian and Israeli women.
She was brought up in Amman, Jordan and then moved to Beirut to study architecture. She returned to Ramallah in 1981 as a tourist, where she met Salim Tamari, whom she later married and settled with in Palestine.
From 1991 to 1993, she was part of the Palestinian Peace Delegation in Washington, D.C.. She is also the Director and Founder of Riwaq Center for Architectural Conservation, which was founded in 1991 and is considered the first of its kind to work on the rehabilitation and protection of architectural heritage in Palestine.
7. Huwaida Arraf
Born in the U.S. from Palestinian origins, Arraf is a human rights activist, lawyer and co-founder of the International Solidarity Movement, a Palestinian-led organization focused on assisting the Palestinian side of the Israeli-Palestinian conflict using non-violent protests.
Arraf was the chair of Free Gaza Movement, the organization behind the Gaza Freedom Flotillas. She was aboard the 2008 Free Gaza boats as well as the 2010 flotilla that was raided by Israeli commandos.
8. Amal Chahabi
Amal Chahabi is a Palestinian refugee who was born in Ain el Helwe camp in 1961. Chahabi is currently the head of the the Amal Center for the Elderly in the Ain el Helwe refugee camp. She also plays an active role in the women's anti-abuse program lead by the Norwegian People's Aid.
Don't miss this interview with Chahabi about the status of women in the camp she lives in held before her TEDx Ramallah talk:
WE SAID THIS: Don't miss What You Need to Know About the Gaza-Israeli Crisis.