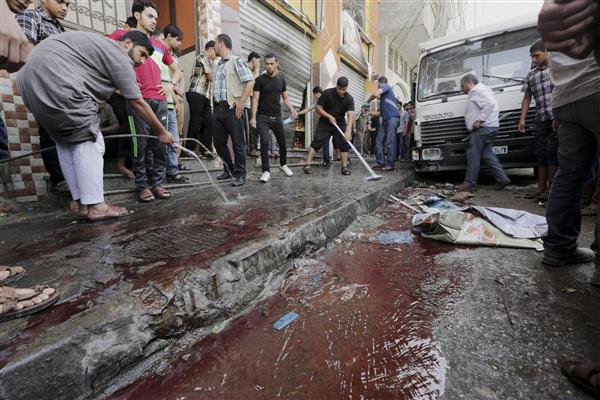 Israel has yet again found another fallacious loophole as an excuse to attack Gaza. Hamas launches crude weaponry and the international community doesn't think twice to question Israel.
And there you have it, the third vicious attack on the world's largest open-air prison since 2005.
Here are some things to keep in mind in understanding the current attack on Gaza:
In April 2014 Hamas (Gaza) and Fatah (West Bank) reconciled.
On June 10, 2014 Israel held presidential elections. Reuven Rivlin of the extreme right wing Likud party won the election.
On June 12, three Israeli teens were kidnapped and found dead in the West Bank.
The kidnapping led to raids on 2,000+ homes; Israeli forces stole $2.9 million of property and cash.
Shortly after their deaths, Israeli lynch mobs went around Israel and the West Bank terrorizing Arabs, attempting to kidnap, beat and kill them.
Thousands of Palestinians have been arrested and more than 10 Palestinians were killed by Israeli forces.
17-year-old Mohammed Abu Khader from the West Bank was kidnapped and burned alive by Israeli citizens
Days later his cousin, Tariq, a 15-year-old American, was nearly beaten to death by Israeli police.
Day to day life in Gaza is essentially survival of the fittest, with an air, sea, and land siege restricting medical supplies, construction supplies and food from entering.
On July 8, Israel launched "Operation Protective Edge", which has been aiming at more than just Hamas targets. Israel has tried to justify its murder of civilians saying that it "warns" people before they attack with phone calls, text messages and leaflets.
Keep in mind that the Gaza Strip is 41 km/25 mi long and 12 km/7 mi wide, with a population of 1.7 million. Even if one were to run and hide, the Israeli military drops the most brutal of bombs, including white phosphorus, an illegal chemical weapon that burns though deep human tissue.
The Israeli army has targeted homes, institutions and religious places of worship, including a center for the disabled. Israel hasn't shown any sign of mercy. With bombs being dropped day and night, the airstrikes are so frequent that people have lost count.
Cross-fire is being launched by others as well. Rockets were fired from southern Lebanon into Israel and Hamas has launched rockets from Gaza. Of course, neither compare to the advanced weaponry of Israel and most projectiles were deflected by Israel's state of the art Iron Dome.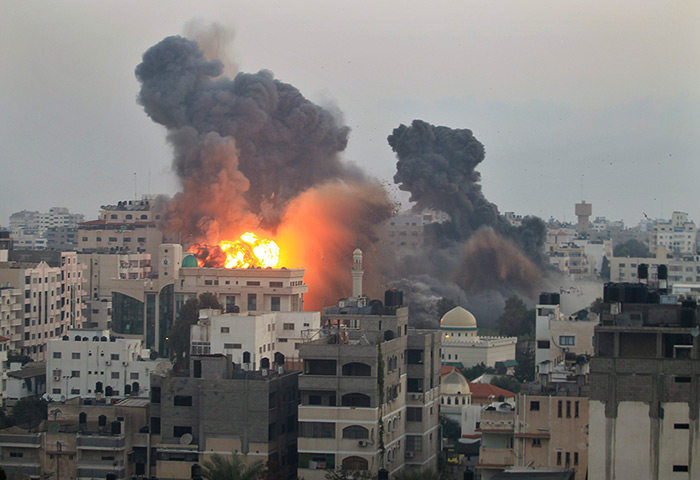 Since Tuesday, Israel's unmerciful aggression has claimed the lives of 183 Palestinians in Gaza, with 1260 injured and dozens in critical condition. The majority of the injured are children and most of the murdered civilians are women and children.
750 homes have been severely damaged or destroyed. 4,500 Palestinians have been displaced. 7 members of al-Kaware family, 18 members of the al-Batsh family, and 8 members of the Hamad family were killed. Many Palestinians have turned to Egypt, which has been keeping its border fairly sealed, leading people to climb over out of pure desperation.
Western media has either distorted, underrepresented or neglected to mention the Palestinian perspective in their coverage of the conflict, rather focusing on the "12 Israelis who went into shock".
However, we have also seen global solidarity with the Palestinians. Protests in over 30 major cities around the world are taking place to condemn the ongoing violence. Several celebrities including Swizz Beatz, Waka Flocka and French Montana have expressed solidarity with Palestinians on social media.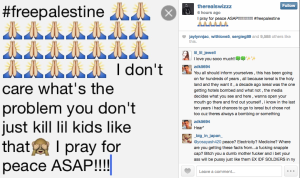 The above are facts, numbers and dates, but to Palestinians, these aren't just figures, they're memories destroyed, lives wasted and innocence stolen.
If we have learned anything from Israel's history, it's that this massacre in Gaza will end in a few days or weeks, but it will happen again as soon as Israel recycles some illegitimate grounds to "defend" themselves against the oppressed population living under their occupation.
WE SAID THIS: Our prayers are with all those affected by the horrendous acts on all sides.