The Ramadan ad game has evolved over the years, with more agencies being pushed to develop stories that portray the realities of our communities while still promoting the product. Furthermore, there are numerous aspects to an advertisement as well as various distinctions. Location, celebrity casting, cinematography, and costume design are just a few examples. Those components contribute to the advertisement's plot and force the audience to become increasingly involved with the material.
This Ramadan, a lot of adverts have caught our attention since they feature a variety of celebrities in stunning surroundings with cinematography that focuses on the small elements that provide significance to the content. However, one advertisement, in particular, has caught our attention due to its wonderful plot, which sets it apart from any other advertisement we've seen. This commercial is part of a campaign by #BadyaStories as part of a series of five episodes (with more to come) that depict two individuals in distinct stories. So, in order to learn more about this commercial and compare it to others, let's look at the features that set them apart.
Location
This Ramadan, #EBank's ad highlighted people using the bank's electronic services in a variety of locations, from train stations to grocery stores. By showcasing numerous areas and incorporating various people from our Egyptian society, the ad also intended to portray the concept of unity. The visual effects are clever and eye-catching, and they serve an essential role in bringing a touch of technology to the locations depicted. But also, let's talk about "Badya stories, every story has a beginning" ad campaign, which featured a variety of locations to act as a storyline in each episode. Padel courts, an office, a movie, a terrace, and a car were all employed as settings to relate characters to the larger topic in the campaign.
Their latest campaign is creative and consistent, with the narrative connecting through the locations.
Cast
La Germania, a stove brand, has another ad that incorporates a variety of celebrities. Huda El Mufti, Hend Abdelhalim, and Asmaa Galal sang a reimagined Arabic version of Sam Smith's song, "La La La" while utilizing the La Germania stove to prepare wonderful dishes. In this case, the usage of those three amazing actresses is being exploited as a marketing tactic to entice customers to use a product that those celebrities are using.
"Badya stories, every story has a beginning", on the other hand, takes on a different approach, employing the talented actor Ahmed Malek and the amazing Nada Abadir to tell the story of two ordinary individuals who met inside the city. Their approach is to depict two ordinary members of the the community; it's truly powerful and sends a basic message by setting a precedent, utilizing only a small number of celebrities to represent the genuine nature of our society.
Cinematography
The cinematography shows the ad's plot and how the storyline interacts with the overall mood. To illustrate the idea behind the ad's storyline, Badya's campaign portrays each episode via a particular lens that consists of fluid camera angles and medium closeups. When compared to La Germania's commercial, we can see that they employed bright cinematography because the ad's vibe is set by a pleasant tune. Badya, on the other hand, tells numerous storylines throughout their campaign with varied moods of joy, bewilderment, and affection, all using camera movements and direction in their cinematography.
Costumes
Badya dresses the actors in everyday clothes in the episodes to represent how ordinary people of this age dress. In circumstances like the ones depicted in the episodes, there is a sense of honesty and a natural portrayal of what we expect people to wear. The actresses in ads like La Germania wear gowns because the atmosphere is pleasant, and while wearing a dress does not always express happiness, it does in most circumstances. Two different approaches, but one true to their audience and easy to grasp.
Storyline
Badya stories campaign's main storyline is imaginative and inventive, as they developed a "mini-Ramadan show" by constructing a continuity within a world where two characters are interacting with one other in various settings, resulting in stories that all begin in the same place: Badya by Palms Hills Developments.
Moral
Badya Campaign depicts a love story between Ahmed Malek, also known as "Hesham," and Nada Abadir, also known as "Nada" in the episodes, in order to offer people a taste of what life will be like in the city. Palms Hills Developments used professional and excellent storytelling to promote the famed location in a creative way!
Engagement
The engagement for #Badya_Stories was phenomenal on social media as people praised the creativity and the concept behind the ads. People were tired of the usual ads that focus on music and dancing instead of building stories that can live on forever.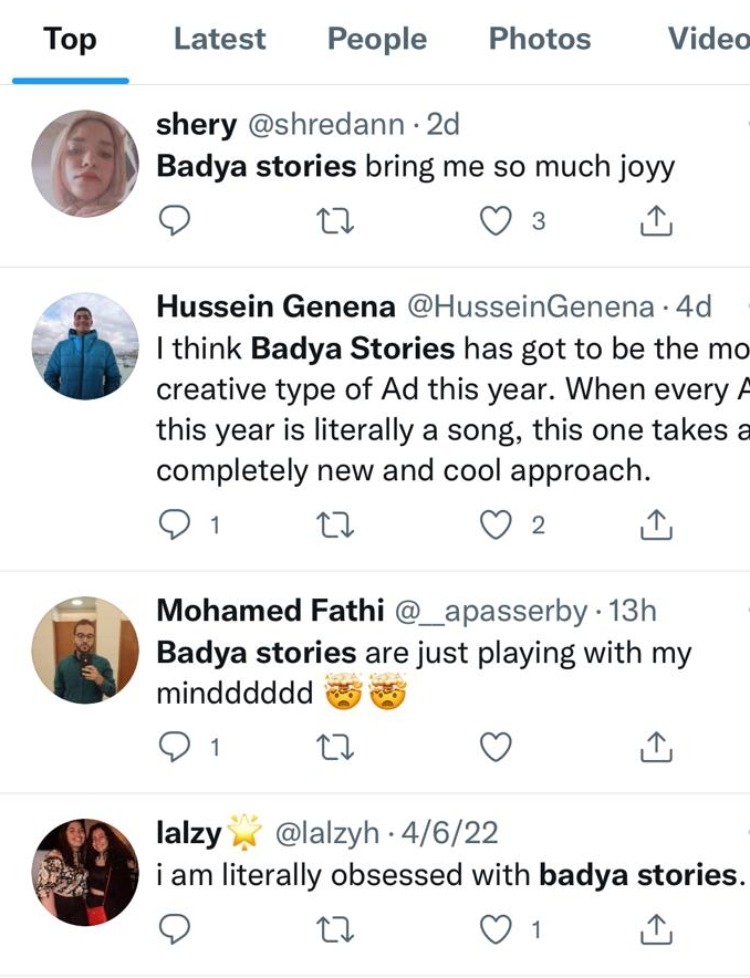 People in Egypt specifically tend to be extremely picky about what they like and don't like. However, the audience enjoyed the ads as it can be seen and took social media as a tool to express this sense of appreciation and gratitude. This is the true power of social media and this is what an ad should be like!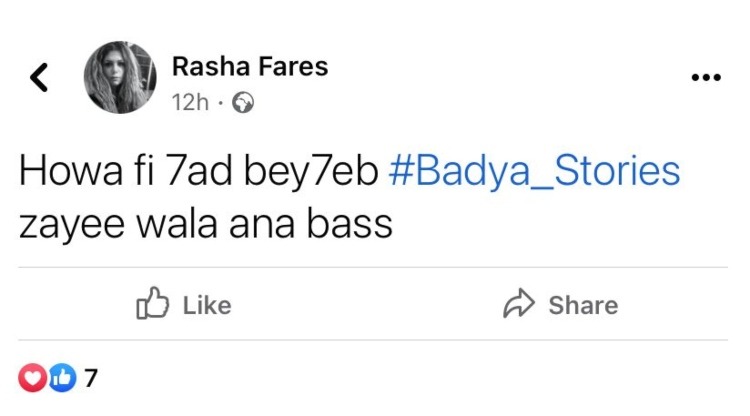 WE SAID THIS: Have you seen"Badya stories, every story has a beginning" campaign yet? Check them out on YouTube right now!