Orange Egypt Celebrates the Launch of Its 4G with a Big Bang
????????????????????????????????????
4G, or the fourth generation of broadband cellular network technology, is finally making its way to Om El Donya — thanks to Orange Egypt. Yesterday, the mobile giant celebrated the launch of its 4G service at the impeccable Fairmont Nile Towers Hotel — Magenta Hall, to be specific — with offers and packages that catered, literally, to everyone's needs.
From amazing Internet products to their exclusive 4G promo — you'll basically have the chance to receive four times the data you consumed the day before for free — Orange Egypt is making sure their new slogan, 4G for Everyone, is true to its words.
The luxurious event was filled with new and exciting announcements, and gadgets. We've found that if you replaced your old SIM with a 4G one, you'll be able to get an extra bonus of 500 MB (WE KNOW, RIGHT?). Orange Egypt also introduced their newest 4G smartphone, Tecno N9 handset, which is available for only 999 EGP.
They've also addressed a serious problem, and solved it at the same time with their Orange Internet Flybox router (available for 999 EGP). This new magical device is our new savior — particularly to customers who don't have a landline at home. All you need to do is subscribe to any of the 4G packages, which start from 100 EGP per month, and you will have three months of Internet for free!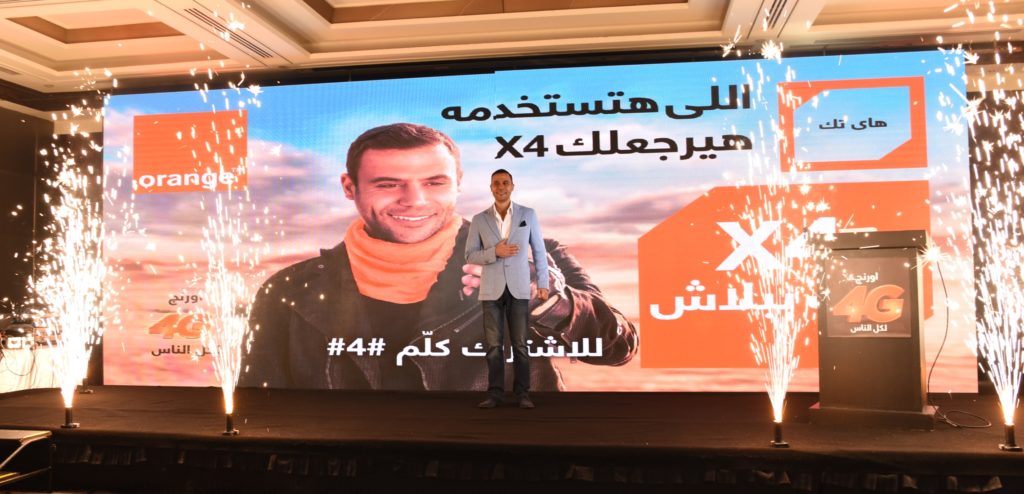 Jean-Marc Harion, Orange Egypt's CEO, was present during the event alongside actor Mohamed Adel Emam, AKA Orange Egypt's new action hero — so naturally, we had our share of fangirling.
"Thanks to our new spectrum and up to date network infrastructure, we can offer our customers, wherever they are, a faster internet access, a faster internet gaming and a faster media streaming. Our 4G network delivers unprecedented speeds up to 10 times faster than the 3G network, and 10 times than your DSL Internet at home," Harion said. "We, at Orange, believe that our customers deserve to use this technology without any additional financial burden. Under the umbrella slogan '4G for Everyone', Orange wants to make the best 4G devices affordable to all our customers."
Believe it or not, the event got better, specifically when they announced their latest partnership with STARZPLAY, the fastest growing video streaming service in the MENA region. Orange Egypt will now have the authorization to access the full catalogue of entertainment, which includes more than 6,500 hours of blockbuster Hollywood movies, kid's shows, 'same-day-as-the-US' shows, and other gnarly stuff. The cherry on top of the cake was when we learned that customers of Orange Eagle and Panther will automatically be gifted with six months of unlimited access to STARZPLAY app and services.
WE SAID THIS: For more information about the services and offers, click here.