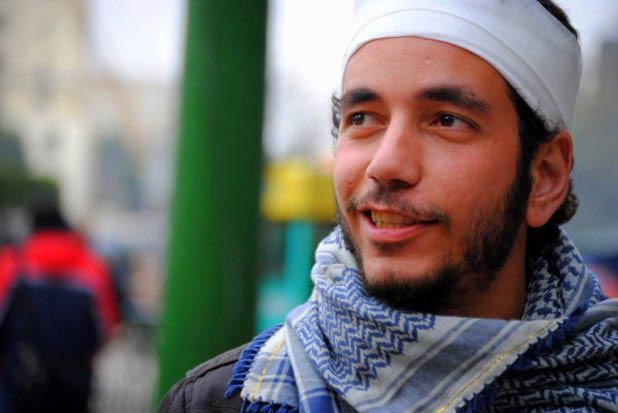 At a very young age, stand-up comedian Ali Quandil's family noticed his talent and encouraged him to act, playing his first audience. Quandil started pursuing stand-up comedy before the concept of stand-up comedy even existed in Egypt.
"When situations happened with me in the street or something, I'd always stand up and make fun of them in family gatherings… I later on met my friend and my mentor Amr Samir Atef and we prepared for the first stand-up comedy show to come to life in Egypt," Quandil told me.
Here's a link to Quandil's favorite show that he didn't even prepare for:
"The best thing about stand-up comedy is the fact that I see and get people's feedback and criticism on the spot as opposed to being part of TV series or a movie and waiting for the audience's feedback by coincidence in the street or so forth," Quandil said.
Fortunately for Quandil, he got great feedback mainly because of the way he approached and criticized controversial subjects with a great deal of freedom and honesty. Quandil was always eager to confront the society with its problems through his shows rather than merely making his audience laugh.
Quandil has appeared in a few sitcoms including Hermet ya baba and Al-Eyadah and was invited on Bassem Youssef's show El Bernameg where he criticized the use of religion by the Muslim brotherhood to reach their political goals. He also worked as a journalist for Al-Dostoor before deciding to pursue stand-up comedy and acting.
"There is no conflict between acting and stand-up comedy, there are countless examples like Eddie Murphie and Robbin Williams that are great actors and at the same time work in the stand-up comedy field," he said.
Quandil believes that there are many people who are considered stand-up comedians even though what they present is the furthest thing from a real stand-up comedy show.
"Making people laugh by doing a one-man show does not mean you're a stand-up comedian. Yes, you might be a comedian and a real good one, but a stand-up comedian has to reveal a problem in the society, do research, have credible sources for the information that supports his arguments and has to be a cultural person who at least bothers to read. Having the talent to make people laugh is the last asset for a stand-up comedian."
For the last year and a half, Quandil has been running a stand-up comedy workshop. The workshop culminated last Saturday, May 3, with a graduation project held at the Raba' in El-Houssien cultural center. Some of the young stand-up comedians who took part of the show include Taha Desouky, Badr Nour and Shehab El-Ashry.
Through this workshop as well as the play "Masr Etneen Rakeb" that Quandil is touring with all over Egypt, Quandil and his crew are hoping to convey their message that stand-up comedy can be an art that discusses major dilemmas in the Egyptian society.
"Masr Etneen Rakeb" is a play that mainly focuses on sexual harassment and masculinity as well as sub-topics like judging people and invading others' privacy.
"It is a disgrace that girls nowadays cannot walk in the streets of Egypt without some sort of weapon or self-defense. The harasser has to fear the fact that the society and the men in the streets would not allow him to proceed with his unacceptable actions and think a million times before approaching a girl in the street. This topic has to do with humanity, masculinity and dignity."
WE SAID THIS: To see some of Ali Quandil's shows, check out his YouTube channel.