Of all the technologies out there, the internet is the one we rely on the most. Its ever-increasing use and influence on our lives has started to carve the way we live. It is transforming our routines, reshaping cultures and helping us learn how to become better. 
It has now become a need for almost every individual. Everywhere you go, you look for internet connectivity, and while you're on the way you have mobile data. The need to stay connected has taken over the world. Mobile data is expensive and somewhat optional, but an internet connection at the workplace and home is mandatory. What connection to get and which plan works well for you are two difficult choices. So, to make things easy for you, we have formulated a list of internet plans to choose from in 2019.
Spectrum Internet 100
Spectrum internet contains the power of three. The merger of Bright House network, Time Warner Cable and Charter Communications formed this company and its popularity has been growing ever since. This makes Spectrum a seasoned provider with flair. 
Spectrum internet 100 is an ideal connection for a household with moderate internet usage. It offers download speeds starting at 100 Mbps and offers lots of exciting features. The first would be no extra fees, which means you will be paying whatever is promised and there are no hidden charges or additional fees. If this is not good enough, you also get to save on equipment rentals. That's right! Free modem with no data caps. You are all set to stream, play and use unlimited internet around the clock!
Mediacom Internet 100
Mediacom internet may not be as popular as Spectrum, but it sure is a great option. With the Mediacom internet 100 plan, you get amazing download speeds that come with a few safety features. This plan offers download speeds reaching up to 100 Mbps and upload speeds of up to 10 Mbps. It also offers wireless connectivity with an in-home Wi-Fi feature, which ensures you and your family are always connected to the internet. 
This plan is ideal for surfers and people who like to spend time on social media. Your streams too should work seamlessly. The only possible downside would be the data caps. However, 1000 GB data cap limit should get you through the month.
Cox Internet preferred 150
Cox Communications is another industry giant. They offer great service that is both economical and reliable. Cox internet gets you several plans suited to varying needs. However, the Cox Internet preferred 150 is an ideal plan for domestic use. It can easily support 5-7 devices without letting you down.
With download speeds reaching 15 Mbps you can sit back, relax, and enjoy buffer free streams and lag-free gaming. All you need is a DOCSIS 3.0 modem and you are all set to enjoy blazing fast speeds. However, this plan comes with a drawback, which is data caps.
AT&T Fiber Internet 300
Residential internet connections can't get better than the ones on fiber-optic lines. AT&T Fiber internet 300 is all about speed, reliability, and fiber-optic technology. The state of the art technology opens up the world of HD streaming and downloading large files in a matter of minutes.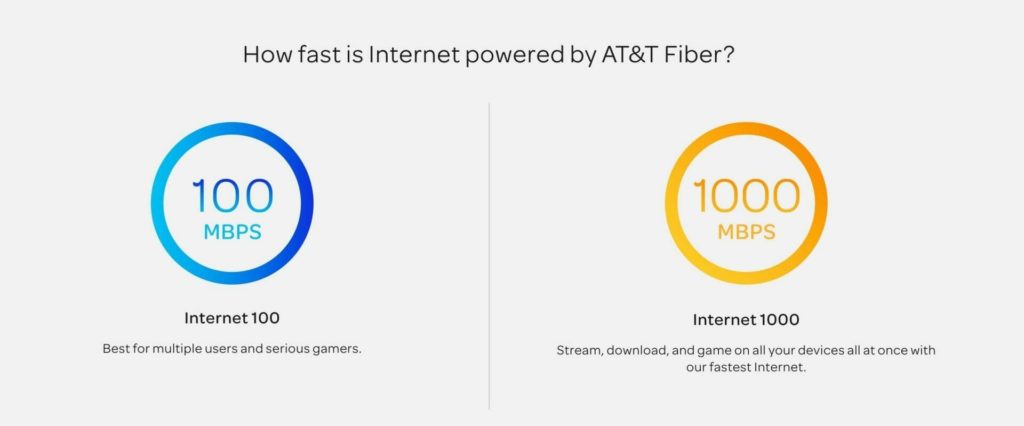 AT&T claims that you can load a 4-minute HD video in a second, literally, upload 10 photos in about 3 seconds, wow! Download a 1GB file in a minute and enjoy 4K ultra HD streams on 3 devices at the same time. Now that is fast!
Conclusion
Internet plans are all about speeds, data caps, and utility. Before you go ahead and select one, be sure to check its availability in your area. Once you are done you should be good to go. If you are looking for great coverage from a seasoned provider, Spectrum is your choice.
WE SAID THIS: In terms of price, coverage, features and bundle options, Spectrum is the leader by far!