The Gouna Film Festival has been nothing but glitter and glam until our favorite vlogger added some humor to the red carpet. The hype over Ahmed El-Fishawy's latest movie Eyar Nari has been out of this world. And while the actor's wife red carpet debut left quite the impression, it was Marwan Younis who stole the show with his latest stunt.
The only thing you hear in the mysterious and dark trailer of the movie is Kol Haga Be Weshin, which is translated to everything has two faces. Obviously, Marwan had to pull the mother of all pranks and show up on the red carpet with two faces, the begad vs. the not so begad personas.
Not only did the vlogger show up with two different hairdos, but also unpaired shoes. Now that takes guts and that is the only kind of fun we want to see on red carpets.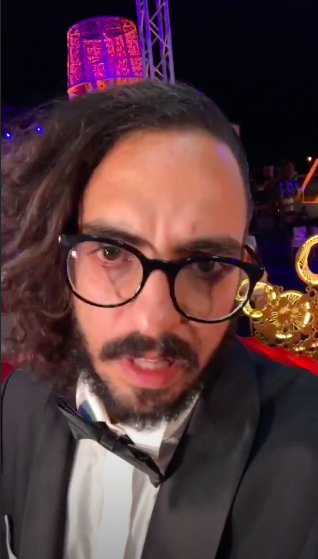 WE SAID THIS: Follow Marwan Younis' red carpet shenanigans here.