Kiteloop Releases Statement After Being Completely Demolished by Authorities
via Sarah Abdelmoneim
One thing Egypt has been suffering from for the past few years is the almost non-existent tourism. Our top touristic cities that used to get fully-booked all year round have now turned into ghost towns.
It was a shock to everyone to hear that the authorities have completely demolished Kiteloop camp in Ras Sudr, a favorite among kite surfers. Two days after the camp was celebrating its sixth anniversary, 20 bungalows, along with the kitchen and main hut were removed by a bulldozer in the most hostile way. The decision was due to a Tourism Development Authority order.
Karim Khashab, one of the four founders of Kiteloop, told Enterprise, "We weren't even given a chance to evacuate or remove our valuables," adding that he estimated the damages to cost EGP 6 million.
Social media has been raging about the events; with most people coming to Kiteloop's defense, but also others who claim that if the land wasn't paid for then the owner's had it coming. Thankfully, Kiteloop released a statement on their Facebook page with the all the facts, just to remind us why we should never invest in this country because paperwork is impossible to get done.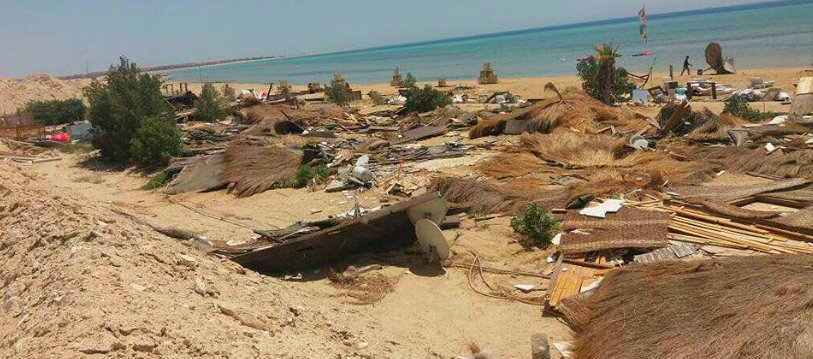 "Dear Kiteloop Family
It is with deep sorrow that we share with you this sad news today, after having been relentlessly pursuing the establishment of this very precious business around the sport that we have an undying passion for over the past 6 years, & after exhausting all our efforts to reach win-win solutions with the multiple entities involved, we woke up today to bulldozers coming in to tear down our camp.
The story started in Dubai where the partners met, after having fell in love with the kitesurfing sport, they both decided to leave their corporate jobs & come back to Egypt to make this investment in their home town & that; marked the birth of Kiteloop.
Our story began in 2011 with a dream to promote the kite surfing sport in Egypt, & after months of searching, we finally found the perfect spot to make our dream a reality in Ras Sudr, a spot that had not yet become an attraction for tourism & touristic project investments. We then proceeded to rent the land from Tag Sina for 9 years & we began building our dream one hut at a time.
As we proceeded with our paper work in parallel, we got notified that the owner of the land had not finalized his installments to the Tourism development authority & from that point onwards, we have been spiraling in and out of solutions with all the relevant entities as we continued to pay our monthly rent and taxes in full. We pursued all possible solutions to resolve the conflict and continued to remain positive, until we received a shocking demolition notification in June of last year 2016.
We then offered to pay the remaining amount ourselves & signed an official request to settle the land debt in return of land allocation to Kiteloop; and the official response after endless follow ups was "priority goes to the owner". Ever since then we have been pursuing an alternative solution in vain. & today after 6 years, the dream was brought down putting all our staff out of jobs and ourselves left speechless.
We sincerely appreciate all your support, over the years every single person who has walked into the camp a stranger has become part of our family, & for that we will remain grateful. #Kiteloop_Egypt #Kitesurfing_Egypt #Kiteloop_Will_Rise_Again"
WE SAID THIS: Bring Kiteloop back.