In the past 6 years, Saudi has been making significant strides in transforming its Kingdom. With everything from the arrival of Formula 1 to music festivals, it can be said that the country is ticking off a lot of firsts.
The same can also be said about Saudi women. By revoking male guardianship and allowing women to drive, this is opening new doors for women, allowing them far more freedom than ever before.
That same freedom also extends to the work force. According to the WorldBank, the percentage of women in the labor force jumped from 21% in 2017 to 33.2% in 2020; all in an effort to push Saudi Arabia towards its 2030 Vision of social change and modernization.
The Women behind the Change
Here are a few examples of Saudi women taking the labor force by storm:
Mariam, 26 years old
After attending a mixed international school, she had big dreams of eventually opening her own law firm. Today, thanks to Saudi's 2030 vision, she is able to follow said dream by working in a reputable law firm in Jeddah. Killing two birds with one stone, she gets to stay with family while also making giant leaps towards shaping her career.
Her work with the law firm has contributed to her eventual acceptance to several universities abroad wherein she can continue her studies and eventually arrive at her dream of obtaining Saudi License. Mariam expressed a feeling of excitement knowing that the change is quite rapid and that many women, like herself, are getting access to new opportunities every day.
One such example of how new doors and opportunities are opening for women is of Sara Aalamri. Mariam mentioned how she had the honor of working with Sara Aalamri, known to be one of the first women to join the legal field in Saudi Arabia. Sara also recently got promoted as Partner of AlGhazzawi & Partners, a prestigious law firm. Again, another first for many women in the region!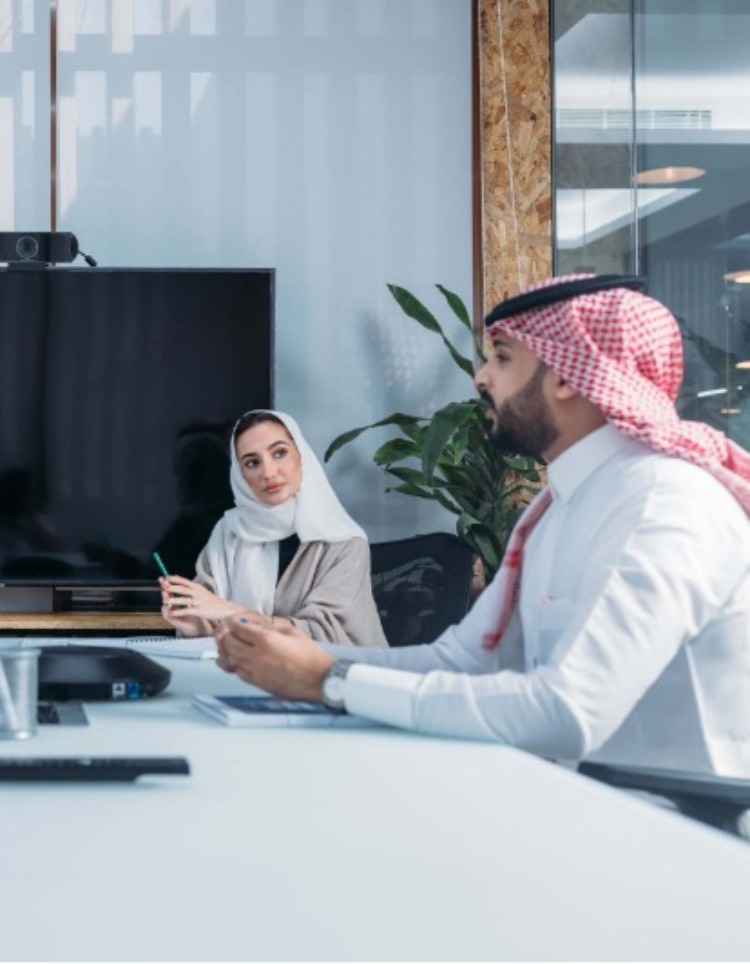 Working with Sara was inspirational for Mariam where she was exposed to character traits much needed in the field, persistence and passion.
2. Laila Saeed, 30 years old
Laila Saeed is currently working as a Graphic Designer at a music studio, her role involves everything from designing social media posts to capturing daily life at the studio such as musical events and music lessons, working for the studio for 3 years…she's loving every minute of it.
Every day, people young and old, enter the studio to learn the beauty of music through an instrument. Yet, for Laila, it is much more than that. Through her exposure to different people with different backgrounds, she gets to learn about their unique stories, adding a layer of depth and human connection to her daily life. It's a luxury that was not afforded to her several years ago.
She is ecstatic with these major changes and believes that many women are now able to accomplish their dreams and career goals. She is also very excited about how several music institutes are now opening in most cities in the Kingdom and how music lessons are now becoming obligatory in most schools. Describing today's atmosphere in the Kingdom, Saeed explained, "beautiful changes are happening and we are all excited for that"
The change isn't just limited to learning music. The leap is quite big. Before, music was banned from public spaces but now, you have prominent female DJs such as Cosmicat, hyping huge crowds at festivals and events.
More change in the horizon
Women all over the Kingdom continue to celebrate this new age, with words like "liberation" and "freedom" becoming an imminent part of the current Saudi as well as female expat discourse. The celebration is not stopping any time soon it seems as Saudi Arabia is going in full force.
WE SAID THIS: Don't miss From Boxing, Inventing Scooters To Joining NASA: These 10 Saudi Women Have Done It All!